Matty Healy: Arctic Monkeys were the band of the 00s, The 1975 are of this decade
6 December 2018, 12:32 | Updated: 18 December 2018, 14:37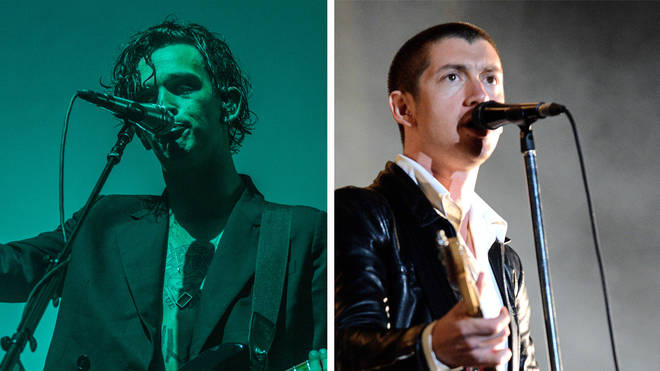 The Give Yourself a try singer has talked about not being in competition with the band because they're from two different eras.
Matty Healy says he doesn't feel like he should be in competition with Arctic Monkeys.
The 1975 frontman spoke to Beats 1's Matt Wilkinson about new album A Brief Inquiry Into Online Relationships and was asked to compare the success of his band to the Sheffield rockers.
"Yeah Arctic Monkeys have got a couple of albums on us," he replied. "I don't like feeling in competition with Arctic Monkeys because I don't feel old enough, I don't feel like we've paid our dues as much as Arctic Monkeys… It's difficult – we're not a rock band so it's difficult."
The Love It If We'd Made It singer added: "I was very obsessed with the decade. I like being 'one of the defining bands of the decade'… Cos if you look at it, I'd say the Smiths were the band of the '80s, I'd say the '90s… I'd have to say Oasis – even though I'd choose Radiohead."
Healy added: "I'd say the band of the 2000s was Arctic Monkeys and I'd say the band of this decade has been my band. But of course I would."
Matt Healy previously said he couldn't make an album like Arctic Monkey's sixth studio album, telling NME."I don't know how to do that, that's a skill I do not have."
READ MORE: Matty Healy couldn't make an album like Tranquility Base Hotel & Casino
Watch Radio X's special album playback with Matty Healy below:
Meanwhile, Matty Healy told Radio X that it can be harder for people his age to like The 1975, because he can be "annoying".
Speaking to John Kennedy about his young fanbase, the Chocolate star mused: "Kids are very smart. People are smart. There's so many young women who are into our band and I have learned so much from them".
He added: "And there is quite a tight door policy on our band. It can be quite difficult to get into us, especially on our last two records. If you were someone like my age, because you have to like me and that takes time.
"I'm annoying at the start, because there's so much. So... you have to let that happen and then you have to go 'actually, I get this.' But we'll get there."
READ MORE: Matty Healy says The 1975 could have been a punk band
Listen to Alex Turner's track by track on Arctic Monkeys' Tranquility Base Hotel & Casino album: