The 1975's Matty Healy: I know I'm annoying at the start
4 December 2018, 12:52 | Updated: 18 December 2018, 14:37
Watch the Give Yourself A Try singer speak to Radio X's John Kennedy about their new album, A Brief Inquiry Into Online Relationships.
Matty Healy has explained why fans his own age might find it had to get into The 1975.
The frontman visited Radio X to talk about the band's third studio album, A Brief Inquiry Into Online Relationships, and talked about everything from the album's influences to the band's fanbase.
Watch the full track-by-track album playback above.
Speaking about his young fans, Healy said: "Kids are very smart. People are smart. There's so many young women who are into our band and I have learned so much from them".
He added: "And there is quite a tight door policy on our band. It can be quite difficult to get into us, especially on our last two records. If you were someone like my age, because you have to like me and that takes time.
"I'm annoying at the start, because there's so much. So... you have to let that happen and then you have to go 'actually, I get this.' But we'll get there."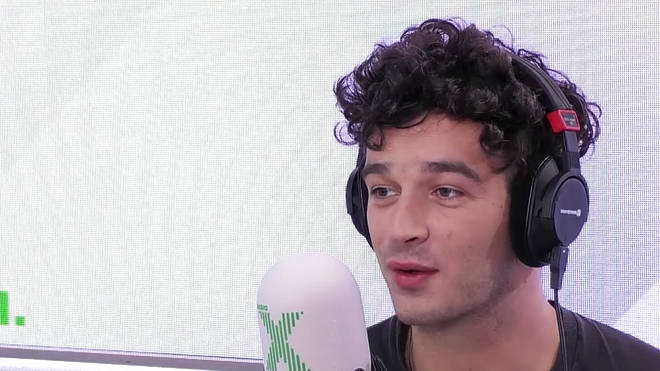 Matty Healy also revealed one of the best compliments he's ever had about the Manchester band.
When John Kennedy remarked about the Disney-like sound in their How To Draw/Petrichor track Healy replied: "Somebody said something to me which was like one of my favourite compliments ever."
They said The 1975 is kind of a Pixar movie where it's for young people and it's exciting and pretty, but there's so much there for the older generation..."
Listen to the track here:
The Love It If We Made It singer also reflected on what it is to be "punk" in 2018.
"I like subversion of form. The same reason why I love being played on the radio next to Ariana Grande, but my lyrics being the way they are is because I could do that in punk music.
"We could have been a punk band. We could have been one of these bands, but I wanna actually be punk, but you can't actually be punk in punk anymore. I wanna be punk.
"The only place to be punk is where there's no punk..."
The 1975's third studio album A Brief Inquiry Into Online Relationships is out now.