The weirdest music videos ever made
14 April 2021, 22:19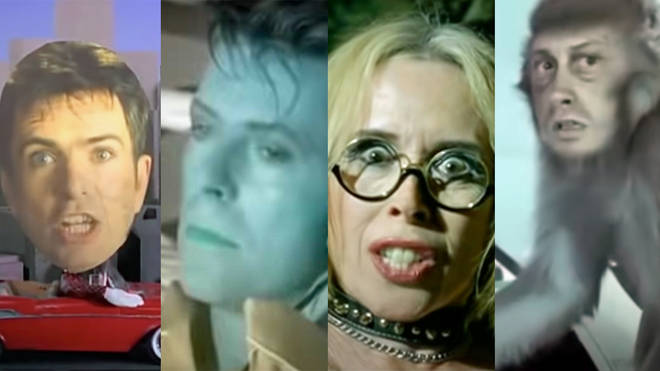 Ever been browsing YouTube, clicked on a music vid and ended up thinking WTF? Here are some weird and wonderful vids from Bjork, David Bowie, The Cure and more.
Supergrass - Pumping On Your Stereo

More wonderful than weird, the Hammer & Tongs-directed video sees the band's floating heads attached to huge puppet bodies. Extra points for the smiley-faced bass drum.

David Bowie - Loving The Alien

So, 80s David Bowie might be a bit of an easy target, but his Loving The Alien video really is next level crazy. Bowie dons blue make-up, gets unhappily married, hangs out in a temple and plays with a band of weird stone men. Then he turns up in a hospital bed, kisses someone else, then gets electrocuted. Just bonkers.

Basement Jaxx - Where's Your Head At?

Human-faced monkeys attempt to play instruments in a laboratory. We think that sums it up nicely.

Electric Six - Danger! High Voltage

More unsettling than actually funny, frontman Dick Valentine and an unnamed lady's private parts throb along to the pent-up eroticism of the song. Just so, so odd.

The Cure - Never Enough

Robert Smith and his band cemented themselves as the ultimate misfits with their Never Enough video, which sees them become the object of an end-of-pier freak show, masterminded by the boss of their label, Chris Parry.

Björk - Army of Me

Where there's a WTF video list, there has to be a Björk. This bonkers vid sees the Icelandic star save a loved one by blowing him up, after getting a diamond extracted from her mouth by a gorilla dentist. Make sense? No, we didn't get it either.

The Avalanches - Frontier Psychiatrist

"That boy needs therapy!" Elderly extras act out the samples to the Aussie collective's bizarre mash up. The audio is weird, the images are weirder still.

Talking Heads - Road To Nowhere

David Bryne was a master at presenting himself in the video medium, and the clip for Talking Heads' 1985 classic proves that the band held onto their art school roots with a series of peculiar images that accompany the music brilliantly. The two businessmen with Mexican wrestling masks is a favourite moment.

Devo - Whip It

A new wave banger to be sure, but the US band loved to push the envelope visually in the early days of MTV and this bonkers Western scene is no exception. See also: every other Devo video ever made.

R.E.M. - It's The End Of The World As We Know It (And I Feel Fine)

Despite breaking through into mainstream popularity in 1987, R.E.M.'s videos remained ponderous at best, mainly down to Michael Stipe hating the idea of lip-syncing. This classic is accompanied by footage of a young skateboarding lad picking through the ruins of an abandoned house.

Peter Gabriel - Big Time

Yeah, we've all seen the video for Sledgehammer, but how do you follow that? Gabriel threw everything but the kitchen sink at the clip for his next single, Big Time, which has every conceivable form of animation creating a stream of consciousness nightmare.