Mark Hoppus had to learn to play bass again and "rebuild" his voice after chemotherapy
19 October 2023, 11:06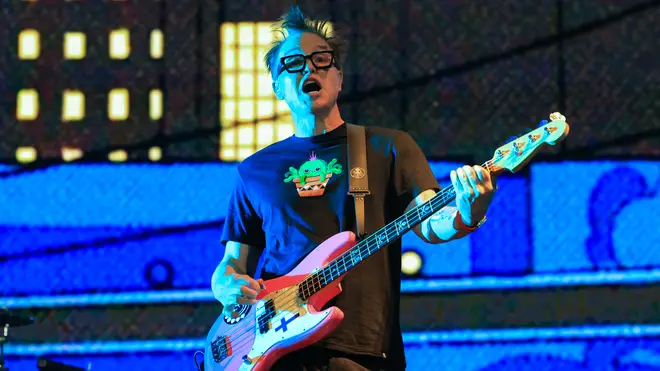 The Bink-182 rocker recalled how he had to rebuild his singing and playing skills after receiving cancer treatment.
Mark Hoppus has opened up about his recovery after his cancer battle.
The Blink-182 co-founder was diagnosed with stage 4A diffuse large B-cell lymphoma in 2021, but was declared cancer free six months later.
The illness led Hoppus to mend his relationship with fellow co-founder Tom DeLonge and eventually led them to reunite the classic lineup of the band with Travis Barker, but the All The Small Things singer had a long road ahead and had to re-learn how to sing and play the bass.
He revealed to Zane Lowe: "I was still a fuck*** hollow, just shell. S***ty, weak brain eaten with the chemotherapy and pain and everything else. And then getting back in the studio to make this record was like learning how to play bass again, learning how to… The chemotherapy wrecked my vocal cords. I had to go to work with a vocal coach. I had to rebuild my throat."
The Miss You rocker added: "I had all this stuff had to rebuild to get to the point where we could go and walk on stage at Coachella and have one of the biggest shows of our career and have this album, which touch wood is one of the best albums we've ever written."
Blink went on to make a new album One More Time... which is set for release this Friday 20th October. This year saw the band embark on their reunion dates, which included a UK and Ireland tour.
However, they were forced to postpone their first shows due to an "urgent family matter" for their drummer.
This week has seen them confirm the rescheduled dates, which will now take place at Belfast SSE Arena on 26th August, Dublin's Royal Hospital Kilmainham on 27th August and the SSE OVO Hydro on 29th and 30th August.
Fans who had tickets for the previous dates will be able to attend the new shows and any remaining tickets are on sale on now.
See Blink 182's newly rescheduled dates in 2024 below:
26th August 2024 – Belfast, SSE Arena - NEWLY ANNOUNCED
27th August 2024 – Dublin, Royal Hospital Kilmainham - NEWLY ANNOUNCED
29th August 2024 – Glasgow, OVO Hydro - NEWLY ANNOUNCED
30th August 2024 – Glasgow, OVO Hydro - NEWLY ANNOUNCED
The band have also since shared another track from the new album, entitled You Don't Know What You've Got.
Watch the official lyric video below:
blink-182 - YOU DON'T KNOW WHAT YOU'VE GOT (Official Lyric Video)
The song touches upon Hoppus' cancer diagnosis and how "one phonecall" wiped out any distance between them.
Previously, the band have shared Edging, More Than You Know, their title track One More Time, Fell In Love and the infectious Dance With Me single, with an accompanying video which sees the band dress up as the Ramones.
Pre-order One More Time... here.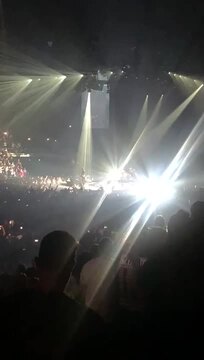 Blink 182 perform One More Time at The O2, London
Blink-182 - One More Time... tracklisting
Anthem Part 3
Dance With Me
Fell In Love
Terrified
One More Time
More Than You Know
Turn This Off!
When We Were Young
Edging
You Don't Know What You've Got
Blink Wave
Bad News
Hurt (interlude)
Turpentine
F*ck Face
Other Side
Childhood