Travis Barker at 48: Facts about the Blink 182 drummer
14 November 2023, 11:23 | Updated: 20 November 2023, 11:28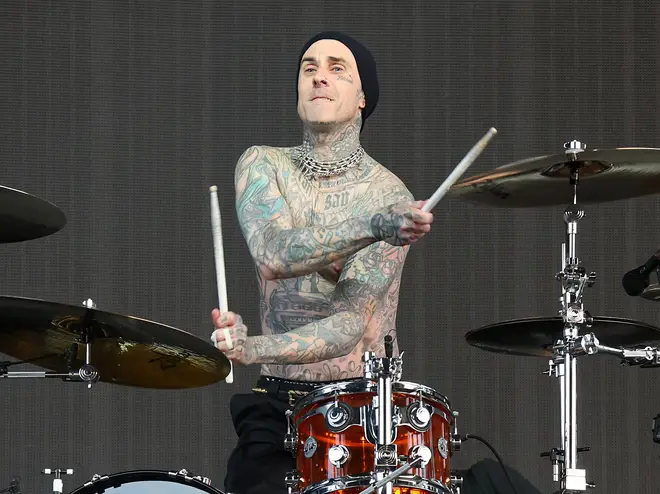 The much-loved Blink-182 drummer celebrates his birthday this week, but how much do you know about the rocker?
Travis Barker is best known as the tattooed drummer of Blink-182, but he's had a long and varied career and collaborated with artists across the spectrum of music.
Find out everything there is to know about the All The Small Things sticksman, including his age, date of birth, family connections, what other bands he's been in and his romance with Kourtney Kardashian.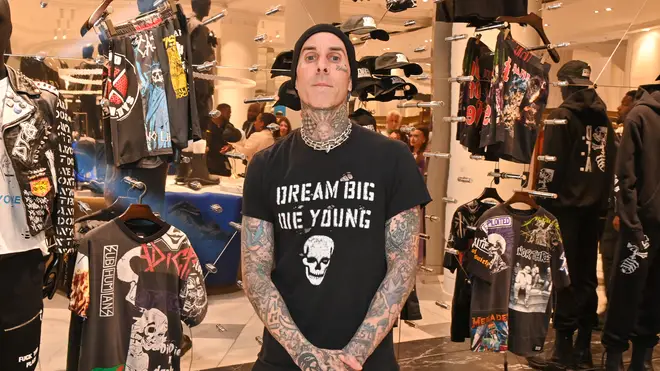 What is Travis Barker's real name?
The Blink-182 drummer's full name is Travis Landon Barker.
How old is Travis Barker?
Travis Barker was born in Fontana California on 14th November 1975, which makes him 48 years old at the time of writing this article.
When did Travis Barker join Blink-182?
Travis Barker joined Blink-182 in 1998 after filling in from co-founder Scott Raynor, who told bandmates Tom DeLonge and Mark Hoppus that he would depart following the SnoCore Tour in February that year.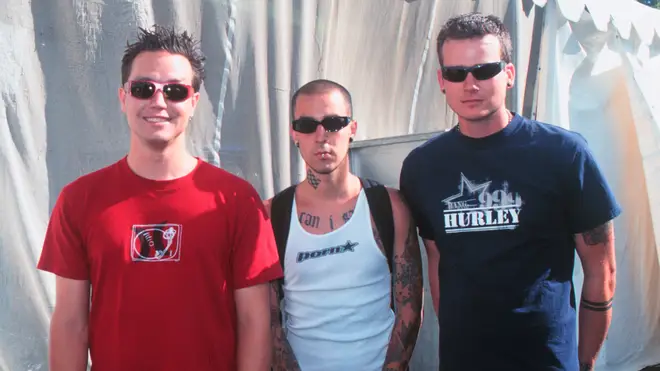 Who is Travis Barker's wife?
Travis Barker is married to Kourtney Kardashian. The pair tied the knot in 2022. He was previously married to Shanna Moakler from 2004 - 2008 and Melissa Kennedy from 2001-2002.
How many kids does Travis Barker have biologically?
Travis Barker has three biological children; Landon Barker and Alabama Barker from his relationship with Shanna Moakler and Rocky, who he has recently welcomed with his wife Kourtney Kardashian. Barker also has a step-daughter Atiana De La Hoya, who's biological father was Oscar De La Hoya.
Barker recently paid tribute to his son Landon on his 20th Birthday, writing: "Happy Birthday to the most amazing son I could ever ask for. I can't believe you're 20! The day you were born you made me a better person and you have filled my life with so much happiness. I'm so proud of the man you have become and I love you @landonasherbarker".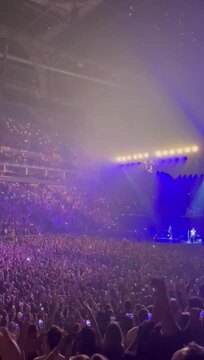 Blink 182 perform Miss You at The O2, London
Which Blink-182 albums is Travis Barker on?
Travis Barker has been with Blink-182 since 1998, meaning he's featured on all but their first two albums. See all the Blink albums featuring Travis below.
Enema of the State (1999)
Take Off Your Pants and Jacket (2001)
Blink-182 (2003)
Neighborhoods (2011)
California (2016)
Nine (2019)
One More Time... (2023)
What happened to Travis Barker in the plane crash?
In 2008, Travis Barker was involved in a plane crash that almost took his life. On 19th September, the drummer boarded a small aircraft headed from South Carolina to to California. He was on board with two pilots, his security guard Charles Still, personal assistant Chris Baker and his friend and co-collaborator DJ AM. Both pilots lost their lives, as well as Still and Baker. Travis Barker and DJ AM managed to escape, but both had severe burns and were hospitalised for weeks.
The drummer suffered burns to 65% of his body, was in hospital for 11 weeks, almost had his right foot amputated and had to have almost 30 surgeries. His friend DJ AM sadly later died of a drug overdose thereafter.
Travis Barker had always had a fear of flying, but following his plane crash, he had severe PTSD and refused to fly again.
It wasn't until 2021 that he boarded a plane for the first time in 13 years, after support from Kourtney Kardashian.
Speaking to the LA Times in a recent interview, Barker said: "I think the power of love really helped me," adding: "Kourt made it so I fly, my kids fly now. She healed us."
espite the fact he now flies, he still finds it incredibly stressful and traumatic, but breaks through that feeling because hedoesn't want it to control him.
"It takes a little piece of my life every time I fly," admits the rocker. "The amount of stress and anxiety it causes is just unbearable.
"It brings up all this old trauma, and sometimes I'm like, 'Is this worth it?' But I don't like anything having a hold on me, either — I don't like being afraid, and I don't like having things from my past control my future."
Why does Travis Barker have a hawk tattoo?
Travis Barker has a hawk tattoo in tribute to the late Foo Fighters drummer Taylor Hawkins, who sadly passed way on 25th March aged 50.
Taking to Instagram, the All The Small Things rocker shared a series of images which saw him tattooed by Mark Mahoney at Shamrock Social Club.Sharing a series of photos of the moment, where he was accompanied by fiancé Kourtney Kardashian, he wrote: "HAWK forever 🦅".
How tall is Travis Barker?
According to reports,Travis Barker stands at 175cm or approximately 5 foot 7 inches tall.
What other bands has Travis Barker played in?
Other than Blink-182, Travis Barker is a member of the Transplants and was part of Box Car Racer, +44, TRV$DJAM, Antemasque, The Aquabats, Expensive Taste and Goldfinger.
He's also worked with a number of young up-and-coming artists and collaborated with several hip-hop stars throughout his career.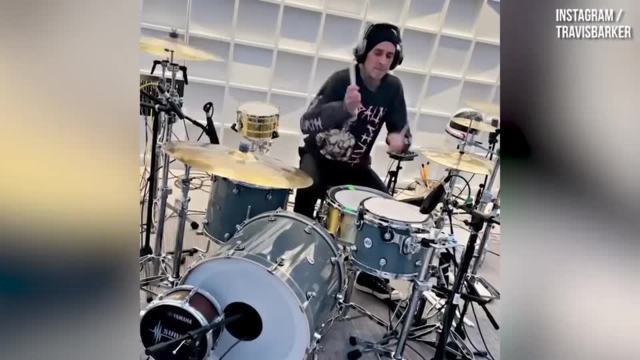 Travis Barker shows off his drumming skills in IG clip
What is Travis Barker's net worth?
According to CelebrityNetWorth.com, Travis Barker is worth approximately $50m.