Travis Barker reveals why Taylor Hawkins didn't want to practice drumming with him
13 November 2023, 17:15 | Updated: 15 November 2023, 16:55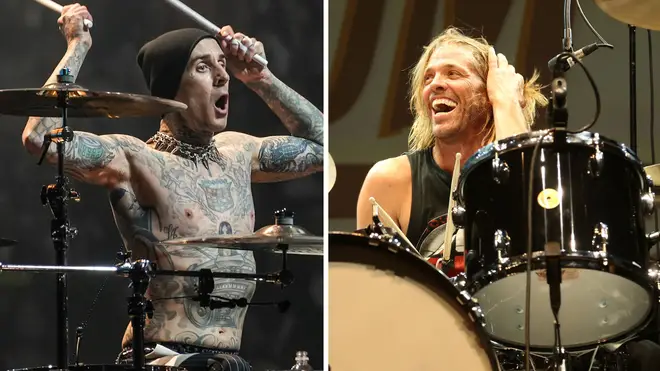 The Blink 182 rocker and late Foo Fighters drummer both lived in the San Fernando Valley and have ery different attitudes to their craft.
Travis Barker has recalled the time he asked the late Taylor Hawkins to practice drumming with him.
The Blink 182 rocker and the Foo Fighters drummer both lived in the San Fernando Valley and Barker revealed that Hawkins said the pair should start riding mountain bikes together.
However, when the All The Small Things rocker suggested they drum together, Hawkins had other ideas.
He told the Los Angeles Times: "[Hawkins] was like, 'I'm not practicing. I'm already as good as I'm ever gonna get,'".
However the Blink sticksman recalls disagreeing with the fellow drummer, adding: "Like, not f— true. I told him, 'You're already a beast, and you're just gonna keep getting better.'"
Travis Barker's love of drumming at any given opportunity has come into the spotlight of late, after he shared videos of what appeared to be him drumming along to his baby's heartbeat in a hospital suite while wife Kourtney Kardashian was in labour.
Fans had fairly mixed reactions to the video, with some calling it "annoying" and saying Kourtney must have had the "patience of a saint".
However, others called it a fitting tribute to his son, with one fan writing on TikTok: "Didn't expect anything less than Travis Bringing drums into the delivery room".
Another said: "Obviously none of you that are complaining have dated or been married to a drummer. You get used to it."
The musician, 47 years old, later reacted to the news coverage, using a laughing crying emoji to respond to respond to an article about him being "roasted to death" for the move.
Blink 182 recently completed the UK leg of their tour dates this year, with Barker able to fly with the band for their first world tour dates since his near-fatal plane accident in 2008.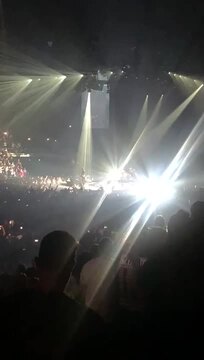 Blink 182 perform One More Time at The O2, London
"I think the power of love really helped me," he told the LA Times. "Kourt made it so I fly, my kids fly now. She healed us."
Despite this, the I Miss You rocker still finds it incredibly stressful and traumatic, but breaks through that feeling because he doesn't want it to control him.
"It takes a little piece of my life every time I fly," admited the rocker. "The amount of stress and anxiety it causes is just unbearable.
"It brings up all this old trauma, and sometimes I'm like, 'Is this worth it?' But I don't like anything having a hold on me, either — I don't like being afraid, and I don't like having things from my past control my future."