Queens of the Stone Age's Josh Homme thinks "it's a little c**ty" when bands don't play their biggest hits
3 August 2023, 17:20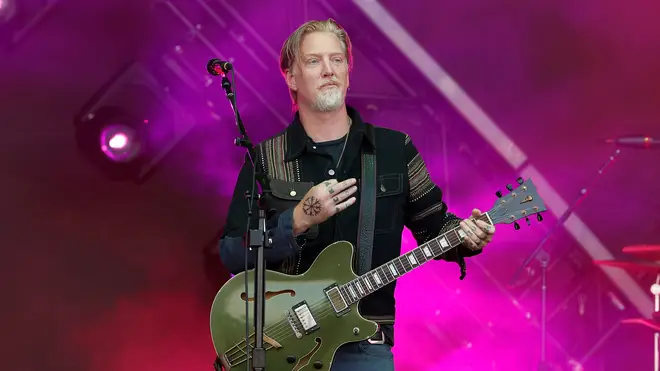 The Queens Of The Stone Age frontman has talked about his thoughts about bands not wanting to play the material which made them famous.
Josh Homme says it's "a little c***y" when bands refuse to play their most popular songs live.
The Queens Of The Stone Age frontman hates when musicians act as if the songs that made their careers are a burden and he believes they owe it to the fans to play the classics as well as their new material.
Speaking on the Tuna on Toast With Stryker podcast, he said: "I understand that I'm always going to play No One Knows because I still like playing that song and that's something that it's an agreement with the audience. I assume that this is a part of coming here to see us, and here you go.
"When there's bands that don't want to play their big song or their big songs, I always think it's a little c**** to do that. Acting like a song that a lot of people like is a burden is just a strange reaction to the gift that your fans have given you. Seems like an odd reaction."
READ MORE: Queens of the Stone Age's Josh Homme reveals cancer treatment
Homme believes part of the reason for not playing the hits is because some bands struggle with their success.
"In the years of doing this, I've seen a lot of artists… sort of get angry at their own music for doing well," he explained. "Having fans is a cool thing. And they want stuff. And when it comes to playing the stuff that they want, I feel like that's why this is happening, right?"
"You guys are all here because you want to hear some stuff and also have no idea what's going to happen. And you need to have that basic food group in order for me to surprise you, too. Surprise requires knowing some constants are going to happen. So I don't sweat stuff like that."
Queens Of The Stone Age - Negative Space
Queens of the Stone Age released their eighth studio album, In Times New Roman... on 16th June, which included the likes of Paper Machete, Emotion Sickness, What the Peephole Say and Negative Space, which was just released just today (3rd August).
The record which peaked at number two in the UK charts, came just before their epic Glastonbury performance, which saw them headline The Other Stage during Elton John's Pyramid Stage set.
READ MORE: Queens of the Stone Age share Paper Machete video