Liam Gallagher voices Manchester Metrolink tram announcements
11 October 2023, 12:36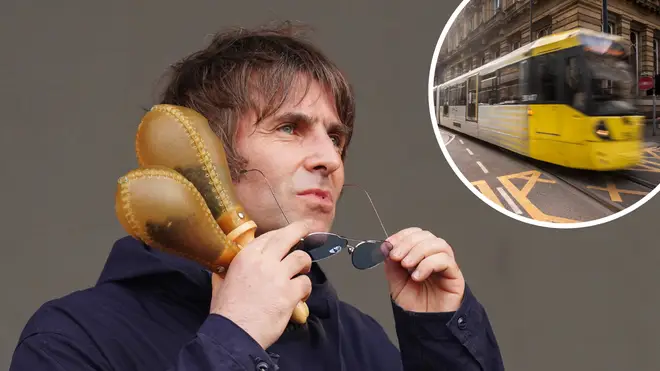 The former Oasis frontman's famous tones will grace passengers on board trams across the network to mark Beyond The Music festival this week.
Liam Gallagher has recorded his voice for the Metrolink announcements in Manchester.
The former Oasis rocker has lent his iconic voice to the transport network, which will announce stops to passengers as they board trams across the network.
In an excerpt released from Transport for Greater Manchester, the Burnage rocker says: "The next stop is the Etihad Campus - the home of the champions of England and the champions of Europe. Come on City".
Get a taster of the rocker's voice over work, courtesy of Manchester Evening News below:
Gallagher joins a long list of celebrities and public figures to record guest announcements for the Metrolink tram service, including Madchester legend and Happy Mondays frontman Shaun Ryder and Olympic champion Sir Mo Farah.
The Some Might Say singer's voice is taking over the trams in celebration of the Bee Network, Greater Manchester's integrated public transport system and Beyond The Music festival, which is taking place across the city from 11th-14th October.
A spokesperson for Liam Gallagher said: "Liam's doing his bit to get behind the festival and encourage people to get into the city and support new up and coming talent.
"When the request was first made by Bee Network champion Andy Burnham, Liam loved the idea of surprising tram users by doing the announcements and he was given the chance to choose his favourite line. You'll have to get onto a tram into the city to find out which it is!"
The mayor of Greater Manchester, Andy Burnham, said: "True to Manchester's traditions, Beyond The Music is a cooperative endeavour which aims to give all players in the music industry an equal voice and equal say on the change it needs. By doing that, our aim is to strengthen one of Manchester's, and Britain's, most important exports.
"There surely can't be any better way of marking the launch of the Bee Network and the first Beyond The Music than getting one of Manchester's most famous voices announcing the stops on his favourite Metrolink line.
"It means a lot to us that Liam has agreed to do this and show his support for his home city. Supporting our music venues and giving people cheaper and better public transport to and from our gigs is what we're all about.
"I am sure that Liam's dulcet tones will wake up a few early-morning commuters, brighten up many a journey and produce a lot of smiles along the way."