Dave Grohl hints Foo Fighters are mystery Glastonbury act "The Churnups"
6 June 2023, 18:26 | Updated: 7 June 2023, 10:51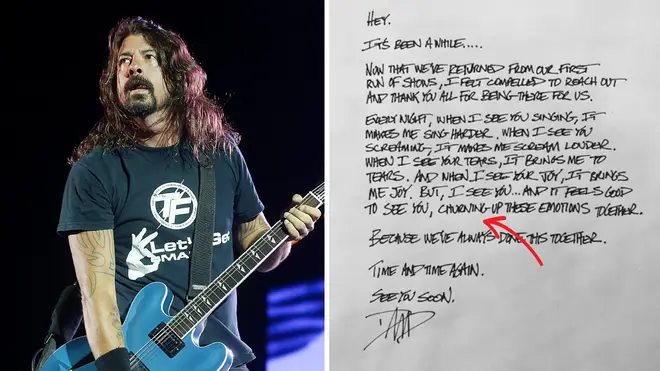 The Foo Fighters frontman has shared a heartfelt letter to fans... which has dropped a huge clue as to the identity of the mystery band.
Dave Grohl has shared a letter thanking fans for their support and dropping a big hint that Foo Fighters could be the secret act at Glastonbury 2023.
Last month saw the band embark on their first tour dates since the passing of their drummer Taylor Hawkins in 2022, while last week the band released their emotional and impactful But Here We Are album, which is dedicated to the sticksman as well as Dave's late mother Virginia Grohl.
Now, taking to social media, the frontman has shared a penned letter to the fans thanking them for their support and for "churning-up these emotions together" on stage.
The mention of "churning up" bares a striking resemblance to The Churnups- the mystery band on Glastonbury's official line-up and stage times, strengthening fan speculation that the Foos could be headed for a surprise performance at the festival this year.
The letter itself reads: "Hey,
"It's been a while.....
"Now that we've returned from our first run of shows, I felt compelled to reach out and thank you all for being there for us."
He adds: "Every night, when I see you singing, it makes me sing harder. When I see you screaming, It makes me scream louder. When I see your tears, it brings me to tears. And when I see your joy, it brings me joy. But, I see you... and it feels good to see you, churning-up these emotions together.
"Because we've always done this together.
"Time and again.
"See you soon."
READ MORE: Foo Fighters play first tour date since the death of Taylor Hawkins with Josh Freese on drums
If that wasn't compelling enough, last week saw a new Twitter account under The Churnups name, which started tweeting out Foo Fighters lyrics and titles.
Also in the frame are Britpop legends Pulp, who fans have speculated will play the slot on the Pyramid Stage because their name is synonym for something that is churned up.
However, Pulp drummer Nick Banks doused cold water over the rumours, writing on Twitter: "Though it's very tempting to tease you lot again. I know nothing of the 'Churnups' band. OK?"
Here's some clarifications

The Wednesday of which I speak is Sheffield Wednesday FC. League 1 play-off winners.

Though it's very tempting to tease you lot again. I know nothing of the 'Churnups' band. Ok?

Over and out. (For now)

— Nick Banks (@therealnickbank) May 30, 2023
Either way, both Pulp and Foo Fighters have a Glasto-shaped hole in their schedules, so watch this space.
Elsewhere on the Glasto line-up, there are artists listed as TBA on the Woodsies stage, playing on Friday at 19:30 and Saturday at 18.00 respectively.
The Park Stage - where Pulp last played a secret set at the festival in 2011 - will also see a "TBA" act take to the stage from 19:45 on Saturday evening, so there's plenty of space for both bands to appear at the festival.
READ MORE: Who is Josh Freese? Everything we know about Foo Fighters' new drummer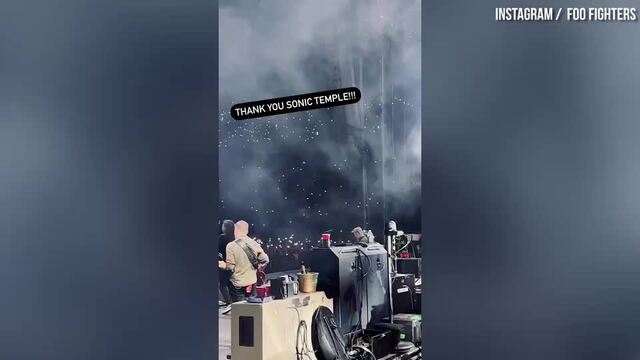 Foo Fighters perform at Sonic Temple
READ MORE: Elton John teases surprise guests and "completely different setlist" for Glastonbury 2023