Arctic Monkeys Tease Preparation For Comeback Shows
11 June 2018, 12:16 | Updated: 11 June 2018, 12:19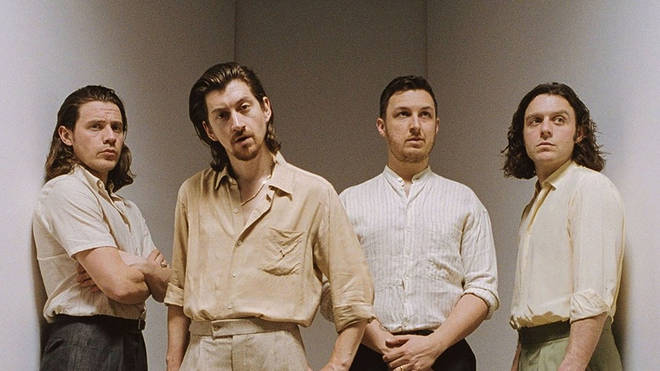 The Four out of Five rockers revealed they've rehearsed longer than ever for their live return, which kicked off with gigs in the US last month.
Arctic Monkeys rehearsed for longer than ever before ahead of their comeback shows last month.
The band kicked off their first headline live dates in four years with a show at the Hollywood Forever Cemetary in LA, and played their first UK show at London's Royal Albert Hall last Thursday (7 June).
Speaking to Q magazine 10 days ahead of their US show, guitarist Jamie Cook said revealed: "I don't think that's something I've been able to say before, fifth week of rehearsals.
"I don't ever remember rehearsing this much in the past."
Frontman Alex Turner added: "We wanted to be sure we gave ourselves enough time to quite literally get the act together.
"There's a desire to change how we present everything."
See Arctic Monkeys play from The Ritz to the Rubble at the Royal Albert Hall:
During their hiatus, Turner made a new Last Shadow Puppets album with Miles Kane, while drummer Matt Helders recorded and toured with Iggy Pop and Josh Homme.
But the Arabella singer insisted it didn't make them any more prepared for their comeback than their other bandmates.
He said: "Matthew went on the road with Iggy. The other guys have not been playing shows, but they're no rustier than we are."
See Arctic Monkeys play I Bet You Look Good on the Dancefloor at the Royal Albert Hall:
Meanwhile, Lily Allen has reacted to the band's new Tranquility Base Hotel & Casino album, revealing she likes it, despite referring to it as "cliché rock 'n' roll."
The LDN singer also revealed she almost started a band with Alex Turner, and that she thinks he has a "nice beard".
Lily Allen isn't the only person to give her thoughts on the new Arctic Monkeys' album, with musicians from all genres waxing lyrical about it.
Speaking to Gordon Smart ahead of his intimate Radio X gig at Watford Colosseum last month, the Oasis songsmith suggested the record lacked choruses.
Watch the interview here:
Asked about what he thinks of Alex Turner and co's sixth studio album, he replied: "Do you know what? I've just been listening to it in the car today on the way here... And I don't know what to make of it."
When the Radio X DJ said the record might not be what you expect from the band, the Holy Mountain rocker quipped: "No, you'd expect a few choruses. [It] hasn't got any of them".
Gorillaz and Blur man Damon Albarn was interested by the record, and hated to admit he thought their frontman was "talented".
"I've only listened to bits of it, but I think it's very interesting, he told Gordon Smart.
"I do think he's a very talented chap that Alex Turner, which annoys me to say that. I don't like paying compliments to anyone but it has to be said."
The Kooks also thought Arctic Monkeys' new album was "really interesting" and sounds "great".
Asked about the band's No.1 Tranquility Base Hotel & Casino album, frontman Luke Pritchard told Radio X: "It's interesting. It's just going to take a minute. I was just listening to it and I thought the music sounded great. I've had one pass on it and I think it's really interesting."
The Be Who You Are singer added: "It feels like it's something that's obviously an artistic expression that he (Alex Turner) wants to give. I think it's great when people do it without thinking too hard about what other people think".
"It feels pretty playful, doesn't it?" added guitarist Hugh Harris.
Watch The Kooks perform Niave for Radio X: