Friends stars share joint statement following passing of Matthew Perry
31 October 2023, 09:44 | Updated: 31 October 2023, 09:55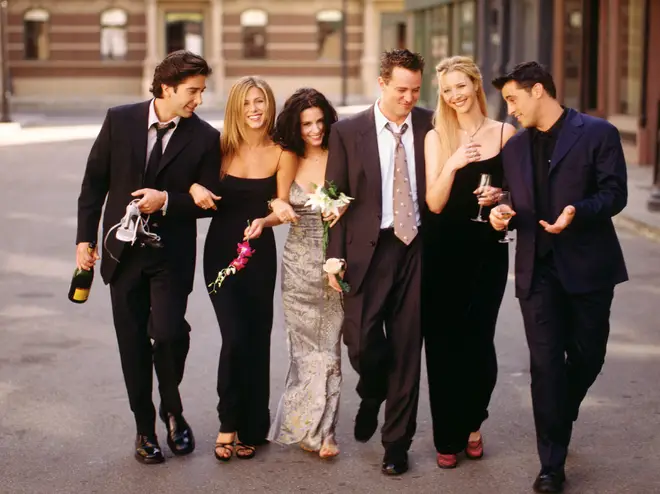 The cast of friends have said they are "devastated" by the loss of their co-star Matthew Perry, calling it an "unfathomable loss".
The cast of Friends have broken their silence following the tragic death of Matthew Perry, aged 54.
Tributes have continued to pour in for the Canadian-American actor, since he was found dead on Saturday 28th October and now his cast mates, who appeared alongside him on the hit US sitcom, have shared their devastation at the news.
"We are all so utterly devastated by the loss of Matthew," the Friends cast said in the statement released to the BBC.
"We were more than just castmates. We are a family. There is so much to say, but right now we're going to take a moment to grieve and process this unfathomable loss. In time we will say more, as and when we are able.
"For now, our thoughts and our love are with Matty's family, his friends, and everyone who loved him around the world."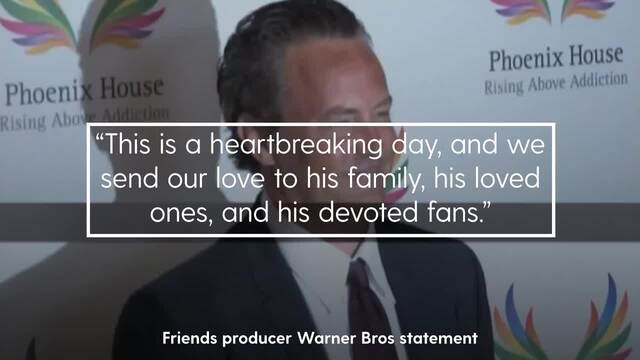 Friends star Matthew Perry found dead aged 54
Perry - who was best known for his role of Chandler Bing in the hi 90s sitcom - also appeared in various films, including Fools Rush In (1997) alongside Salma Hayek, The Whole Nine Yards (2000) and 17 Again (2009).
Hayek was among those to pay tribute to the star, sharing throwback photos alongside the caption: "Two days ago, I woke up to the shocking news that Matthew Perry is no longer with us. It's taken me a couple of days to process this profound sadness. There is a special bond that happens when you share dreams with someone, and together you work towards them. I was very moved last year when Matthew shared on his Instagram stories how much he loved 'Fools Rush In,' and how he thought that that film we did together was probably his best movie. Throughout the years, he and I found ourselves reminiscing about that meaningful time in our lives with a deep sense of nostalgia and gratitude. My friend, you are gone much too soon, but I will continue to cherish your silliness, your perseverance, and your lovely heart. Farewell, sweet Matthew, we will never forget you."
Maggie Wheeler, who played Chandler's on/off girlfriend Janice in the hit series, wrote on Instagram: "What a loss.The world will miss you Matthew Perry . The joy you brought to so many in your too short lifetime will live on. I feel so very blessed by every creative moment we shared."
Friends co-creators Marta Kauffman and David Crane left shared a heartfelt statement, which said: "We will always cherish the joy, light, the blinding intelligence he brought to every moment – not just to his work, but in life as well… This truly is The One Where Our Hearts Are Broken."
"We will always cherish the joy, light, the blinding intelligence he brought to every moment – not just to his work, but in life as well… This truly is The One Where Our Hearts Are Broken."⁰⁰— 'Friends' co-creators Marta Kauffman & David Crane on Matthew Perry's tragic passing pic.twitter.com/UCpZMiWTVg

— DiscussingFilm (@DiscussingFilm) October 29, 2023
Despite not knowing the star, Adele paused her Las Vegas show to pay tribute to Perry, calling Chandler Bing her "|best comedic character of all time" and praising the actor as "incredibly brave." for opening up about his struggles on addiction
Watch the moment, which was captured by the LA Times, below:
Kathleen Turner, who played Bing's mother on Friends, says in a new interview that she is "very sad for Matthew" after learning of the Friends actor's passing.
"He came to see one of my Broadway shows and he came backstage. When he saw me, he yelled out, 'Hey dad' and everyone thought it was pretty cool. I think it was for Who's Afraid of Virginia Woolf."
She went on: "I liked him. He had a good sense of humour and a good heart. He liked other people, which, to me, is terribly important, especially for an actor.
"It's extremely sad when you think about how young [he was] and a pity he couldn't get more control."