Billie Eilish releases Happier Than Ever album: "I feel like crying"
30 July 2021, 11:06 | Updated: 30 July 2021, 18:02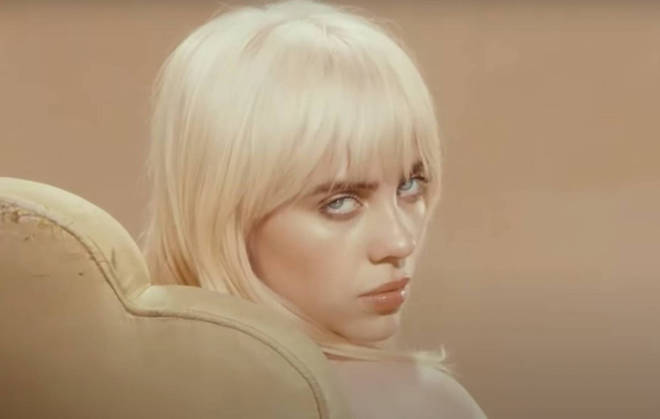 The singer-songwriter has finally released the follow-up to When We All Fall Asleep, Where Do We Go? See the best reactions here.
Billie Eilish has finally released her sophomore album, Happier Than Ever.
In April, the global sensation announced that the follow-up to her hit debut would be released on 30 July 2021 and now it's finally out to be experienced in its entirety.
Taking to Instagram to share the artwork again, she wrote: ""Happier Than Ever" my sophomore album is finally out. i can't even process it. this was the most fulfilling most satisfying and profound experience i've ever had with my music. finneas and i were just on cloud 9 making this album i feel.. i love every song on this project so so much it literally scares me thinking about putting it out into the world for anyone to listen to. i feel like crying. i grew so much in the process of making this album and experienced so much self realization and self reflection. i wish i could go back and make this album all over again because it was some of the best nights in my life. i love you @finneas thank you for being you. i couldn't ask for a better brother and collaborator, you are my whole world and i couldn't do any of this without you. anyway i'm so excited and nervous and blaaah… please take care of this project, it means the world to me. 🤍 I CANT BELIEVE ITTTT".
The album cover marks a new era for Eilish, seeing her ditch her black and green hair for bombshell blonde tresses.
The GRAMMY AWARD-winning singer also loses her long acrylic nails for the soft and ethereal artwork, which sees her swaddled in cream knitwear as a single tear falls down her cheek.
The album follows her smash hit, When We All Fall Asleep, Where Do We Go? album, which included the singles Bad Guy, Bellyache and When The Party's Over.
READ MORE: Billie Eilish debuts blonde hair and reveals black and green wig she'd been wearing
What is the name of Billie Eilish's second album?
Billie Eilish's second studio album is entitled Happier Than Ever.
When is Billie Eilish's Happier Than Ever released?
Eilish's Happier Than Ever album is set for release on 30 July 2021.
What's the tracklist for Billie Eilish's Happier Than Ever album?
The tracklist for Happier Than Ever is as follows:
Getting Older
I Didn't Change My Number
Billie Bossa Nova
my future
Oxytocin
GOLDWING
Lost Cause
Halley's Comet
Not My Responsibility
OverHeated
Everybody Dies
Your Power
NDA
Therefore I Am
Happier Than Ever
Male Fantasy
What does Billie Eilish's Happier Than Ever album sound like?
The singer-songwriter also told Vogue it was her angriest work yet, revealing: "It was very satisfying to scream.
"Because I was very angry. There's so much anger in those songs - anger and disappointment and frustration."
Despite that, the album is pretty chilled and down tempo for the most part, allowing Eilish's ethereal vocals to take centre stage.
Watch the official video for her Your Power single:
READ MORE: Where to watch Billie Eilish's The World's A Little Blurry documentary
Find out the answers to more Billie Eilish questions here.
Is Billie Eilish supporting her new album with a tour?
Yes, Billie Eilish has announced a Happier Than Ever World Tour with tickets going on general sale on Friday 28 May from 10am.
Where can you watch the Billie Eilish documentary?
Billie Eilish's The World's a Little Blurry is available to watch exclusively on Apple TV+.
Where can you watch Billie Eilish's Disney+ concert?
Billie Eilish's Happier Than Ever concert will be streamed on Disney+ from 3 September 2021.
When is Billie Eilish's BBC Up Close documentary released?
Billie Eilish: Up Close will air on BBC One at 10.30pm on Saturday 31 July 31 and will also be available on BBC iPlayer.
READ MORE: Billie Eilish used to "sit in the car and cry" to The Killers' Mr. Brightside