Narrow Escapes And Twists Of Fate: The Closest Shaves In Musical History
16 July 2017, 13:49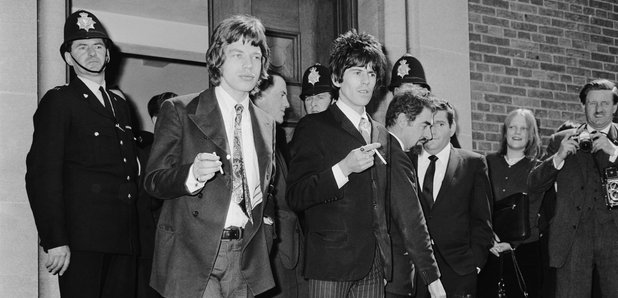 What happens when things don't always go to plan? How do the stars cope with the fickle finger of fate? We look at some of the strangest coincidences in the annals of rock 'n' roll… and some of the moments when musicians managed to avoid disaster.
NOT LOSING YOUR CREDIBILITY OVER A CHART BATTLE
The history of rock music is littered with stories of amazing songs that almost made it to the top of the charts, but were blocked by tracks that were utterly pants. Wonderwall was one of the highlights of Noel Gallagher's songwriting career, but Oasis were bumped from the top slot by TV stars Robson and Jerome. Strawberry Fields Forever and Penny Lane was The Beatles' unbeatable single, paving the way for the Sgt Pepper album… but kept at No. 2 by Englebert Humperdinck's cheesy song Release Me, better known as the Fast Show theme. Despite the brief disappointment, both these songs heralded the beginning of a new era of superstardom for both bands.

NOT GETTING MURDERED BY A FAMOUS KILLER
In his autobiography To Hell And Back, Meat Loaf claims he once gave a lift to a hitch-hiker back in 1960s California, who asked the budding singer if he'd "like to meet a Beach Boy". After being dragged along to a flash house in the Hollywood hills, Mr Loaf got a bit freaked out and decided to leave. A couple of years later, Meat saw the hippie again… on the TV news, where he was being named as cult leader Charles Manson, the man who orchestrated the murder of actress Sharon Tate and others in Los Angeles in 1969. Scary.
NOT DYING THROUGH "OVER INDULGENCE"
Many, many rock stars have fallen victim to accidental overdoses over the years, but occasionally someone will avoid tragedy. One of the most famous "lucky ones" was Dave Gahan of Depeche Mode, who found himself in the grip of drug addiction as the band became hugely famous in the US. In 1996, he overdosed on a "speedball" of heroin and cocaine and technically died for two minutes. Thankfully, he recovered and is still touring and performing with the Mode.

NOT DYING IN AN ACCIDENT
On 19 September 2008, Blink-182 drummer Travis Barker was one of six people on a private plane returning from a gig in South Carolina. The plane failed to take off, overshot the runway, careered across a busy road and crashed down an embankment. The two pilots, plus two other passengers, were killed - only Barker and his bandmate in TRV$DJAM, Adam Goldstein, were the only survivors. The drummer burned over 65% of his body and suffered post-traumatic stress disorder.

NOT GETTING SENT TO A WAR ZONE
When young Jimi Hendrix was caught joyriding aged 19, he was offered the choice of a prison sentence or joining the army - unsurprisingly, he chose the latter. However, the burgeoning guitar hero was such a hopeless soldier that he was given an honorary discharge after just one year. This was fortunate for the world of rock, as if Hendrix had been a serving soldier, he almost certainly would have been sent to serve in the Vietnam War, which was just beginning to hot up. Instead, Hendrix claimed to have broken his ankle during a parachute jump… but it's thought that this was just a story made up so he could continue his stellar musical career.

NOT BEING SENT TO PRISON FOR VERY LONG TIME
In February 1967, Rolling Stone Keith Richards held a party at his house in Sussex, only for the gathering to be raided by the police. The cops claimed to have discovered evidence of cannabis in the house, plus some amphetamine tablets that belonged to Mick Jagger. When the case went to court, Jagger was sentenced to three months in prison, while Keef was sent down for a year for "allowing cannabis to be smoked in his home". The rock world was shocked and even the normally staid Times newspaper came out in the group's defence - luckily, the sentences were quashed on appeal and the Stones were free to continue being a world-beating rock band. It was later claimed that the whole bust was a set-up by the authorities.

LEAVING A BAND BEFORE IT GETS TOO INSANE
Remember Dell Neal? You know, the bassist in The Killers? No? Well, that's because he left the band in 2002, when he was known as Dell Star, but unfortunately personal reasons got the better of him and he called guitarist Dave Keuning to hand in his notice. "I told him I was just really stressed out," he told the Las Vegas Sun in 2010. "From personal life, from being in the band — and that I felt like I was having a nervous breakdown. I wasn't even sure if I even wanted to be in a band. I wasn't sure I wanted to go too pop." It was probably for the best - the band released their first single the next year and quickly became a huge hit. The pop charts beckoned.