Noel Gallagher blames sitcom Friends and coffee shops for decline of music culture
27 April 2023, 11:21 | Updated: 27 April 2023, 11:39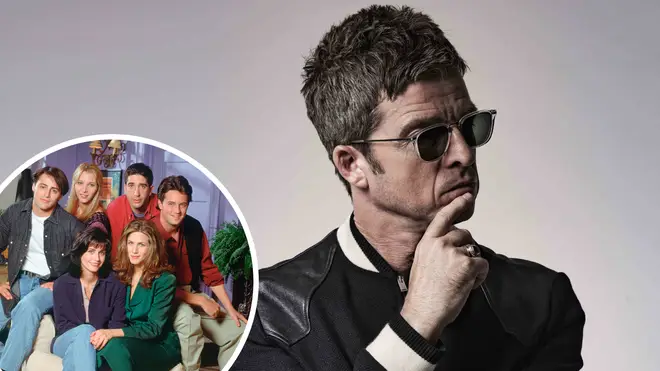 The Easy Now singer has been quoted saying that expensive coffee houses have contributed to the collapse of culture.
Noel Gallagher has blamed hit '90s TV show Friends and the rise of coffee shops on the fall of culture.
The former Oasis guitarist and songsmith is preparing to release his new album Council Skies on 2nd June and has discussed how the change of people's spending habits has taken them away for supporting artists.
As reported by BANG Showbiz, the Manchester rocker was quoted by the Daily Star as saying: "It is sitting around in sweaters drinking overpriced coffee and talking about nonsense.
"Since the rise of the coffee shop, culture has disappeared. People are horrified that they have to pay for music!
"But $20 for two coffees, oh, absolutely. I haven't got the brain capacity to process this."
READ MORE: Noel Gallagher's High Flying Birds' UK Headline Dates for 2023
It's not the first time Gallagher has touched on the subject of people being happy to pay for coffee, but not new music.
Back in 2018, the Pretty Boy singer ranted to NPR: "Since the rise of the coffee shop, culture has disappeared, don't you think? People are horrified that they have to pay for music. Music! But $20 for two coffees, 'Oh, absolutely'.
"I feel like the resistance to pay for music came after people got used to that. Maybe it's that they got used to spending a lot on commodities that feel like culture – like coffee – and then changed their financial priorities. Or maybe it's that, all of a sudden, music was free."
Asked what he thought embodied the spirit of rock 'n' roll, Noel added: "To me, it's freedom of thought. Freedom of expression. It's not about the leather jacket and the Jack Daniels, though that always helps.
"Rock and roll to me was about Led Zeppelin and The Beatles and the Stones and the Sex Pistols.
"Somewhere in the middle of the '90s, people started mass-producing Rolling Stones 1971 tour t-shirts and MC5 T-shirts.
"People would say, 'That's so rock and roll, innit?' and it lost its thing."
Gallagher might believe fans aren't willing to pay for music, but it's clear they are still willing to see him and his brother play live.
The Ballad Of The Mighty I singer is heading on sever dates across summer, which includes a homecoming show at Manchester's Wythenshawe Park and he's recently announced new UK Arena dates for 2023.
See Noel Gallagher's 2023 UK Arena dates below:
Wed 30th Aug 2023 Hull Bonus Arena
Thu 14th Dec 2023 London OVO Arena Wembley
Fri 15th Dec 2023 Birmingham Utilita Arena
Sun 17th Dec 2023 Cardiff Motorpoint Arena
Mon 18th Dec 2023 Leeds, First Direct Arena
Wed 20th Dec 2023 Glasgow OVO Hydro
Thu 21st Dec 2023 Liverpool M&S Bank Arena
READ MORE: Noel Gallagher responds to Liam's Oasis reunion comments: "Call us"
Noel Gallagher on his new album Council Skies and more
READ MORE: Noel Gallagher would collaborate with Damon Albarn again: "Me and him get on great"