Noel Gallagher sends public message to Liam on Oasis reunion: "I f***ing dare you to call me"
6 June 2023, 17:32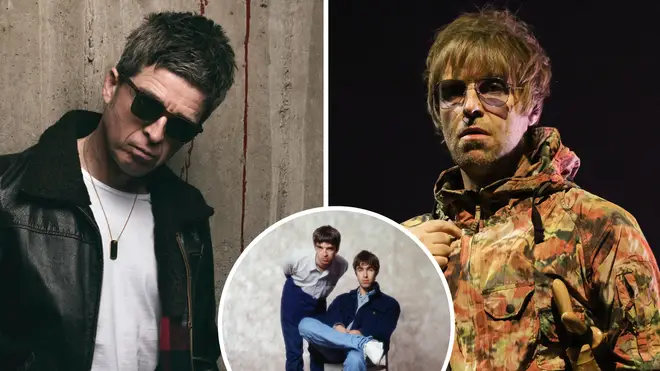 The former Oasis rocker doesn't think his brother and former bandmate actually wants an Oasis reunion, but has dared him to make contact.
Noel Gallagher has dared his brother Liam Gallagher to call him.
The former Oasis rocker is currently on co-headline tour dates with Garbage in the US and when asked if he'd reunite with the band and his brother once more, he insisted that neither of them actually want it.
Quizzed on the subject by Seattle station 98.9 KPNW, he said: "Look, he's gonna have to call me. He's going to have to get somebody to call me, because he's been going on about it for the last f***ing 10 [years] or whatever it is and you know, he doesn't want it.
"He knows that neither of us are particularly interested in it. I know he doesn't want it. I'm very comfortable with what I'm doing. I couldn't give a flying f*** one way or the other, but he keeps going on about it and I'm like, 'OK well f***ing call us then."
Watch the interview clip below:
"Let's see what you've got to say," he went on. "You've made up all these imaginary ground rules over the years and told kids, 'It's happening. It's happening now. It's coming .It's definitely happening.' Blah blah blah. I dare him."
Then, looking directly into the camera to address his brother, Noel added: "I f***king dare you to call me. I dare you to call me. And you won't call me, because if you do call me and I go, 'Actually that's a good idea. Actually, that might work.'
"Then the arse falls out of his trousers, because then you've got to be in the same room as me and we both know how that ends up."
"So you call me. Stop tweeting. You're bigger than that. You're better than that."
READ MORE: Noel Gallagher blasts "pointless" AI generated Oasis songs
The news comes after Noel said he would think about taking Radio X's Johnny Vaughan up on his offer of putting the band back together if he produced £8 million in an Adidas bag, saying: "I would consider it. I would properly consider it."
Quizzed if all the speculation surrounding an Oasis reunion still fascinates him, he mused: "It used to really annoy me when I first started and now it's just. It's just whatever really.
"I'm fascinated with people asking the same question and getting the same answer, but the thing that's really ongoing and will never get old is how the music just keeps appealing to another generation of fans."
Noel Gallagher on writing new album Council Skies in lockdown, his favourite Oasis tune and more
READ MORE: Noel Gallagher dubs himself an "idiot" over tour clash with Champions League finals