Liam Gallagher: Playing With Beady Eye Was Hard Work
17 February 2018, 08:00
The Manchester legend claims that performing small shows with his post-Oasis band was "weird" and "unacceptable" to him.
WARNING: STRONG LANGUAGE!
Liam Gallagher has been telling Radio X that he didn't feel comfortable playing small venues with his post-Oasis band Beady Eye.
The Manchester singer made a spectacular comeback in 2017 as a solo artist, with appearances at Glastonbury and Reading and Leeds festivals, as well as his own arena tour in last autumn. Summer 2018 sees him headline Finsbury Park in London on 29 June, TRNSMT Festival in Glasgow the next day and Lancashire County Cricket Club in Manchester in August.
But when Liam launched his first band Beady Eye after the split of Oasis in 2009, he was playing venues like Manchester Academy and the Hammersmith Apollo in London. And the star was worried that he'd be back playing smaller shows as a solo star.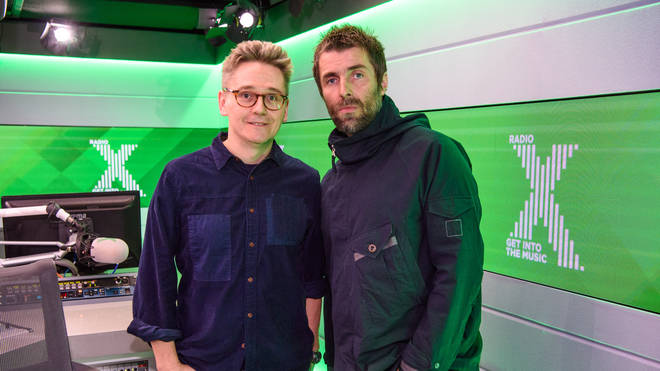 He told Radio X's John Kennedy: "I thought it'd be a Beady Eye kind of thing… which was not acceptable.
"That ain't good enough for me. I thought, if it's like that, I'm packing it in. It needs to be BIG - if it's not big, it doesn't fit right for me, you know what I mean?"
He went on: "Playing them clubs with Beady Eye… as much as it was great, it was fucking hard work. It just wasn't right, man. It felt weird.
"Maybe it felt weird cos Noel weren't there? We were giving it as much as we could, it just felt odd."
"So I thought, if it's gonna be like this I need to start sewing. Get meself down to Pretty Green and get a few buttons on a few jackets.
"It has to go off for me to really fucking want it. And it did, thank the Lord."
Thankfully, Liam's solo career started with a Number 1 album, As You Were, and a series of sold-out, high profile live shows, including an appearance at Ariana Grande's One Love Manchester date in June to pay tribute to the victims of the Manchester terror attack last year.
Now Liam is looking forward to 2018: "It feels right for me to be playing Finsbury Park and the Cricket Ground and doing all these arenas.
"I'm made up."
Radio X will be hosting a very special Liam Gallagher Day on Sunday 18 February. Danny Wallace will be chatting to the singer on his Important Broadcast at 11am, while John Kennedy will take the legend back over his career before playing out the singer's acoustic gig recorded live on the roof of Radio X's studios, from 7pm on Sunday night.