The Hives' Pelle Almqvist defends Arctic Monkeys' changing sound: "Who gives a s***?"
9 August 2023, 14:38 | Updated: 9 August 2023, 14:46
The Hives frontman has praised the Sheffield rockers and called them "pretty much the only good" big band he knows.
Pelle Almqvist believes Arctic Monkeys should carry on making the music that "feels right" to them.
The Hives supported the Sheffield rockers throughout their European tour and revealed Alex Turner and co are one of the few :big bands: he actually still enjoys.
Speaking to Music Week about the band changing their sound, he said: "I think they should do what feels right. I think everything they've done has been good, it's just different genres."
The Swedish rocker added: "I can see that someone who loved the first album maybe isn't into the last album and vice-versa, but who gives a shit? They're doing what they feel like they should be doing and that's all there is to it. I like all their stuff, basically."
READ MORE: Watch Julian Casablancas imitate Alex Turner at The Strokes' gig
And when it comes to supporting the rockers on tour, Pelle has absolutely "no complaints," and revealed that they were treated very well.
Quizzed about being the special guests the band's stadium tour, he said it was "Great," adding: "No complaints. A+ tour. Everyone was really nice to us. There were a s***-ton of people watching the shows.
"We got paid decently. It was really f***ing fun and the weather was amazing throughout the whole tour."
The Tick Tick Boom rocker added: "Also I like Arctic Monkeys. I think they're pretty much the only good really big band I know [laughs]."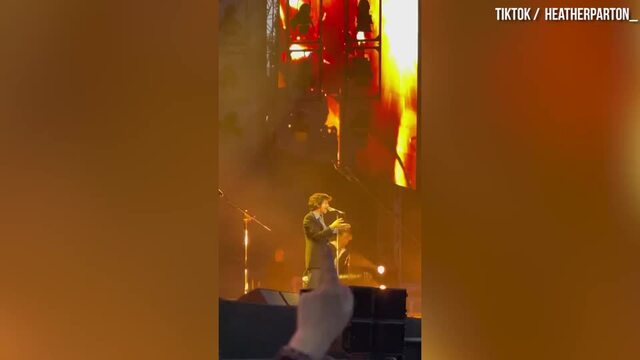 Arctic Monkeys perform on UK tour
READ MORE: Arctic Monkeys' Matt Helders joins The Hives on stage in Athens
It's not the first time the R U Mine? rockers have been hailed as one of the best big rock bands of their time.
Blur frontman Damon Albarn had high praise for the band when talking about the potential of guitar music in 2023.
Speaking on the Broken Record podcast, he mused: "I feel like there's a bit more excitement about guitar music again, that can't be a bad thing because it got so sterile. For me, the last great guitar band would have been Arctic Monkeys and I don't really know if there's anything as good as that since."
The Universal singer added: "But now there are bands with a huge amount of potential. It's really dismantled itself guitar music and put itself back together again in a different form. You've got some fantastic new mutations of the genius of it."
READ MORE: Damon Albarn dubs Arctic Monkeys "the last great guitar band"