VIDEOS: Eddie Vedder Gives Moving Speech At Pearl Jam's Rescheduled London Gig
19 July 2018, 06:00 | Updated: 19 July 2018, 06:01
The Alive rocker sent his "deepest apologies" to the crowd at The O2, London after being forced to cancel the date last month.
Pearl Jam made a triumphant return to The O2, London after being forced to cancel their gig last month.
Opening their set with 1991 track Oceans, before playing Nothing as It Seems, Go and Corduroy, Eddie Vedder took a moment to address the crowd and apologise for having to postpone their London date due to vocal trouble.
Watch our footage of the moment above.
"I'd like to say something quickly, because it's been weighing on my mind about for about three and a half weeks now since we were last here," announced the rocker.
"I'd just like to say all my deepest apologies and all my many many thanks. It all goes to the same people which is all of you out here and everybody in this group.
The Alive singer continued: "And I've never really had that happen before, so it broke my heart and then having a busted throat and a broken heart at the same time is really a nightmare of an experience [...]"
He added: "Again, for all the people who had to change their plans - and I know so many familiar faces - I know you had to make some big changes, I was so sorry and again so thankful to everyone. I deeply appreciate it and I look forward to paying you back all night."
The grunge legend concluded: "And so in the immortal words of Marvin Gaye: 'let's get it on'".
And he paid back the crowd tenfold, as the band went on to play an epic 33-song set, which included their Even Flow and Alive anthems.
Watch them perform Even Flow below:
Pearl Jam also paid tribute to the likes of The Who, Bob Dylan and the late Tom Petty, covering his I Won't Back Down single.
Watch the band cover The Who's Baba O'Riley here:
A highlight of the night came in the form of a speech dedicated to Donald Trump and the baby blimp, which had made its way outside of the London venue.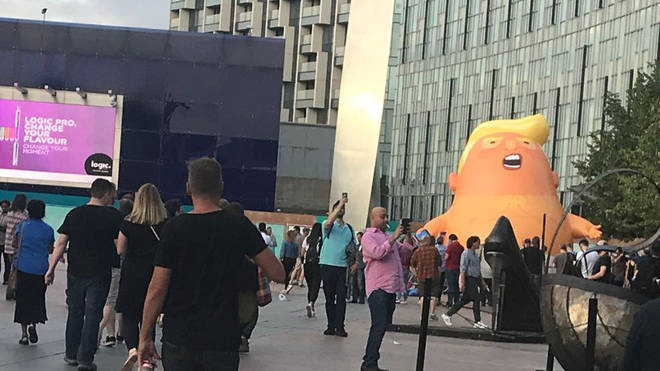 Despite the crowd being whipped into a frenzy throughout the mammoth career-spanning set, energy was at an all time high during their biggest anthem and first ever single, Alive, which saw Vedder hug members of the front row and jump into the crowd.
Not content to play one or two encores, the grunge rockers returned to the stage for a third time to end their set with a rousing cover of All Along The Watchtower.
See them play the Bob Dylan track, which was also made famous by Jimi Hendrix, here:
See the setlist for Peal Jam's gig at The O2, London on Tuesday (17 July):
Oceans
Nothing as It Seems Go
Corduroy
Save You
Do the Evolution
Given to Fly
In Hiding
I Am Mine
Green Disease
Even Flow
Daughter (with Dead Moon's "It's Okay" tag)
You Are (Dedicated to Matt Cameron's daughter)
Satan's Bed
Can't Deny Me
Mankind
Whipping
Lukin
Rearviewmirror

Encore:
I Won't Back Down (Tom Petty cover)
Fatal
Around the Bend
Jeremy
Mind Your Manners
Breath
Crazy Mary (Victoria Williams cover) (With Stairway to Heaven outro solo and jam)
Porch (with 'Seven Nation Army' snippet)
Encore 2:
Elderly Woman Behind the Counter in a Small Town
Wasted Reprise
Alive
Baba O'Riley (The Who cover)
Yellow Ledbetter
Encore 3:
All Along the Watchtower (Bob Dylan cover)