Amy Winehouse's personal journals to be included in new book
27 April 2023, 16:58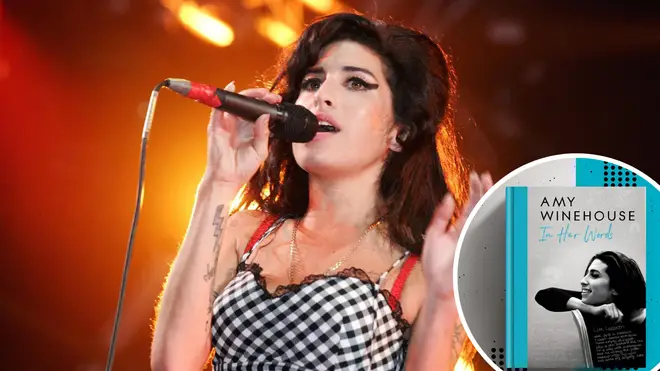 The book, entitled In Her Words, will arrive ahead of what would have been the singer-songwriter's 40th birthday.
A new Amy Winehouse book is set to be published on what would have been the icon's 40th birthday.
In Her Words, which is set to be published on 29th August, will include the Back To Black singer's handwritten lyrics and personal journal entries, allowing fans to get closer to the singer-songwriter than ever before.
An announcement on on Amy's official Instagram account, explained: "Coming this August, 'Amy Winehouse: In Her Words.'
"Much has been said about Amy Winehouse since her tragic death aged just 27. But who was the real Amy?
"'Amy Winehouse: In Her Words' shines a spotlight on her incredible writing talent, her wit, her charm and lust for life. Bringing together Amy's own never-before-seen journals, handwritten lyrics and family photographs together for the first time, this intimate tribute traces her creative evolution from growing up in North London to global superstardom, and provides a rare insight into the girl who became a legend."
READ MORE: Is Back To Black Amy Winehouse's most poignant song?
The 288-page hardcover book will be published on 29th August 2023, just before the artist's 40th birthday on 14th September.

Her estate has pledged to donate all royalties from the book's sales to the Amy Winehouse Foundation, with a minimum donation of £70,000 promised.

Meanwhile, a biopic about the singer - who died aged 27 in 2011 from alcohol poisoning - entitled Back to Black is also currently in production, with Sam Taylor-Johnson at the helm.
Earlier this year, Studio Canal shared a first look at the film's star Marisa Abela in the role of Winehouse, prompting mixed reactions.
The British actress is relatively unknown and has previously had parts in the 2020 series, Industry, the 2020 series, COBRA and the 2022 film Rogue Agent.
However, not all fans were pleased with the first look at the actress in the role, with some claiming some of the accesories her weren't authentic to Amy's iconic style.
"The hoop earrings aren't right," @miss_moskatow wrote. "Normally they were thicker with a print. LV print or leopard. If it wasn't that it would be those white ones with the scallop or bamboo metal earrings."
Another added: "Change the earrings & lipstick."
However, one countered in the comments: "this isn't the real Amy Winehouse, and of all the details in this movie, the earrings being her exact same ones really isn't a big deal".
READ MORE: Mitch Winehouse wanted George Clooney to play him in the Amy Winehouse biopic
Watch the trailer for Reclaiming Amy on the BBC
READ MORE: Amy Winehouse biopic to go ahead with director Sam Taylor-Johnson at helm