Who Should Have Been On The Manchester Walk Of Fame?
5 October 2016, 17:40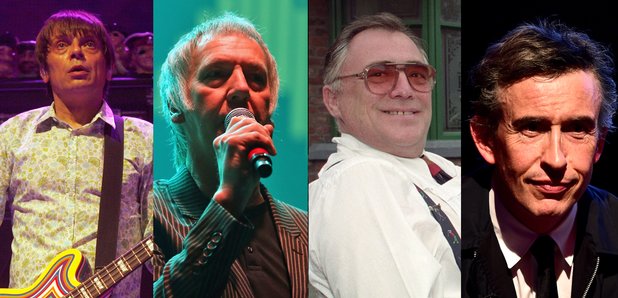 A temporary tribute to Manchester's biggest stars is being launched this weekend. But who have they missed off? Radio X pitches for some of our favourites.
A Star Walk is to be launched this weekend, showcasing some of Manchester's greatest people.
The Liqour Store on First Street in the city will be paying tribute to Oasis men Liam and Noel Gallagher, plus the likes of Caroline Aherne, Ian Brown, Morrissey, and Suffragette Emmeline Pankhurst. Oh, and Bez.
However, there's been consternation and uproar from various quarters about who was included in the Top 20 Mancunians list.
So Radio X has pitched an extra 10 great Mancunians that we think should be honoured. Who have we missed off?
Mani

Gary Mounfield from Failsworth has been in not one, but TWO legendary bands. The Stone Roses, of course, but also Primal Scream. He deserves a star.
Liam Fray
Middleton: gateway to Moston. This North Manchester suburb has spawned one of the greatest songwriters of his generation. Give him a star, for God's sake.
Steve Coogan

Another product of the creative cauldron that is Middleton. For the creation of Alan Partridge alone, he deserves recognition.
Shaun Ryder
How can you include Bez, but not the man who Tony Wilson compared to poet W B Yeats? The man who sums up the spirit of 1990s, hedonistic Manchester?
Clint Boon

How on EARTH could a Manchester Walk Of Fame even be considered without including our very own Clinton David Boon? Even considering his status as the figurehead of "Madchester" thanks to his mad keyboard skillz in Inspiral Carpets, without Clint, Noel Gallagher wouldn't have got a break in the music industry. Therefore: no Oasis.
Johnny Marr

How can you have Morrissey without Marr? Born in Ardwick, raised in Wythenshawe, Johnny created the indie sound that we have been paying homage to ever since.
Bill Tarmey
Again, Ardwick comes up trumps, birthing perhaps THE defining character of Coronation Street. OK, Ken Barlow may have been in it since the beginning, but Jack Duckworth sums up Manchester: down to earth, loves spending time in the bookies', the pub or with his pigeons… but he has a secret, glitzy life as club singer "Vince Sinclair". Legend.
Martin Hannett
Raised in Miles Platting and educated in Rusholme, Hannett created the definitive post-punk sound by producing the classic Joy Division albums Unknown Pleasures and Closer. His innovations changed the way music was conceived in the 1980s and did it all over again at the other end of the decade with Happy Mondays. He died in 1991 aged just 42. One of Manchester's great eccentric geniuses.
Karl Pilkington
He was a simple producer at this very radio station, until a chance encounter with Ricky Gervais turned him into one of the 21st Century's greatest philosophers. He has made stupidity an art form.
Davy Jones

Dubbed by fellow Monkee as "The Manchester Cowboy", Openshaw-born Jones was a child actor who appeared briefly in Coronation Street. But he lived the dream: after appearing as The Artful Dodger in the original production of Oliver!, he appeared on US TV and moved to Hollywood, where he became the only British member of fictitious TV rock band The Monkees. He died in 2012.
Judy Finnegan

No Richard Madeley, unfortunately - he's from Romford in Essex - but a generation of Mancunians got to know their local news from Newton Heath-born Finnegan. With her husband, the pair made daytime TV in the UK their own with This Morning. Even though they sold out and broadcast from the Albert Dock in Liverpool.
THE OFFICIAL MANCHESTER WALK OF FAME
1. Noel Gallagher
2. Liam Gallagher
3. Morrissey
4. Ian Brown
5. Ian Curtis
6. Bez
7. Mick Hucknall
8. Paul Scholes
9. Brian Cox
10. Maxine Peake
11. Tony Warren
12. Lemn Sissay
13. John Thaw
14. Caroline Aherne
15. Dame Sarah Storey
16. L S Lowry
17. Danny Boyle
18. Tony Wilson
19. Emmeline Pankhurst
20. Les Dawson
The Star Walk will be around until Monday 10 October.