Big Shaq On Liam & Noel: "Maybe I Can Bring Them Together"
9 July 2018, 18:02 | Updated: 9 July 2018, 18:11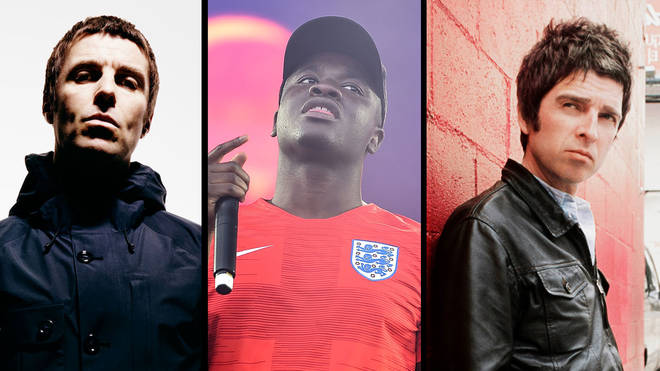 The Mans Not Hot star has opened up about his friendship with Liam Gallagher and how they've talked about making music together.
Big Shaq has talked about his friendship with Liam Gallagher and his hopes to bring him "back together" with his brother Noel.
Speaking to The Sun at Wireless Festival, the Mans Not Hot star said of the former Oasis frontman: "Liam Gallagher — that's my guy. Yeah, we talk all the time.
"He said, 'You're a legend man, just keep going. Go for it brother.'
"He wants to work on a song together — he's been giving me great vibes. Hopefully we will get in the studio together soon. He's showing me a lot of love."
See Noel Gallagher praise Big Shaq in our video:
Speaking about Liam's estranged brother and former bandmate, Noel, the rapper and comedian - whose real name is Michael Dapaah - said: "I haven't actually met Noel, but he wanted me to come on tour with him, which could have been tricky with my friendship with Liam."
He added: "But I'm a citizen of the world and maybe I can bring them together."
Watch Big Shaq sing Wonderwall to Noel Gallagher:
Meanwhile, Liam has taken to Twitter to slam his brother once again after footage emerged which saw him telling crowds in Scarborough that football wasn't coming home.
Noel's gig at the North Yorkshire town's Open Air Theatre on Friday (6 July), just like gigs all around the nation this weekend, saw fans chanting "It's coming home" from Baddiel & Skinner and The Lightning Seeds' Three Lions.
But, not one to jump on a bandwagon, the Ballad of the Mighty I singer quipped: "Seriously though, it fucking so isn't".
Watch him in the video below, which was shared on Twitter by Darren Ratcliffe:
His younger brother took to Twitter to respond to reports soon after, writing:
Very sad when you can't support your country coz your mrs won't let ya hashtag soft lad hashtag under the thumb ITS COMING HOME as you were LG x

— Liam Gallagher (@liamgallagher) July 8, 2018
Noel Gallagher might not think England have a chance of winning the World Cup, but he does have his money on one team.
See his predictions in our video: