VIDEO: What is Dave Grohl's full name?
14 January 2019, 11:00 | Updated: 14 January 2019, 11:01
Want to be friends with Big Dave? Then you need to know about the moment when he became known by different name.
Dave Grohl is famous across the globe for being the lead singer of the Foo Fighters, the drummer of Nirvana and one of the nicest guys in rock.
But it could have all been very different...
Watch our video above to find out why.
When speaking to the Learn To Fly rocker ahead of their gig at Manchester's Etihad Stadium in June 2018, Gordon Smart referred to him as David Grohl, explaining that he was under strict instructions from his mother Virgina who he interviewed last year.
"This is the thing," exclaimed the rocker. "That's how I could tell people that have known me before Nirvana.
"Because on the record Nevermind I think I'm credited as Dave Grohl, so after that everyone just called me [that].
"But my entire life everyone had called me David, then I became a Dave..."
Oh, and just in case you were wondering, his middle name is Eric, which makes the rocker's full name David Eric Grohl.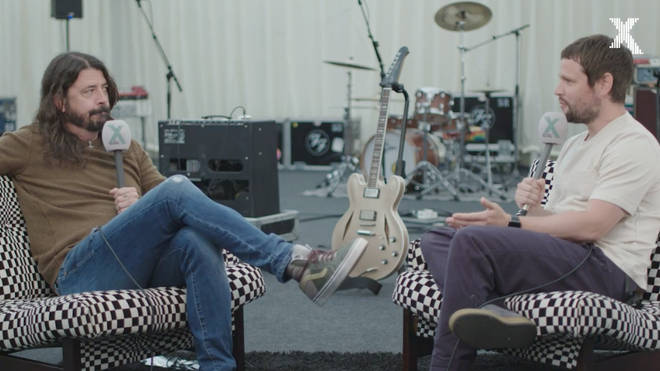 In the interview, Grohl also talked about the his worst gig, which he's also dubbed their best gig.
Speaking of the moment he fell offstage at a show in Gothenburg, Sweden in June 2015, he explained: "I thought this is the worst gig of my life. And then we got up onstage and finished the show and it was the BEST show of our entire career!"
He continued: "We just played there again recently and I had a little post traumatic… y'know, looking at the stage and looking at where I fell off."
To ease the bad memory, Grohl employed the services of a stuntman to prank the crowd by opening the show with another spectacular fall.
Watch his epic prank here:
Meanwhile, Grohl has named The Struts and their frontman Luke Spiller as one of their best support acts ever.
Gushing about the Derby-formed rockers, he said: "I guess they don't get a lot of love in England, but in America, they're the best opening band we've ever had.
"That kid Luke, the singer, it's unbelievable. He'll walk out in front of an audience in Tulsa, Oklahoma, where nobody has ever heard of them and by the end of the show he'll have the entire audience in the palm of his hand."
He added: I love seeing that. To see an audience turn like that is not easy."