The Struts: 10 Things You Should Know...
25 June 2018, 19:39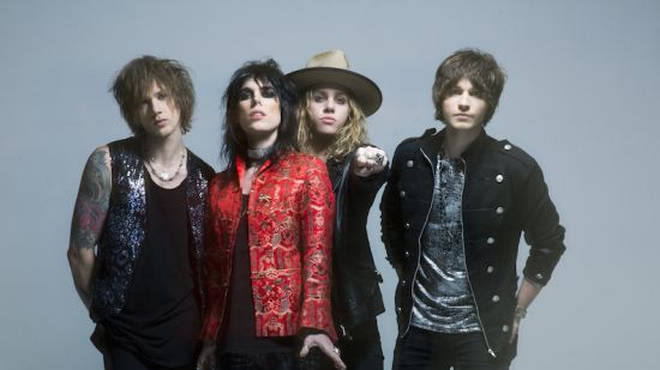 Find out everything you need to know about the band Dave Grohl has dubbed one of the best ever Foo Fighters support acts.
Last week saw Dave Grohl wax lyrical about The Struts to Radio X, calling them one of the best support acts the Foo Fighters have ever had when it comes to their ability to captivate audiences in the States.
Watch him praise the band to Gordon Smart here:
But how much do you know about the rockers?
Get our facts about the band, including their names, where they were formed, who they've toured with, their live dates and new music here.
Who are The Struts?

The Struts.

Picture: Press/Wilful Publicity

The Struts are a four-piece consisting of lead vocalist Luke Spiller, guitarist Adam Slack, bassist Jed Elliott and drummer Gethin Davies.

Where are they from?

The band formed in Derby in 2009.

How did they form?

Luke Spiller, who is originally from Bristol, met met Derby-based guitarist/songwriter Adam Slack in Clevedon, North Somerset, where he was living at the time.

Both were in bands that were on the verge of splitting and Slack and Spiller quickly connected musically, causing Spiller to move to Derby.

The pair lived, wrote, and recorded together for nearly three years and then recruited mutual friends Jamie Binns and Rafe Thomas to play bass and drums.

Binns and Thomas were replaced with bassist Jed Elliott and drummer Gethin Davies in 2012.

What do they sound like?

The band have an unapologetic balls-to-the-wall, glam-meets-rock 'n' roll sound, with influences in the likes of Queen, The Darkness, The Rolling Stones, Aerosmith, Def Leppard and more.

Plus, their frontman Luke has more than a passing resemblance to Freddie Mercury...

Listen to their One Night Only track here:

Who have they supported?

The Rolling Stones.

Picture: Press

Other than the Foos, The Struts opened for The Rolling Stones in front of a crowd of 80,000 in Paris in 2014 and were the support for their No Filter tour date last year in Lucca, Italy.

If that's not rock 'n' roll enough, the band were hand-picked by Mötley Crüe to serve as the supporting act for their final shows.

What albums have they released?

The Struts - Everybody Wants 2016.

Picture: Artwork

The Struts dropped their debut studio album, Everybody Wants, on 28 July 2014, which was later re-released in 2016.

From it comes singles Could Have Been Me and Kiss This.

The band hve also released three EPs in the Kiss This EP (2014), Have You Heard... (2015) and Live and Unplugged (2017).

Watch the video for Could Have Been Me here:

Can I catch them on tour?

Unfortunately, if you're just reading this, the band have just finished playing their biggest headline UK shows to date at the likes of Manchester's Gorilla and London's KOKO venues as well as festival slots at the likes of Download 2018.

However, the band are continuing to rock across the globe...

Where else are they headed?

If you live in the North America then it's good news, because the Struts are playing everywhere from New York to San Diego on the Foos' Concrete and Gold tour, and stopping in at some festivals inbetween.

Do they have any other celebrity connections?

Other than Foo Fighters, The Stones and other bands they've supported on tour, The Struts are closer to the world of celebrity and pop music than you think.

Bassist Jed Elliot dates Little Mix's Jade Thirwall, and she's even performed with the band on stage in LA.

Watch the Little Mix star join them on stage for a rendition of T.Rex's Get It On in LA:

What should I be listening to now?

Last week saw the rockers release their most recent single, Body Talks, which is available now.

Listen to it here:
Watch Dave Grohl's best Christopher Walken impresion: