Ricky Gervais: "Just because you're offended doesn't mean you're right"
13 March 2019, 04:00 | Updated: 14 March 2019, 10:49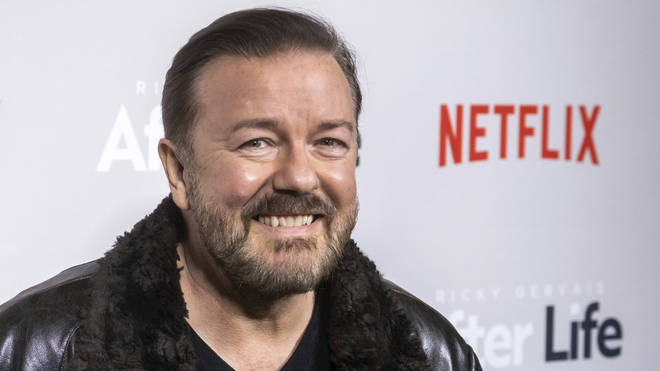 The comedian and star of Afterlife has been explaining how he deals with people who claim his humour is "offensive".
Ricky Gervais has revealed that the edgy humour in his new sitcom Afterlife isn't deliberately setting out to be offensive, explaining: "I think being a provocateur isn't necessarily setting out to cause offence because offence by definition is subjective - I don't think you can say a joke is offensive."
Speaking to LBC's James O'Brien, he went on: "You have to say I found that joke offensive. Someone saying to me 'I'm offended' they might as well be saying they've got a pain in their leg. I have no opinion about it.
Download James O'Brien's Full Disclosure podcast with Ricky Gervais here
"I've always said, just because you're offended doesn't mean you're right. Some people are offended by equality, we've seen that more and more in the past few years."
"I say you have to know what the target of the joke is, what the subject is. You can make jokes about race without being racist. You can make jokes about the sexes without being sexist."
Listen to the Full Disclosure podcast here:
In the latest episode of James O'Brien's Full Disclosure podcast, Gervais discussed the topic of humour in his new six-part sitcom, Afterlife, which was released on Netflix last week.
The show sees the British comedian return to acting in the role of a widower called Tony, who - in Netflix's words - is "a guy who's lost his wife and is trying to punish the world one savage put-down at a time."
While some of the jokes are deliberately offensive, Gervais told O'Brien that the audience has to make their own mind up about the material.
He explained: "It's for the audience to work out whether I'm being sincere when I'm being ironic, and when I'm playing the asshole for comic effect to make fun of ourselves.
"I think you have to know what I'm doing at the time before you can judge it, because you might be wrong. I think people assume that when I say something about animal cruelty, I mean it. And when I say Stephen Hawking was lazy, they know I don't mean it. I'm playing an idiot. And that's sometimes that's difficult for people to get."
Gervais revealed that he received a complaint about a routine he did on an American chat show about food allergies: "[I had] furious tweets from a woman saying 'This is terrible - you shouldn't joke about food allergies'.
"I sent one back saying 'I make jokes about AIDS, cancer, famine and the Holocaust, and you're telling me I shouldn't joke about food allergies?'
"She sent back: 'Yes, but the Holocaust didn't kill children.' Because everyone thinks their thing is the worst, because they're aware of how badly they're treated, and they think they're the odd one out."
Full Disclosure With James O'Brien is published by Global and sees the LBC presenter interviewing the biggest names in politics, entertainment, sport and popular culture who rarely give in-depth interviews.
It's available now on LBC.co.uk, or via the Radio X app, which allows you to access the most popular shows from around the world like Serial and S-Town along with your favourite Radio X shows - like Chris Moyles, Johnny Vaughan, Danny Wallace's Important Broadcast and Elis James and John Robins.
Like Netflix, it's clever and personalised - the app can make recommendations and will learn what you like so you can discover even more great content…