Who has played the Glastonbury legends slot over the years?
29 April 2023, 20:00 | Updated: 23 June 2023, 17:44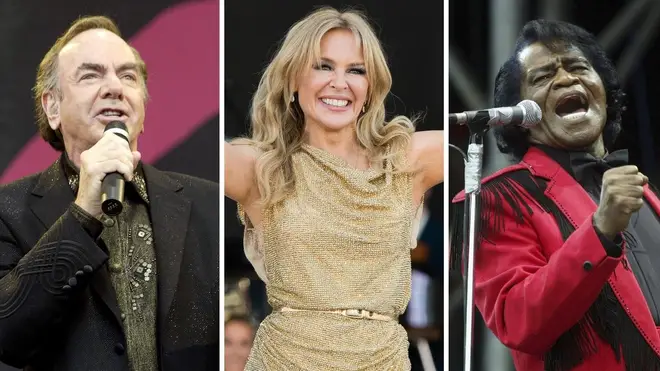 It's one of the most prestigious festival sets you can play - apart from headlining, of course. Who's been a Glastonbury Sunday Legend?
The Glastonbury Sunday Legend is one of the most prestigious slots in the festival calendar. Take one veteran performer, stick them on the Pyramid Stage late on Sunday afternoon and watch them unleash their greatest hits.
According to the BBC, Yusuf aka Cat Stevens will perform in the Legends slot for 2023, bringing some of his best known hits, including Father And Son, Morning Has Broken and Wild World.
Performing after Yusuf will be New York veterans Blondie, making the first "double-lagends" slot.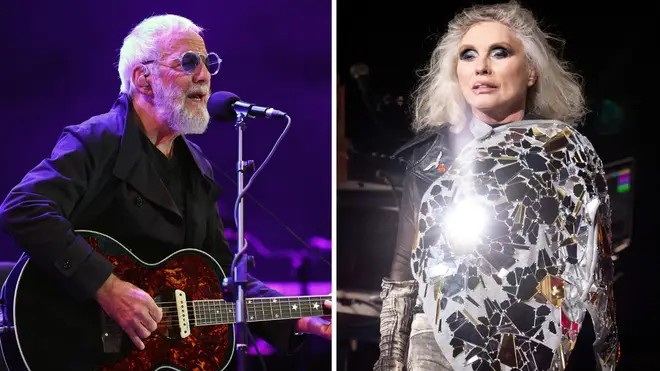 When Kylie Minogue took to the stage at the 2019 festival, it became the most-watched moment of that year's event. The term "Sunday Legend" is a relatively recent innovation - for a number of years, legends would rub shoulders with newer artists on the Pyramid Stage bill and it was all just part of the mix.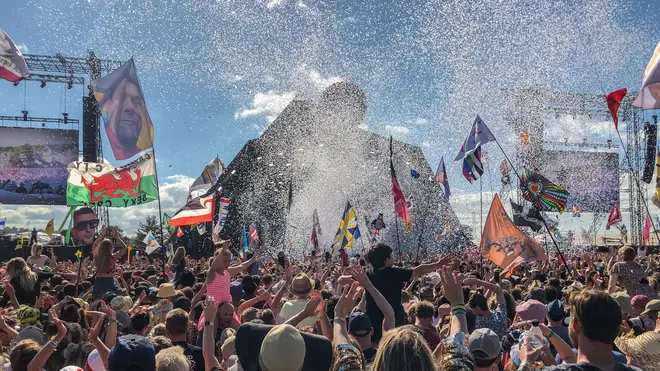 In 1994, Johnny Cash made a late afternoon appearance, while the following year former Led Zeppelin men Jimmy Page and Robert Plant took to the Pyramid Stage. 1997 saw Van Morrison perform on the main stage, but he'd been doing the same sort of slot for years.
The "Sunday Legends" slot became a "thing" when Tony Bennett took to the main stage after Scouse Britpoppers Space and before alt.rock heroes Sonic Youth. The veteran crooner brought some lounge lizard class to one of the muddier festivals and set the template for every other act that has come along since.
Here are the Glastonbury Sunday Legends for far...
2019 - Kylie Minogue

The Australian singer was due to headline Sunday night in 2005, but a battle with breast cancer made her postpone the appearance - which turned out the be a delay of 14 years. She notched up the most-watched set of Glastonbury that year, with special guests Chris Martin and Nick Cave joining her on the Pyramid Stage.

Kylie Minogue - Spinning Around (Glastonbury 2019)

2017 - Barry Gibb

The sole surviving member of The Bee Gees had unexpectedly shown up the year before as a special guest to Coldplay, but delivered a barrage of classics from his back catalogue. Any set that starts with Jive Talkin' and ends with Tragedy is not to be argued with.

Barry Gibb performing at Glastonbury Festival 2017. Picture: Getty Images

2016 - Jeff Lynne's ELO

The Electric Light Orchestra leader was visibly moved by the response to his set on the Pyramid Stage, which reminded everyone just how many hits the band had, climaxing with the evergreen Mr Blue Sky.

Jeff Lynne's ELO performs on The Pyramid Stage at Glastonbury Festival 2016. Picture: Shirlaine Forrest/WireImage/Getty Images

2015 - Lionel Richie

Both solo hits and tracks recorded with The Commodores delighted the audience when Lionel hit the stage... the run consisting of Dancing On The Ceiling into Hello and then into All Night Long (All Night) was beautiful, and was unexpectedly followed by We Are The World!

Lionel Richie performs live on the Pyramid stage during the third day of Glastonbury Festival at Worthy Farm, Pilton on June 28, 2015. Picture: Jim Dyson/Getty Images

2014 - Dolly Parton

There's more to Dolly than 9 To 5 as the country superstar proved - how about Jolene, Islands In The Stream and Here You Come Again? Nice. Then there was Dolly's cover of Lay Your Hands On Me by Bon Jovi (complete with guest appearance by Jovi guitarist Richie Sambora), followed by the killer punch of her definitive take on her own song, I Will Always Love You. Amazing.

Dolly Parton performs Jolene at Glastonbury - BBC

2013 - Kenny Rogers

It's a shame both Kenny and Dolly Parton weren't at the same Glasto, otherwise the pair could have duetted on Islands In The Stream, but you can't have everything. Instead, the country legend delivered some of his finest moments, including the rueful Ruby (Don't Take Your Love To Town), Coward Of The County and Lucille.

Kenny Rogers plays the Glastonbury Sunday Legends slot in 2013. Picture: Brian Rasic/Getty Images

2011 - Paul Simon

The diminutive singer-songwriter charmed the festival crowd with some of his greatest tunes: 50 Ways To Leave Your Lover, Diamonds On The Soles Of Her Shoes and the inevitable crowd-pleasing closer: You Can Call Me Al.

Paul Simon, You Can Call Me Al

2010 - Ray Davies

The Kinks man was joined by the Crouch End Festival Choir for this Sunday Legends masterclass, which included such evergreens as Waterloo Sunset, Lola, Sunny Afternoon and the amazing encore of Days into All Day And All Of The Night.

Ray Davies dedicates "Waterloo Sunset" and "Days" to Pete Quaife at Glastonbury 2010

2009 - Tom Jones

Jones The Voice had played the Pyramid Stage in 1992, but it wasn't "officially" a Sunday Legends slot. When he made the return visit 17 years later, those hits were emphatically belted out: What's New Pussycat, Mama Told Me Not To Come, It's Not Unusual and an eye-opened encore of Prince's Kiss into EMF's Unbelievable.

Tom Jones - It's Not Unusual

2008 - Neil Diamond

The American singer-songwriter has some fine compositions in his portfolio, including Red Red Wine (later covered by UB40), I'm A Believer (recorded by The Monkees) and the singalong classic Sweet Caroline.

Neil Diamond performs on the Pyramid stage during day three of the Glastonbury Festival at Worthy Farm, Pilton on June 29, 2008. Picture: Jim Dyson/Getty Images

2007 - Dame Shirley Bassey

The veteran singer showed off her versatility at one of the wettest festivals ever (she wore wellies with her evening dress): a medley of James Bond themes (Goldfinger / Moonraker / Diamonds Are Forever) and the show-stopping Big Spender brushed shoulders with a cover of Pink's Get The Party Started and Light My Fire by The Doors.

Shirley Bassey performing live at the 2007 Glastonbury Festival. 24th June 2007. Picture: Edd Westmacott/Photoshot/Getty Images

2005 - Brian Wilson

Only the Beach Boys leader could get away with doing a Christmas song in June, but Brian gave the crowd Little Saint Nick in the middle of a glittering set of pop classics. God Only Knows, Good Vibrations, Wouldn't It Be Nice and much, much more. Glastonbury called him back for two encores.

Brian Wilson performs on the third and final day of the Glastonbury Music Festival 2005. Picture: Matt Cardy/Getty Images

2004 - James Brown

The Godfather Of Soul made one of his final appearances in the UK as he brought his funky thang to the Pyramid Stage: Soul Man, It's A Man's Man's Man's World and Get Up Offa That Thing were unleashed by a world class band.

James Brown - I Feel Good (Glastonbury 2004)

2002 - Isaac Hayes

Another soul legend for Glastonbury, Hayes inevitably performed his classic Theme From Shaft, but also delighted fans with his South Park song Chocolate Salty Balls. Respect, sir.

Isaac Hayes - Chocolate Salty Balls

2000 - Willie Nelson

This early entry for the legends slot had a country slant as the veteran legend gave us a sweet version of the standard Always On My Mind.

Willie Nelson Performs At The Glastonbury Festival In 2000. Picture: Pete Still/Redferns/Getty Images

1999 - Al Green

The Reverend Al Green said farewell to the 90s with some classy tunes including Take Me To The River and Let's Stay Together... nice.

Al Green, Stay Together, 1999 Glastonbury Festival live

1998 - Tony Bennett

The New York easy listening hero wowed the crowd with a selection of smooth classics, including his signature tune I Left My Heart in San Francisco. The legend is still performing in his 90s, so a return visit to Worthy Farm is not out of the question.

Tony Bennett performing at Glastonbury 1998. Picture: Martyn Goodacre/Getty Images