Glastonbury 2024: headliners, line-up, rumours and secret sets
5 December 2023, 16:03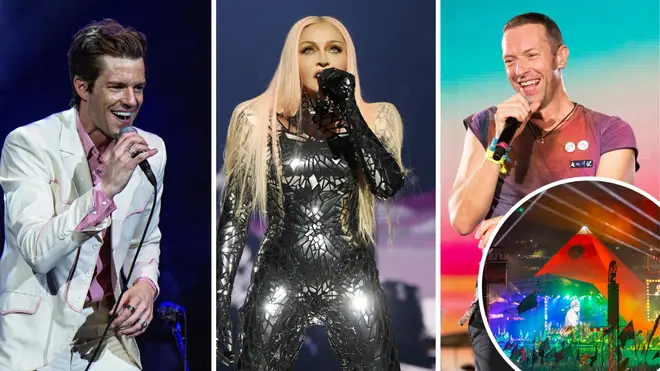 Who could be topping the bill on the Pyramid Stage at Glastonbury next June? Radio X takes a look at the evidence... and the speculation.
Glastonbury Festival 2023 saw Arctic Monkeys, Guns N'Roses and Sir Elton John headline, but as ever, the confirmed artists are only some of the story - Glastonbury is famous for hosting unscheduled and unexpected performances in "secret". Well, "secret" in an official sense, anyway, as rumours of special guests usually slip out in the months leading up to the festival, and over the weekend itself.
2023 saw Foo Fighters make an unannounced (but heavily rumoured) appearance on the Pyramid Stage on Friday night, while frontman Dave Grohl joined the Pretenders onstage for a surprise set on the Saturday.
Earlier this year, when responding to criticism that the festival had booked three male headliners, co-organiser Emily Eavis said: "This year, we did have a female headliner, and she unfortunately had to pull out... It changes all the time.
"But next year it's looking like we've got two female headliners, so fingers crossed."
Who will headline Glastonbury in 2024? Here are the latest rumours for 2024, based on the most up-to-date gossip, plus a fair amount of educated guesswork.
When does Glastonbury Festival 2024 take place?
According to their official website, Glastonbury 2024 will take place from the 26th to the 30th June 2024.
Who is rumoured to play Glastonbury 2024?
RUMOUR: The Killers

Brandon Flowers and his crew have announced they will be touring their new greatest hits collection Rebel Diamonds in the UK next summer - they play Glasgow's OVO Hydro on Wednesday 26th June and their next show is at the O2 in London on Thursday, 4th July... which leaves a MASSIVE hole where the band are in the UK during Glastonbury weekend.

It's only right that we give first dibs to the land that gave us our first big shot at doing what we do! Thank you and without further ado, here we go…

Tickets for our UK/Ireland tour go on general sale at 9:30am GMT Friday, 8th December. Gain access to an exclusive presale… pic.twitter.com/7k9nf3IweY

— The Killers (@thekillers) December 1, 2023

RUMOUR: Avril Lavigne

The SK8er Boi singer has announced her plans to tour the UK with Simple Plan next year.

The dates will see the Canadian pop punker play Cardiff Castle and Castlefield Bowl in Manchester on the 2nd and 3rd of July respectively.Avril has a string of European festival dates across June, which of course means she could be in and around the UK when Glastonbury takes place. Could she make a surprise appearance for secret set?

RUMOUR: Foo Fighters

Dave Grohl performing with Foo Fighters at their surprise set at Glastonbury 2023. Picture: Joel C Ryan/Invision/AP/Alamy

Dave Grohl and his crew made a courageous comeback to the UK at Glastonbury 2023 when they made a "surprise" appearance on Friday evening as "The Churn-Ups". They're in the UK the week of Glastonbury for Stadium shows and now they've announced a headline set at France's HellFest on Sunday 29th June, but the Friday and Saturday are still clear.

They could still play the festival, but how would Big Dave keep surprising us over the weekend if everyone already knows he's there?

RUMOUR: AC/DC

AC/DC Power Trip Festival 2023. Picture: Kevin Mazur/Getty Images for Power Trip

The Mayor of Munich reportedly let slip that the Back In Black rockers are set to play Munich's Olympiastadion on Wednesday 12th June 2024.

This would place Brian Johnson and co in Europe around the time of the festival, so could they be announcing European tour dates AND making a pitstop at Glasto?

RULED OUT: Girls Aloud

Girls Aloud.

Picture: Press

The noughties girl band - comprised of Cheryl, Kimberley Walsh, Nicola Roberts and Nadine Coyle - have announced that they will embark on reunion dates in honour of their late bandmate Sarah Harding.

They've currently got a space to play Glasto, but asked if there was any possibility of them attending the festival, they told BBC: "Can I just be blunt here? Glastonbury haven't even asked us. I don't even know if they'd want us there."

Kimberly added: "And I don't even know if it's feasible. I haven't even looked at the dates".

Cheryl added: "I'm sure the Glastonbury lot are sitting there like 'Eh? Who asked Girls Aloud?!'

The girlband went on to rubbish the claims on The One Show, telling presenters there wasn't enough time to do the festival and their tour and they hadn't been asked anyway.

VERY UNLIKELY: The Rolling Stones

The Rolling Stones, live in Sweden in July 2022. Picture: Abaca Press/Alamy Live News

With the release of the band's first album of new material in nearly two decades this year, along with the critical acclaim for Hackney Diamonds, we seem to be in something of a Stones renaissance. They already headlined Glastonbury in 2013, leading us to think that they wouldn't do it again, but hey, they played Hyde Park more than once, right? Plus, quizzed on the subject, Ronnie Wood told NME: ""Me, I'd love it. I think it's a must. If not next year, then… If not the Stones then the Faces."

The band have since announced tour dates, which will put them in North America around the time of the festival. Although they could still technically get a jet to the UK to play Glastonbury, this would be extremely unlikely.

VERY UNLIKELY: P!nk

P!nk headlines BST Hyde Park 2023. Picture: Burak Cingi/Redferns/Getty

The global icon has just announced UK and European dates, which will see her play two consecutive nights at Glasgow's Hampden Park on 28th and 29th June. This would only leave her free to headline Glastonbury on the Sunday night of the festival.

Given she'd have to play three consecutive headline shows, Glasto is now looking pretty unlikely.

RUMOUR: Bruce Springsteen

Bruce Springsteen performs at MetLife Stadium in 2023. Picture: Manny Carabel/Getty Images

The Boss announced UK & European dates with The E Street Band, which will see him on this side of the pond from May to July next year.

His European dates in particular have a neat Glasto-shaped gap where the legend could play the festival. Springsteen last headlined the festival in 2009 made an appearance at Worthy Farm during Paul McCartney's set in 2022.

RUMOUR: Madonna

Madonna performs during opening night of The Celebration Tour at The O2 Arena in October 2023. Picture: Kevin Mazur/WireImage for Live Nation/Getty

Emily Eavis was present at the first show of Madonna's residency at The O2 in London, saying of the superstar's Celebration 40th anniversary show: "She's back! Incredible." This has immediately been taken to mean that Madge is in the frame to headline Glastonbury in 2024, which would fall in line with Eavis Jr's commitment to having at least one female headliner soon. It also tracks with Eavis' recent admission that the a Glastonbury headliner is a "huge American artist."

RUMOUR: Depeche Mode

Depeche Mode live in Prague, July 2023. Picture: Michal Kamaryt/CTK Photo/Alamy Live News

Getting some interest on the betting sites are Basildon's own electro pop pioneers, who are currently midway through their world tour in support of new album Memento Mori. Now down to the core of frontman Dave Gahan and songwriter Martin Gore following the death of Andrew Fletcher last year, their shows reach into April 2024, with the final stop off in Cologne, Germany. Their back catalogue is impeccable and they're an international act, so could they appear at Worthy Farm?

DENIED: Liam Gallagher

Liam Gallagher Performs At King George's Hall in 2022. Picture: Shirlaine Forrest/WireImage/Getty

Our Kid has announced UK dates for June 2024 in which he'll be playing the whole of the Oasis debut album Definitely Maybe in full, to mark the record's 30th anniversary. While all this activity aligned with Glastonbury weekend, the man himself has denied that he's playing the festival. Boo!

RUMOUR: Coldplay

The Sun have claimed Chris Martin and co are in "advanced talks" to headline Glastonbury for a fifth time. This would mean Coldplay would beat The Cure for most headline appearances after Robert Smith and his band topped the bill in 2019. Coldplay last appeared in 2016 - is eight years enough of a gap? A new album, tentatively called Moon Music, is likely to be issued in 2024.

Coldplay at the Rose Bowl in Pasadena in September 2023. Picture: AP Photo/Chris Pizzel/Alamy

RUMOUR: Blur

2023 was the year of the big Blur comeback with the release of The Ballad Of Darren and a number of high profile live shows across the summer. But will it all be done and dusted by the summer of 2024? Possibly.

Blur at Way Out West festival 2023. Picture: Gonzales Photo - Tilman Jentzsch/Alamy

RUMOUR: Dua Lipa

Hotly tipped to appear onstage with Sir Elton John at the 2023 event (but then, who wasn't tipped to appear during his Glastonbury set?), the singer-songwriter was otherwise engaged, unfortunately. Could she make an appearance at Glastonbury in 2024?

Plenty of rumours have suggested Dua is set to play Glasto next year and a recently confirmed headline date at Rock Werchter on 6th July still leaves a space for her to play the Somerset Festival the week before.

VERY UNLIKELY: Blink-182

Blink-182 onstage in Italy, October 2023. Picture: Zuma Press/Alamy Live News/Alamy

The reunited trio have been confirmed to headline Reading and Leeds Festival next year and while they still technically have Glasotnbury dates free, the festivals never share headliners on the same year.

UNLIKELY: The 1975

After the furore over Matty Healy's onstage kiss with a male member of the band in Malaysia, The 1975 have announced that they will be taking "an indefinite hiatus from shows" once their current tour end in April 2024. The band headlined Reading and Leeds in 2023, so it's not like we ain't seen 'em in a long while.

Matty Healy of The 1975 performs at Austin City Limits Music Festival in October 2023. Picture: Jack Plunkett/Invision/AP/Alamy

UNLIKELY: Taylor Swift

The Swifties did "the math" when the latest leg of the Eras Tour was announced and were crestfallen to see that Tay-Tay was due to play Dublin on all three nights of Glastonbury. However, the superstar will be in the UK that week, so she could always turn up and play a DJ set at the Rabbit Hole in Thursday night, yeah?

Taylor Swift at the MTV Video Music Awards 2023. Picture: Xavier Collin/Image Press Agency/Alamy

RUMOUR: Pulp

2023 was also the year of the big Pulp reunion, with shows at London's Finsbury Park, Latitude and TRNSMT Festivals and a big Hogmanay set lined up for Edinburgh on New Year's Eve. But will that be the end of it? Jarvis Cocker and co have history with Glastonbury, so could we see another Britpop revival in the summer of 2024?

Jarvis Cocker onstage with Pulp in July 2023. Picture: Samir Hussein/WireImage/Getty

RUMOUR: Harry Styles

Time for our annual "Harry Styles will headline Glastonbury" rumour - Hazza has no shows pencilled in for 2024 so what his plans are for next year are anyone's guess.

Harry Styles at The BRITs 2023. Picture: Dave J Hogan/Getty Images

RUMOUR: Rihanna

The global superstar is hotly-tipped to drop a new album - her first since 2016's Anti - any day now, and it's expected that tour dates will follow. Plus, reports of her secret plans for a mega tour have only made fans speculate more about her heading to Worthy Farm. With Emily Eavis keen to get more than one female headliner for 2024 to make up for the all-male line-up before, could RiRi also be in the frame?

RUMOUR: Beyonce

The Renaissance World Tour wrapped up in October 2023 in Kansas City; could it continue into 2024? Emily Eavis keeps mentioning those "two female headliners"....? However, the superstar has already played the festival, back in 2011, so is it too soon for a rematch?

UNLIKELY: Aerosmith

The band's "PEACE OUT" farewell tour was set to continue into 2024, but a "vocal injury" to frontman Steven Tyler meant the jaunt was put on hold after just three shows were played. With the rest of the tour postponed, it's probably not the best time to be booking festival slots.

UNLIKELY: Spice Girls

The Sun (of course) claims that the pioneering Girl Power group will reunite again for their 30th anniversary in 2024, but Geri Horner claimed that Glastonbury was not on the menu. This, despite Mel C saying that Worthy Farm was on her wish list.
When do Glastonbury 2024 tickets go on sale?
Glastonbury tickets went on sale on Thursday 16th November and Sunday 19th November for coach and general admission tickets respectively.
These tickets are now sold out.
Local and Sunday tickets go on sale on Sunday 26th August from 9am for residents of the surrounding areas.
The next chance for everyone else to buy tickets will be in during the resales, which usually take place in April.
Read more: