The 50 Best Protest Songs
30 April 2018, 08:30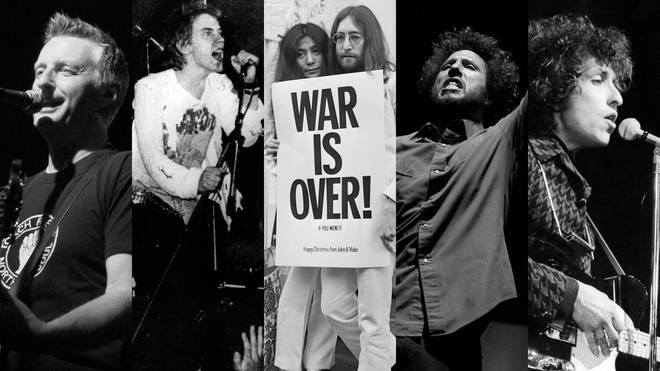 From John Lennon and Bob Dylan to Radiohead and The Smiths: these are the greatest songs about debate, protest, struggle and fighting the power.
John Lennon - Imagine (1971)

John Lennon and Yoko Ono 1971. Picture: Jack Kay/Daily Express/Getty Images

Possibly the most misunderstood protest song ever, rather than being a somewhat soppy plea for peace as it commonly thought, Imagine was written during Lennon's most militant period. The ex-Beatle was hanging out with leading figures of the British Left, including Tariq Ali, who interviewed him for the influential Marxist magazine Red Mole. Imagine the album was Lennon's attempt at "sugar coating" the harsh personal and political ideas of his first solo album, John Lennon/Plastic Ono Band, and the song itself concerns how positive thinking can make political change - if you imagine a new world, you can help achieve it. Lennon's next song was more to the point - Power To The People!

Sex Pistols - God Save The Queen (1977)

Queen Elizabeth II 1977. Picture: Ron Bell/PA Archive/PA Images

1977 marked 25 years since Queen Elizabeth II became the UK's ruling monarch and the Silver Jubilee was set to bring an air of much-needed celebration to the country, which was struggling under strikes, cutbacks and a general depression. John "Johnny Rotten" Lydon denies that the song was meant to mock Her Maj, claiming that the refrain of "No future" was meant to encapsulate the feelings of the unemployed, alienated youth who looked on as the country broke out the bunting and partied themselves silly.

Gossip - Standing In The Way Of Control (2005)

Equal Rights Marriage Protest. Picture: Mario Villafuerte/Getty Images

The Federal Marriage Amendment was a piece of legislation first floated in 2002, that sought to define marriage in the United States Constitution as strictly between man and woman. Beth Ditto, The Gossip's lead singer, didn't take kindly to this, stating: "I wrote the chorus to try and encourage people not to give up. It's a scary time for civil rights, but I really believe the only way to survive is to stick together and keep fighting." The legislation still hasn't gone through, so people took Beth's advice.

Arcade Fire - I Give You Power (2017)

Donald Trump 2017. Picture: Yin Bogu/Xinhua News Agency/PA Images

Posted on the eve of Donald Trump's inauguration as the 45th President Of The United States Of America, the Canadian band tagged their supposedly anti-Trump diatribe by saying: "It's never been more important that we stick together and take care of each other."

The Beatles - Revolution (1968)

Paris 1968 Riots. Picture: Reg Lancaster/Express/Getty Images

The civil unrest that took place in Paris in the May of 1968 led John Lennon to ponder on the nature of revolution. His new song was the first to be recorded for the 'White Album', but he still wasn't sure whether he was against violence or not, hence the album version's: "When you talk bout destruction, don't you know that you can count me out/in". When the song was re-recorded for the b-side of Hey Jude, Lennon was emphatic that you should count him OUT.

Bob Dylan - A Hard Rain's A-Gonna Fall (1963)

Ban The Bomb March 1963. Picture: Evening Standard/Getty Images

Appearing on his second album, The Freewheelin' Bob Dylan, this classic protest song sums up the tensions of post-war America. It was written just before the Cuban Missle Crisis of 1962, in which the US and USSR faced each other off, with a very real threat of nuclear war hanging over the world. While Dylan was keen to stress that the "hard rain" wasn't nuclear fall-out, he acknowledged that the song was apocalyptic in tone.

Green Day - Holiday (2005)

Iraq War Protest 2004. Picture: ABACA PRESS/PA Images

Released at the height of the Iraq War, the Californian punks' 2004 album American Idiot follows the story of Jesus Of Suburbia, a young man who heads to the city in search of meaning. The album is a metaphor for the lost, disenfranchised youth of America, who were dragged into a war they didn't ask for. Holiday is one of the album's most cutting tracks; it talks of the people who "died without a name."

Manic Street Preachers - If You Tolerate This Your Children Will Be Next (1998)

Girl snipers in the Spanish Civil War, 1936. Picture: Keystone/Getty Images

The band's first number one single was about the Spanish Civil War that took place between 1936 and 1939. A group of Welsh miners travelled to Spain to join in the fight against General Franco's troops, and the title was taken from a propaganda poster of the time. One line from the song is a genuine quote from a Welshman: "If I can shoot rabbits, then I can shoot fascists." Nicky Wire later claimed that the ideology behind the song was that political issues seemed to have lost their relevance in modern society.

Frankie Goes To Hollywood - Two Tribes (1984)

Nuclear Bomb in Nagasaki, 1945. Picture: National Archives/Newsmakers

The early 1980s were a tense period as the Cold War between the US and the USSR had intensified. With nuclear weapons being placed at Greenham Common in Berkshire and pointed towards the Russians, the threat of nuclear annihilation was very real. Coupled with an amazing video that featured lookalikes of US President Ronald Reagan and Russian premier Konstantin Chernenko wrestling each other for supremacy, the song claims that in nuclear war "One is all that you can score."

Radiohead – Idioteque (2000)

Global Warming Protests, New Hampshire, 2000. Picture: PAUL J. RICHARDS/AFP/Getty Images

In 2001, the Intergovernmental Panel On Climate Change issued its third report and came to the conclusion: "There is new and stronger evidence that most of the [global] warming observed over the last 50 years is attributable to human activities". Radiohead were way ahead of them, offering the following lyric on this track from 2000's Kid A album: "We're not scare-mongering, this is really happening… ice age coming, ice age coming." Thom Yorke gloomily concludes: "Women and children first."

Rage Against The Machine – Killing In The Name (1992)

LA Riots, April 1992. Picture: MIKE NELSON/AFP/Getty Images

Rodney King was savagely beaten by members of the Los Angeles police in March 1991, and the whole incident was caught on camera. The subsequent acquittal of the officers in question on 29 April 1992 caused many to accuse the LAPD of institutionalised racism and sparked the worst riots in the US since the 1960s. Rage Against The Machine's classic track was released in November that year and compares such racism to the notorious cross-burning activities of the Ku Klux Klan.

Pixies - Monkey Gone To Heaven (1989)

Polluted Beach, 1997. Picture: SINEAD LYNCH/AFP/Getty Images

One of the more oblique protest songs on the list, Black Francis ponders the destruction of the ozone layer and the oncoming environmental apocalypse in terms of the Old Testament "numbers" for Man, God and the Devil. Needless to say, monkeys (and simians of all kinds, one presumes) do not fare well and end up kicking the bucket.

Frank Turner - Thatcher Fucked The Kids (2006)

Margaret Thatcher, May 1980. Picture: Mike Lawn/Evening Standard/Getty Images

A stingingly bitter attack on the Conservative leader who reigned from 1979 to her resignation in 1990, Turner has proved himself to be the natural successor to Billy Bragg, bemoaning the fact that the years of Tory rule had affected a whole generation. Frank later claimed he got "100 death threats a day" for such outspoken views.

The Rolling Stones - We Love You (1967)

Mick Jagger and Keith Richards outside court, 1967. Picture: Ted West/Central Press/Getty Images

The Man was definitely out to get the Stones in the Spring of 1967. Already tagged as Public Enemies by the Establishment, their notoriety was assured when police mounted a raid on Keith Richards' house and found all sorts of naughty illicit substances. With both Jagger and Richards facing the very real prospect of a jail sentence, the band marked time before the court case by recording this new song. With a promo video that recalled the persecution of Oscar Wilde, the Stones claimed that while the state's "uniforms won't fit we", they assured the stuffed shirts that "We love you". The case was subsequently quashed. Yeah!

The Clash - Rock The Casbah (1982)

Gulf War, 1991. Picture: ROBERT SULLIVAN/AFP/Getty Images

The British punks' only US Top 10 hit, the original lyric was inspired after Clash manager Bernie Rhodes complained that one of the band's tracks was as long as an Indian raga. The song then morphed into a meditation on Arabic censorship of Western music, but the song took on a life of its own when the US Armed Forces Radio used it as the first track when they opened coverage of Operation Desert Storm during the Gulf War of 1990/91.

The Smiths - Panic (1985)

Chernobyl, April 1986. Picture: VLADIMIR REPIK/AFP/Getty Images

On 26 April 1986 the nuclear reactor at the Chernobyl power plant in Ukraine went into meltdown, bringing about a huge disaster, the consequences of which linger on to this day. Morrissey was listening to the news bulletin announcing the event on Radio 1, which was immediately followed by a typically cheesy bit of 80s pop (urban myth says it was George Michael's clean cut duo Wham!). The juxtaposition of genuine horror and vacuous tuneage led the Smiths frontman to pen Panic, which claimed that the radio DJs said "Nothing to me about my life". Some commentators later claimed the song was racist, as it attacked the growing DJ culture in the US which was making its presence felt in the UK, but it was more about Steve Wright In the Afternoon than Run DMC.

The Specials - Ghost Town (1981)

Brixton Riots, 1981. Picture: PA Archive/PA Images

As Britain's inner cities burst into flames in the summer of 1981, with riots taking place in London, Bristol, Liverpool and other locations, Specials leader Jerry Dammers captured the mood of the country with the ominous sound of Ghost Town. "Can't go on no more… people getting angry" the lyrics despair.

U2 - Sunday Bloody Sunday (1983)

Bloody Sunday, 1972. Picture: THOPSON/AFP/Getty Images

The British Army opened fire on a civil rights protest against the division of Ireland on Sunday 30 January 1972 in Derry, which resulted in 13 deaths. "Bloody Sunday" became a notorious incident that increased membership of the burgeoning IRA and was one of the key moments in "The Troubles". Both John Lennon AND Paul McCartney wrote songs in the immediate aftermath of the massacre, but it was Irish band U2 who penned the definitive protest 11 years later. Sunday Bloody Sunday was the opening track on the band's third album War and was most famously performed at Live Aid. Bono was keen to emphasise that the track was "not a rebel song", but a humanitarian plea against the killing that continued throughout the decade and beyond.

Gil Scott-Heron - The Revolution Will Not Be Televised (1971)

Civil Rights March, 1963. Picture: AFP/Getty Images

As the US Civil Rights Movement gained momentum in the late 1960s, Scott-Heron recorded this musical poem that attacks the lethargy of the nation, spouting lame TV advertising slogans to parody the seriousness of the struggle: "The revolution will not go better with Coke / The revolution will not fight the germs that may cause bad breath / The revolution will put YOU in the driver's seat."

Billy Bragg - Between The Wars (1985)

Miner's Strike, 1984. Picture: PA Archive/PA Images

The Bard Of Barking is known for his stark protest songs, often performed solo on acoustic guitar. Top Of The Pops viewers were stopped in their tracks when Bragg performed this song on a 1985 episode, brutally exposing the frequently violent struggle of the UK's miners, who had been striking for over a year to avoid the closure of collieries around the country. Bragg laments the loss of a trade for generations of workers: "Build me a path from cradle to grave / And I'll give my consent / To any government / That does not deny a man a living wage."

Dead Kennedys - California Uber Alles (1979)

California Governor Jerry Brown, 2017. Picture: Sina Schuldt/DPA/PA Images

Punk poet Jello Biafra was never backwards in coming forwards in his angry lyrics, and this was no exception. Accusing Californian governor Jerry Brown of being a figurehead of the creeping conservatism of late 70s America, the title is an allusion to the controversial lyrics to the German national anthem, Deutschland über alles, which was hijacked and distorted by the Nazis. "You will jog for the master race / And always wear the happy face."

Bruce Hornsby - The Way It Is (1986)

Civils Right Rally, 1963. Picture: National Archive/Newsmakers

Now remember for being a cheesy, piano-led 80s classic, this was actually a musing on the American Civil Rights movement,and how America had made progress… but not enough. As a rich businessman speeds pass the queue for the welfare office, he sneers at the unemployed. Bruce gives the shrug that things have always been that way: "That's just the way it is"… and adds "But don't you believe them." Hornsby ends by pondering over the American Civil Rights Act: "Well, they passed a law in '64 / To give those who ain't got a little more / But it only goes so far."

The Smiths – Meat Is Murder (1985)

Hereford cattle. Picture: DANIEL GARCIA/AFP/Getty Images

Morrissey has, of course, always been outspoken about his vegetarianism - these days, Moz frequently petitions gig venues to take meat off the menu. The title track of The Smiths' second album, released in February 1985, remains Morrissey's most impassioned plea against the slaughter of animals, with its hideous sounds evoking an abattoir, Johnny Marr's plaintive melody and emotive lyrics that offer the stark refrain: "Death for no reason is murder".

Bruce Springsteen - Born In The USA (1984)

Ronald Reagan, 1981. Picture: Gene Forte/Consolidated News/Getty Images

The title track of The Boss's seventh album was famous for being adopted as an anthem by the US President Ronald Reagan, who was then on the campaign trail for a second term in office. Springsteen was outraged - his song was about how the state had neglected Vietnam war veterans.

Marvin Gaye - What's Goin' On (1971)

Civil rights protest, New Jersey 1967. Picture: Evans/Getty Images

Obie Benson of Gaye's fellow Motown group The Four Tops was present at Berkeley in California when he saw police attacking anti-Vietnam War protesters. He wrote a song about the incident, but it was a bit near the knuckle for his own group and it was quickly adapted and adopted by Marvin Gaye. The singer used the bewildered, baffled track to kick off his socially-conscious album of 1971.

Robert Wyatt - Shipbuilding (1982)

HMS Antelope explodes during the Falklands War, May 1982. Picture: Martin Cleaver/Pool/Getty Images

Elvis Costello had often railed against authority in his songs, but this ballad laments the Falkands war to devastating effect. He ponders that the war has ironically brought back work to the areas of the UK that had closed down their industry, namely the shipyards of Belfast, Merseyside and others. The song was later covered beautifully by Robert Wyatt.

Grandmaster Flash And The Furious Five - The Message (1982)

New York breakdancers, 1982. Picture: Leo Vals/Getty Images

"It's like a jungle sometimes / It makes me wonder how I keep from goin' under." One of Hip Hop's first big hits, Flash took a socially-conscious message about urban tensions in the early 80s and took it to the streets.

Morrissey - Margaret On The Guillotine (1988)

Margaret Thatcher, 1980. Picture: Mike Lawn/Evening Standard/Getty Images

Oh Steven. Maggie was just into her third term as PM when he recorded this missive for his first solo album, Viva Hate (it was nearly the title given to The Queen Is Dead), which ends with the refrain: "When will you die?". 8 April 2013 was the answer, on which day he announced that "Thatcher was a terror without an atom of humanity", before claiming that because of her, no other woman would be ever again be given the highest position of power in Britain. Ah.

Midnight Oil - Beds Are Burning (1989)

Indigenous Australians protest the bicentennial, 1988. Picture: Patrick Riviere/Getty Images

This Australian band's frontman Peter Garrett is now an MP, but back in the 80s he was writing politically-charged songs with his group Midnight Oil. This song was a plea to the Aussie government to allow the Aboriginal group the Pintupi to return to their homelands: "It belongs to them / Let's give it back."

The Special AKA - Free Nelson Mandela (1984)

Nelson Mandela released, 1990. Picture: Adam Butler/PA Archive/PA Images

The South African political activist was arrested in 1962 for "conspiring to overthrow" the country's ruling white National Party, who advocated apartheid. Mandela spent 27 years in prison, and Jerry Dammers' song about his plight brought his name to a wider audience for the first time. Mandela was released in 1990 and four years later he became the South African President.

Stiff Little Fingers - Alternative Ulster (1979)

Falls Road, Belfast, 1970. Picture: Keystone/Getty Images

Hailing from Belfast, SLF were ideally placed to talk about "The Troubles" in Northern Ireland, that saw sectarian division, violence, terrorism and a military presence on the streets. But, in the DIY spirit of punk, the band plead for a better future: "Grab it and change it, it's yours!"

N.W.A. - Fuck Tha Police (1988)

LA Riots, 1992. Picture: DON EMMERT/AFP/Getty Images

"They have the authority to kill a minority," yells an angry Ice Cube on this controversial track that was released in 1988. The FBI asked questions about the track and its accompanying album Straight Outta Compton, but the rap collective were proved right with their predictions of doom: tensions bubbled over between civilians and the LAPD causing a series of riots across the city in 1992.

Stevie Wonder - Living For The City (1973)

Harlem, 1970s. Picture: Susan Schiff Faludi/Three Lions/Hulton Archive/Getty Images

Little Stevie always had a social conscience, and this track from his classic Innervisions album details the regular struggles of a country boy in the big city, facing hardship, hard work and hard attitudes from his racist neighbours. Wonder concludes: "I hope you hear inside my voice of sorrow / And that it motivates you to make a better tomorrow."

The Doors - The Unknown Soldier (1968)

Vietnam war protests, 1965. Picture: AFP/Getty Images

One of the most brutal contemporary depictions of the horrors of the Vietnam war, Jim Morrison's lyric details the gruesome sight of war footage on the breakfast TV news, coupled with the harsh sounds of what sounds like a military execution performed by Doors drummer John Densmore.

M.I.A. - Paper Planes (2008)

Tamil refugees, 2004. Picture: SENA VIDANAGAMA/AFP/Getty Images)

Maya Arulpragasam is the daughter of a Sri Lankan Tamil activist, so she's well-placed to appreciate the daily struggles of immigrants and refugees who hail from areas of conflict. Paper Planes is her "underdog" song, giving an impressionistic snapshot of how a refugee would adapt to living in a super-Capitalist country like the US. It's also a bloody great tune.

Madness - (Waiting For) The Ghost Train (1984)

Anti-Apartheid march, Cape Town 1990. Picture: RASHID LOMBARD/AFP/Getty Images

Best known for their funny videos and the classic cover It Must Be Love, the Camden band actually wrote some incisive lyrics on many a dark topic. Before they split for the first time in '84, they released this superficially merry tune, which was actually about the horrors of apartheid in South Africa. "It's black and white, don't try to hide it."

Paul McCartney - Pipes Of Peace (1983)

Remembrance Day poppies, 2006. Picture: Scott Barbour/Getty Images

Oh, come on, give it a chance. We could have picked "Give Ireland Back To The Irish". Mawkish it may be, but you can't deny Macca's sincerity when it came to his heartfelt plea for peace. The video depicts the legendary Christmas Day truce and football match on World War I's Western Front in 1914, in which British and German troops put aside their differences for a day.

R.E.M. - Drive (1992)

George Bush Snr is elected, 1988. Picture: WALT FRERCK/AFP/Getty Images

Michael Stipe was a supporter of Democrat Michael Dukakis in the 1988 Presidential race and offered up a campaign that claimed "Don't Get Bush-Whacked" - a reference to his opponent George Bush. Dukakis lost, of course, but the song's sentiment filtered into the opening track of the seminal Automatic For The People album.

Tom Robinson - Glad To Be Gay (1978)

Gay Rights March, New York 1975. Picture: Peter Keegan/Getty Images

Hard to believe, but homosexuality was only decriminalised in 1967 - however, even ten years later, gay culture was still a target for abuse, violence and even police victimisation. Now better known as a broadcaster, Robinson's song was direct, confrontational and heartfelt. The BBC refused to play it on the Top 40 countdown, but it became the defining anthem of gay liberation in Britain. As Robinson said before his famous performance of this song at The Secret Policeman's Ball in 1979: "You don't have to be gay to sing this song - but it helps."

Metallica - One (1988)

American soldiers, World War 1, 1918. Picture: Sgt Adrian C. Duff/Hulton Archive/Getty Images

Dalton Trumbo's famous anti-war novel was written in 1939 about a young soldier in the First World War who is injured and loses his arms, legs, eyes, tongue, face… but his mind is still alert, leaving him trapped in a useless body to consider his fate. This harrowing book was turned into an equally harrowing film in 1971, when the Vietnam War made the story still relevant. Metallica took the novel as the inspiration for their 1988 track One, and included clips from the movie in the video, while Trumbo's eventful life was made into a biopic starring Byran Cranston in 2015.

Peter Gabriel - Biko (1980)

Steve Biko Funeral, 1977. Picture: STF/AFP/Getty Images

Taken from Gabriel's commercially successful third solo album, this is a tribute to Steve Biko, an anti-apartheid activist in South Africa, who became a figurehead of the struggle following his death while in police custody in 1977. His story and that of the journalist Donald Woods, who brought the injustice to the world's attention, was made into the film Cry Freedom ten years later.

Muse - Psycho (2015)

US soldiers undertake an obstacle course, 2015. Picture: Christopher Mendoza/Zuma Press/PA Images

One of the key tracks from the trio's concept album Drones, it illustrated the state of mind that a soldier would have to enter into in order to fight. Matt Bellamy said: "To me, drones are metaphorical psychopaths which enable psychopathic behaviour with no recourse."

The Jam - The Eton Rifles (1979)

Eton School pupils, 1978. Picture: Evening Standard/Getty Images

The trio's fourth album Setting Sons had something of an anti-war theme, but Paul Weller's lyric concerns a protest march for jobs in Slough that came into conflict with the local public school and its army cadets. When Old Etonian David Cameron claimed it was one of his favourite songs, Weller snorted: "It wasn't intended as a jolly drinking song for the cadet corps."

Pink Floyd - Another Brick In The Wall (Part 2) (1979)

Children in school, 1922. Picture: Topical Press Agency/Getty Images

Roger Waters' double album The Wall concerns war, society and personal alienation, but the big hit (and the last No 1 of the 1970s) concerned more mundane things: the oppression of individual personalities to conform while in school. Hey! Teacher! Leave them kids alone!

John Lennon / Plastic Ono Band - Give Peace A Chance (1969)

John Lennon and Yoko Ono bed-in, Amsterdam 1969. Picture: Keystone/Hulton Archive/Getty Images

"All we are saying… is Give Peace A Chance" Have struck out with a solo career away from The Beatles, Lennon publicised his and wife Yoko Ono's peace publicity campaign by recording this simple protest song in their honeymoon hotel room. It was immediately adopted by anti-war protesters.

The Farm - All Together Now (1991)

Battle of the Somme,1916. Picture: PA Archive/PA Images

Treading similar ground to Macca's Pipes Of Peace, the Liverpool baggy outfit told the story of the Christmas Day truce during World War I in 1914: "Countries' borders were right out of sight / When they joined together and decided not to fight."

Queen and David Bowie - Under Pressure (1981)

New York power cut, 1965. Picture: Hulton Archive/Getty Images

A studio jam concocted when Bowie met Mercury and co in a studio in Montreux. Based on a John Deacon riff and an unfinished song called "Feel Like", the supergroup came up with an emotive lyric about the everyday horrors of coping with life and ended with the plea: "Why can't we give love that one more chance?"

The Monkees - Last Train To Clarksville (1966)

American soldier in Vietnam, 1966. Picture: Ian Brodie/Express/Getty Images

They may have been a manufactured pop band, brought together for a TV show, but they had some incredible songwriters behind them. And this, their debut single, is a story of a boy who is bidding farewell to his girl… as he's being sent off to Vietnam. "And I don't know if I'm ever coming home."

Public Enemy - Fight The Power (1989)

Rochester riots, 1960s. Picture: Express Newspapers/Getty Images

The rap superstars recorded this song for Spike Lee's tale of urban racial tension, Do The Right Thing, but it became a huge track in its own right when included on their album Fear Of A Black Planet. "Elvis was a hero to most / But he never meant shit to me," declaims Chuck D, knocking down one of America's musical icons.

Bob Marley And The Wailers - Get Up Stand Up (1973)

Anti-Duvalier Haitians demonstrate in the streets of Cap Haitien on February 02, 1986. Picture: BOB PEARSON/AFP/Getty Images

"You can fool some people sometimes / But you can't fool all the people all the time." Written by Marley and fellow Wailer Peter Tosh and released on their 1973 album Burnin'. It was inspired by Marley touring the Caribbean island of Haiti and being alarmed by the poverty of the people there. It would be the last song that Marley performed live onstage before his untimely death in 1981, aged 36.