The most anticipated new albums of 2021
2 June 2021, 18:35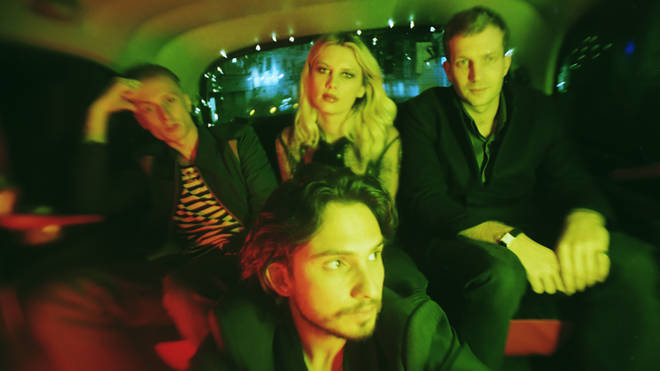 Radio X looks at the artists that will be coming back with new material this year...
Despite the COVID-19 pandemic, there were still a number of great albums released in 2020. But what of 2021? Lockdown life has meant no touring for artists, so they've headed back to the drawing board written more material! Potentially, then, 2021 could be a golden year for albums.
Here's what's definitely on the album release schedule for 2021 - and who we think could be dropping an album at some point in the next twelve months...
Wolf Alice - Blue Weekend

Released on 4 June 2021.
Blue Weekend is the third album from Ellie Rowsell, Joff Oddie, Joel Amey and Theo Ellis.
Includes the Radio X Record Of The Week Last Man On Earth.

James - All the Colours of You

The sixteenth album from the veteran Manchester band will be released on 4 June 2021.

Noel Gallagher's High Flying Birds - Back The Way We Came

Noel claimed to be considering an album of songs written for Oasis, but which were never recorded for any of the Manchester band's albums.
However, 11 June 2021 will see the release of a High Flying Birds "Best Of", titled Back The Way We Came 2011-2021, featuring two new songs: We're On Our Way Now and Flying On The Ground.

Garbage - No Gods, No Masters

Released on 11 June 2021
The seventh album from the alt-rock outfit fronted by Shirley Manson
""It was our way of trying to make sense of how f**king nuts the world is and the astounding chaos we find ourselves in. It's the record we felt that we had to make at this time," says Manson of the new record.
The latest single is Wolves.

Lana Del Rey - Blue Bannisters

The eighth studio album from the American singer-songwriter will be released on 4 July 2021.
Originally titled Rock Candy Sweet, she says of the album: "I'm writing my own story. And no one can tell it but me."
Three tracks have already been issued: the title track, Text Book and Wildflower Wildfire.

Inhaler - It Won't Always Be Like This

Released on 16 July 2021.
Debut album from the Dublin quartet fronted by Bono's son Elijah Hewson.
Latest single Cheer Up Baby is a Radio X Record Of The Week.

Billie Eilish - Happier Than Ever

Billie and brother Finneas have been busy in lockdown - she told Vanity Fair in October that she has 16 songs.
Happier Than Ever will arrive on 30 July 2021.
Lost Cause is the third single to come from the album, after Therefore I Am and Your Power.

Jungle - Loving In Stereo

The third album from the British production duo is released on 13 August 2021.
It's their first release since 2018's For Ever and the band will be touring in September.
New track Talk About It dropped at the beginning of June,

Jake Bugg - Saturday Night, Sunday Morning

Released on 20 August 2021.
Long-awaited fifth album from the Nottingham singer-songwriter.
Includes the recent hit All I Need, as performed for Radio X recently.

Shaun Ryder - Visits from Future Technology

The Happy Mondays frontman will release his second solo album on 20 August 2021.
It's the follow-up to 2003's Amateur Night In The Big Top, while Happy Mondays continue to play live.

Manic Street Preachers - The Ultra Vivid Lament

The 14th studio album from the Welsh trio arrives on 3 September 2021.
The first single is titled Orwellian, which is about "the battle to claim meaning, the erasing of context within debate, the overriding sense of factional conflict driven by digital platforms leading to a perpetual state of culture war."

Ladyhawke - Time Flies

The fourth album from New Zealander Pip Brown will be released on 8 October 2021.

It follows 2016's Wild Things and there's a teaser in the shape of Mixed Emotions.

Blink-182 - TBA

Travis Barker confirmed in an Instagram post in January that new Blink material was due "this year".

Red Hot Chili Peppers - TBA

Anthony Kiedis performing with Red Hot Chili Peppers back in 2017. Picture: Jim Spellman/WireImage/Getty Images

This will be one of the most keenly-awaited albums of recent times - the return of guitarist John Frusciante to the Chili Peppers family. However, the pandemic has caused havoc with the band's schedule, as he explained to the ABC: "
We were rehearsing for a couple of months, then the quarantine started and then we stopped rehearsing for a couple of months. Then we went back to rehearsing."
Their 2021 festival appearances have been postponed and Chad Smith reckons the Chilis won't tour until next year now.

Arcade Fire - TBA

Win Butler on stage with Arcade Fire on 14 February 2020. Picture: Erika Goldring/Getty Images

Win Butler told producer Rick Rubin on his podcast that he'd already written a stack of songs before the COVID-19 pandemic hit - and since then he's been even busier.
He claimed that the band went into the studio in Texas during the run-up to the US election in November, so we could see something concrete in 2021.

The Cure - TBA

Robert Smith onstage with The Cure in October 2019. Picture: Rick Kern/WireImage/Getty Images

Robert Smith has been working on the follow-up to 2008's 4:13 Dream since 2019 and claims to have recorded a full set of tunes for an album that has the working title of Live From The Moon, recorded at Rockfield Studios in Wales, where Queen gave birth to Bohemian Rhapsody.
Speaking about a collaboration with the Scottish band CHVRCHES on 2 June, Smith claimed it would be about "six weeks" until he could reveal news about The Cure's future plans.

The Killers - TBA

Brandon Flowers revealed that the lack of a tour to support the band's last album Imploding The Mirage sent the frontman back to the piano to work on the follow-up, so who knows if it will appear in 2021?
He noted that the new tunes have "weirdly Nineties vibrations and ruminations on being a teenager in a town where I felt hopeless". Cheers.

Adele - TBA

"Peace out til next year" was how Adele signed off an Instagram post on 28 October, after she hosted Saturday Night Live in the US.
It's been over five years since the release of 25, and session drummer Matt Chamberlain revealed last month that he'd been recording with the star.