The best albums of 2020
26 December 2020, 18:00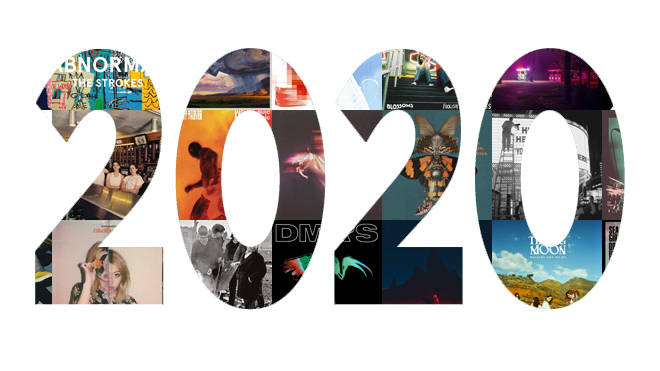 Radio X picks the best albums to be released in 2020: from the stadium filling sounds of Biffy Clyro and The Killers to great new music from Beabadoobee and DMA's.
Despite the COVID-19 pandemic scuppering everyone's plans, some of Radio X's favourite artists have released albums in 2020.
Seasoned campaigners like Biffy Clyro, The Killers and Green Day all unveiled new albums, while The Strokes and Doves made a welcome return. And there were plenty of great new artists too - Beabadoobee, Phoebe Bridgers, Declan McKenna and more.
Radio X has picked the best albums of the past twelve months for you to add to your collection - if you haven't got them already.
Here, in strictly alphabetical order, are our Albums Of The Year.
Beabadoobee - Fake It Flowers

Beabadoobee - Fake It Flowers.

Picture: Press

Beatrice Laus recalls the spirit of 90s stoner rock, taking her from the lo-fi world of bedroom recordings to a wider audience, assisted by some painfully honest lyrics.

Big tune: Care

Biffy Clyro - A Celebration Of Endings

Biffy Clyro - A Celebration Of Endings.

Picture: Press

Lockdown may have dented their plans but the Scottish trio's eighth studio album became a rallying cry for rock fans instead. A superb, confident record that shows even the most established bands can still push themselves.

Big Tune: Instant History

The Big Moon – Walking Like We Do

The Big Moon – Walking Like We Do.

Picture: Press

The second album from the London quartet saw songwriter Jules Jackson head off into new, brighter areas of indie rock.

Big tune: Your Light

Blossoms - Foolish Loving Spaces

Blossoms - Foolish Loving Spaces.

Picture: Press

Released just before lockdown, the Stockport band unveiled a richer sound on their third album and proved that they still have a unique connection with the Zoom generation.

Big tune: Your Girlfriend

Phoebe Bridgers – Punisher

Phoebe Bridgers – Punisher.

Picture: Press

Already a cult favourite in the US, the young Californian singer-songwriter has notched up four Grammy nominations with her impressive second album.

Big tune: Kyoto

Gerry Cinnamon - The Bonny

Gerry Cinnamon - The Bonny.

Picture: Press

The enigmatic Glaswegian singer-songwriter continues to go his own way with the long-awaited follow-up to his 2017 debut Erratic Cinematic.

Big tune: Where We're Going

Courteeners - More. Again. Forever.

Courteeners - More. Again. Forever.

Picture: Press

Liam Fray continues to tell compelling stories and hooks them onto killer choruses. This sixth studio album refines his unique worldview.

Big Tune: Hanging Off Your Cloud

DMA's – The Glow

DMA's – The Glow.

Picture: Press

The shimmering third album from the Sydneysiders proves why they've been Australia's best kept secret for years.

Big Tune: Life Is A Game Of Changing

Doves - The Universal Want

Doves - The Universal Want.

Picture: Press

After 11 years on hiatus, the trio of Jimi Goodwin and Jez and Andy Williams return and pick up where they left off with more dark, emotive sounds.

Big Tune: Prisoners

Liam Gallagher - MTV Unplugged (Live At Hull City Hall)

Liam Gallagher - MTV Unplugged (Live At Hull City Hall).

Picture: Press

Mr Gallagher proves there's talent behind all that swagger as he performs for the long-running series with a choir and strings. You won't believe your ears.

Big Tune: Once

Georgia – Seeking Thrills

Georgia – Seeking Thrills.

Picture: Press

The London singer-songwriter's second studio album for Domino was shortlisted for the Mercury Prize and proves to be an accomplished spin on classic dance pop.

Big Tune: About Work The Dancefloor

Green Day - Father Of All...

Green Day - Father Of All...

Picture: Press

Thirteenth album from the pop-punk trio and they're in no mood for compromising just yet - as the confrontational title proves.

Big tune: Father Of All...

Haim - Women In Music Pt III

Haim - Women In Music Pt III.

Picture: Press

Third album from the sisters Haim and the songs are as glorious and bittersweet as ever.

Big Tune: Don't Wanna

The Jaded Hearts Club – You've Always Been Here

The Jaded Hearts Club – You've Always Been Here.

Picture: Press

A supergroup that includes Miles Kane, Matt Bellamy and Graham Coxon may sound like pure self-indulgence, but their genuine love of music shines through.

Big Tune: Love's Gone Bad

The Killers - Imploding The Mirage

The Killers - Imploding The Mirage.

Picture: Press

Founding member Dave Keuning may have bailed out for this sixth album, but Brandon Flowers, Mark Stoermer and Ronnie Vannuci carry on the good work with impeccably slick tunes.

Big Tune: My Own Soul's Warning

The Magic Gang – Death of The Party

The Magic Gang – Death of The Party.

Picture: Press

Brighton's Magic Gang look to broader influences and more experimentation on their second album - and the gamble pays off.

Big tune: Make Time For Change

Declan McKenna - Zeros

Declan McKenna - Zeros.

Picture: Press

It's taken three years for the young singer-songwriter to follow up his debut album, but it's been worth the wait - Zeros is thoughtful, committed and conscientious indie pop, that also shines brightly

Big Tune: The Key To Life On Earth

Nothing But Thieves - Moral Panic

Nothing But Thieves - Moral Panic.

Picture: Press

The Southend five-piece's dramatic, inspiring rock is just the thing the country needs during the troubling year of 2020.

Big Tune: Real Love Song

Sea Girls – Open Up Your Head

Sea Girls – Open Up Your Head.

Picture: Press

The London quartet make good on the promise of their early singles with an impressive debut of vibrant indie rock.

Big Tune: All I Want To Hear You Say

The Strokes - The New Abnormal

The Strokes - The New Abnormal.

Picture: Press

Has it really been seven years since Comedown Machine? No matter - this is their most cohesive album in a long time, while retaining that classic, eccentric Strokes style.

Big Tune: Bad Decisions

Tame Impala - The Slow Rush

Tame Impala - The Slow Rush.

Picture: Press

Kevin Parker continues his sonic explorations on this fourth album under the Tame Impala guise and it's as absorbing and irresistible as ever.

Big Tune: Lost In Yesterday