Oasis at Knebworth: the story behind their biggest ever gigs
3 June 2022, 12:00 | Updated: 9 August 2022, 16:41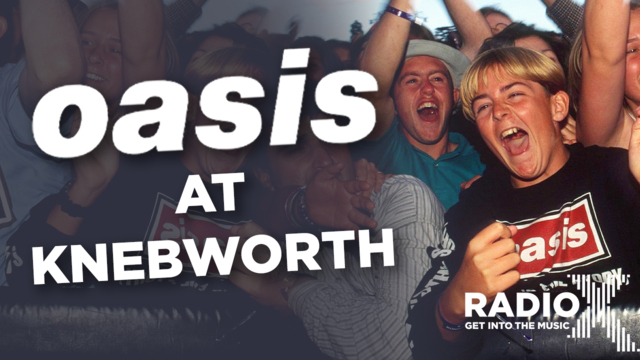 Oasis at Knebworth: the story behind their biggest ever gigs
In 1996, The Biggest Band In The World played their Biggest Ever Gigs. Were you there? What can you remember? Radio X looks back at those heady days.
Liam Gallagher takes to the stage at Knebworth this weekend, reliving one of the finest moments of Britpop - when Oasis played two massive nights at the park in August 1996.
OASIS - Some Might Say (Live at Knebworth) [Sunday 11th August, 1996]
Here are the facts. Riding high after the success of their second album, (What's The Story) Morning Glory?, Oasis announced that they were to play two nights at Knebworth House, Hertfordshire on Saturday 10 and Sunday 11 August 1996.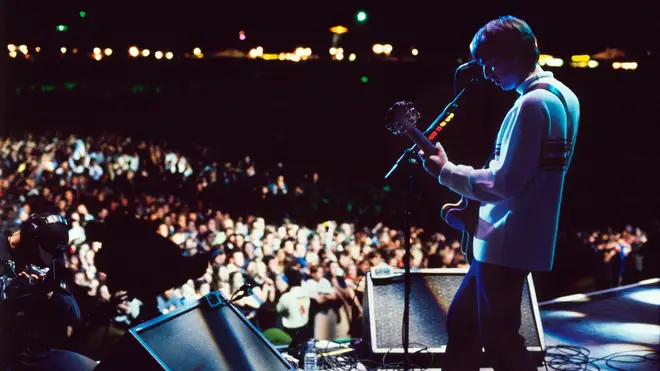 When Did The Tickets Go On Sale?

Tickets went on sale at 9am on Saturday 11 May 1996 - the same day Manchester United beat Liverpool 1-0 in the FA Cup Final. 2.6 million people applied for tickets - which is reportedly 5% of the British population at the time. The band could have sold out the venue for two weeks solid.

Oasis at Knebworth, August 1996.

Picture: PA Images / Alamy Stock Photo

How Much Were The Tickets?

Tickets were priced at a hefty (for those days) £22.50, but were soon changing hands for "15 times" their face value on the day, according to reports.

Tickets for the two Oasis shows at Knebworth, August 1996.

Picture: Lenscap / Alamy Stock Photo

How Big Was The Knebworth Crowd?

Aerial shot of the Oasis show at Knebworth, August 1996. Picture: Mick Hutson/Redferns/Getty Images

Bands like Queen and Led Zeppelin had performed to huge crowds at Knebworth in the 70s and 80s… but Oasis held the record for the biggest crowd to that date. Oasis played to 125,000 people a night: that's a quarter of a million people in total. Their Knebworth record was held until 2003 when Robbie Williams played THREE nights at the same venue!

The crowd at Knebworth watch Oasis.

Picture: STEFAN ROUSSEAU/PA Archive/PA Images

How Big Was The Guest List?

The backstage guest list had over 7,000 people on it! Some of the faces backstage were were Kate Moss, Jarvis Cocker and, er, Martine McCutcheon and Mick Hucknall.

Mick Hucknall and Martine McCutcheon at Knebworth, 10 August 1996.

Picture: PA Images / Alamy Stock Photo

Who Else Was On The Bill For Saturday At Knebworth?

Doors opened at 2.15pm and support acts on Saturday 10 August were The Prodigy, Manic Street Preachers, Ocean Colour Scene, The Chemical Brothers and The Bootleg Beatles.

The Prodigy perform onstage at Knebworth, 10 August 1996.

Picture: PA Images / Alamy Stock Photo

Who Else Was On The Bill For Sunday At Knebworth?

Meanwhile, the support acts on the Sunday were The Charlatans, Manic Street Preachers, Kula Shaker, Cast and Dreadzone. The Charlatans had lost their keyboard player Rob Collins in a car accident three weeks earlier - Martin Duffy from Primal Scream stood in.

The crowd wait for Oasis at Knebworth, 10 August 1996.

Picture: PA Images / Alamy Stock Photo

Which Songs Did Oasis Play At Knebworth?

Coming on stage to an intro of The Swamp Song, Noel Gallagher announced: "We're all making history tonight." Both shows opened with Columbia, followed by Acquiesce and Supersonic. The setlist was the same for both nights:

Oasis live at Knebworth Park 1996 - Intro + Columbia

Oasis at Knebworth House Setlists - 10 and 11 August 1996

Intro tape: The Swamp Song
Columbia
Acquiesce
Supersonic
Hello
Some Might Say
Roll With It
Slide Away
Morning Glory
Round Are Way
Cigarettes And Alcohol
Whatever
Cast No Shadow
Wonderwall
The Masterplan
Don't Look Back In Anger
My Big Mouth
It's Gettin' Better (Man!!)
Live Forever

Encore:

Champagne Supernova
I Am The Walrus

Liam Gallagher onstage on the second night at Knebworth, 11th August 1996.

Picture: Jeff Gilbert / Alamy Stock Photo

Did Oasis Play Any New Songs At Knebworth?

Oasis - 17 It's Gettin' Better (Man!!) [1996'08'11 Knebworth Park Stevenage, UK]

Oasis played two new unrecorded songs: It's Gettin' Better (Man!!) and My Big Mouth… both of which were later released on Be Here Now…

A view of the stage at the Oasis Knebworth shows in August 1996.

Picture: Suzan Moore / Alamy Stock Photo

Were There Any Special Guests?

John Squire of The Stone Roses came on for the encore and guested on Champagne Supernova.

Oasis - Champagne Supernova (Live From Knebworth '96)

What Did Liam And Noel Think Of The Knebworth Shows?

Noel Gallagher said the years after Knebworth were like a "comedown" - "I really suffered," he admitted to the NME ten years later. "It's like, what do you do when you've done everything? I suppose it's like getting a massive, massive pay rise and buying everything you want. What do you do after that? You kind of sink into boredom. Kind of directionless." Liam was also later asked by the NME what he remembered of the shows. He replied: "Not a lot, really. Nothing."

Noel Gallagher live at Knebworth, 10 August 1996.

Picture: PA Images / Alamy Stock Photo

Here's a little know fact that I hadn't revealed before today - When I designed the programme for the Oasis Knebworth gigs, I based the tickets on the front cover entirely on the Beatles tickets used at the Hollywood Bowl. pic.twitter.com/BLkBAuLmte

— Brian Cannon (@Microdot66) August 10, 2018

Bonus fact: Do you remember Radio Supernova?

Radio X's John Kennedy was part of a team - along with Gary Crowley and Keith Cameron that presented "Radio Supernova" between 11am on the Friday and 2am on the Sunday morning for people travelling to Knebworth. 106.6 FM was its frequency and was a very early incarnation of XFM, the predecessor to Radio X. Good times.