Noel Gallagher: "I'd hear Blur or Pulp or Suede on the radio and think – f*** these idiots"
29 September 2023, 17:38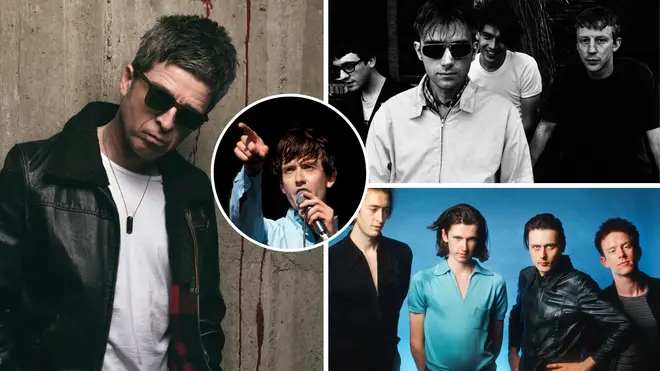 The former Oasis rocker has recalled his "unshakeable" belief that Oasis would wipe out other bands from the era.
Noel Gallagher has recalled how he used to view bands like Blur and Pulp during the birth of the Britpop era.
The Manchester rocker looked back at the time when Oasis were starting out and explained his "unshakeable" belief that they would succeed and were simply "better" than the other bands out there.
"Back then, I'd hear Blur or Pulp or Suede on the radio and think – f*** these idiots," he told MOJO magazine. "But looking back at it now, it was an amazing time for indie music, or whatever you want to call it. But we were ready to take over. We were ready to wipe everybody out.
"I thought Blur, Pulp, The Stone Roses, The La's, whoever, they were great people and they had one or two great tunes, but we had twelve. However loud they were, we were louder. However fast they were, we were faster. However good they were, we would trump it. They were all great bands, but we were better. It was as simple as that."
"We always had unshakable self-belief in Oasis," recalled the Council Skies singer. Going into the start of 1994 we didn't have Supersonic, but everything else was already written."
He added: "We'd been talking the talk amongst ourselves for a couple of years and when it came down to it, we were ready. Every minute I spent awake, I just knew it was going to happen."
The former Oasis guitarist and chief songwriter also looked back at the band's debut album Definitely Maybe and described it as one of the last great punk albums.
We were a punk band with Beatles melodies," he explained. "We had no effects, barely any equipment, just loads of attitude, 12 cans of Red Stripe and ambition."
Drawing comparisons with the Sex Pistols' record, he added: "If you listen to that and Never Mind The Bollocks, they're quite similar. That album was about the angst of being a teenager in 1977. Fast forward to 1994 and Definitely Maybe is about the glory of being a teenager."
The band's seminal album was released in in 1994, but Gallagher believes its longevity is down to its subject matter and the fact that it's a an "honest snapshot" of his working-class life.
"It's no coincidence that it's lasted this long, he continued. "Maybe there have been technically better or bigger records since, but that album is the real f***ing deal. There's no b***shit on it. It's an honest snapshot of working-class lads trying to make it. It's about shagging birds, taking drugs, drinking and the glory of all of that."
The full interview features on the new 30th anniversary issue of MOJO magazine.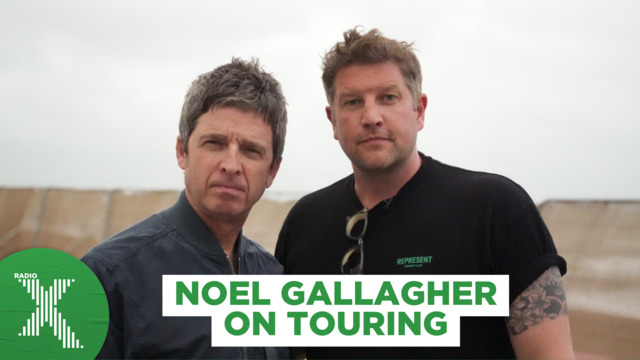 Noel Gallagher talks touring at On The Beach 2023
Noel Gallagher recently played a headline show at On The Beach Brighton and spoke to Radio X's Dan O'Connell about everything from how he prepares for live performances to being able to give crowds a transcendental experience while on stage.
"Some people are cut out for that kind of thing," he reflected. "Chris Martin for example, can do that thing with the crowd. Bono can do that thing with the crowd. I can't. I'm not interested in it."
When the Radio X DJ countered his view, using the way his fans react to the likes of Don't Look Back In Anger live as an example, Gallagher replied: "Yeah well that's the song. I mean. That song's bigger than me. [...] That song will be around long after I'm gone.
"So those big songs like that and Wonderwall... I don't feel like I have to be larger than life."
Crowds sing Don't Look Back In Anger at Noel Gallagher On The Beach Brighton
After a triumphant return to Manchester this summer, where he played homecoming gig at Wythenshawe Park, the Easy Now rocker will be back on the road in December for his UK arena tour, which will see him visit the likes of the London OVO Arena Wembley and Leeds First Direct Arena.
See Noel Gallagher's 2023 UK Arena dates below:
Thu 14th Dec 2023 London OVO Arena Wembley
Fri 15th Dec 2023 Birmingham Utilita Arena
Sun 17th Dec 2023 Cardiff International Arena
Mon 18th Dec 2023 Leeds, First Direct Arena
Wed 20th Dec 2023 Glasgow OVO Hydro
Thu 21st Dec 2023 Liverpool M&S Bank Arena