Liam Gallagher went on Twitter detox to pay his "respects" to the Queen
15 September 2022, 11:11 | Updated: 15 September 2022, 11:17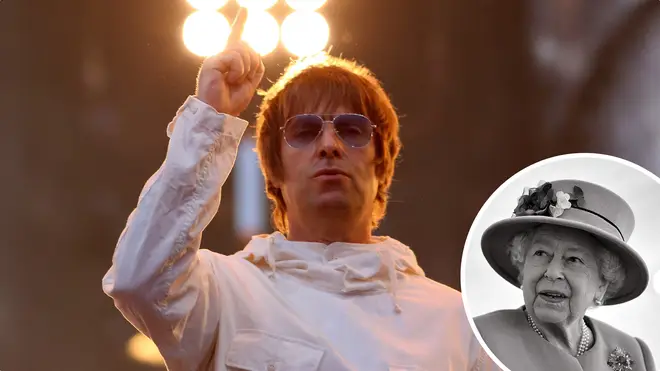 The former Oasis frontman was quiet on the platform for almost a week following the death of the monarch and explained the reason why.
Liam Gallagher took some time off Twitter following the death of Queen Elizabeth II.
The former Oasis frontman is known for being outspoken on the platform and giving his no-holds barred take on current affairs, but he was uncharacteristically quiet for six days after the news of the monarch's passing.
When asked by a fan six days later if he'd had a bit of a "Twitter detox," he replied: "Just paying my respects to da queen in it now im back ready to RnR".
Just paying my respects to da queen in it now im back ready to RnR

— Liam Gallagher (@liamgallagher) September 14, 2022
READ MORE: Stars pay tribute to Her Majesty Queen Elizabeth II following her passing at age 96
Gallagher was among many stars across the world of entertainment to pay tribute to Britain's longest reigning monarch, taking to Twitter on Thursday 8th September to simply write: "Gutted".
READ MORE - From Slash to The Spice Girls: The Queen pictured with the world's top celebrities
It's now officially a week since Queen Elizabeth II's passing and tributes and stories have continued to pour in about the monarch.
One interview from the archives has revealed the monarch to have been a big fan of Twin Peaks when it first aired, even choosing to watch the cult classic on TV rather than a private performance from Paul McCartney.
In a throwback interview with NME, Twin Peaks composer Angelo Badalamenti revealed the story, which was recalled to him by Macca and revealed Queen Elizabeth II to be a fan of David Lynch's cult classic.
"Back when Twin Peaks was kicking off around the world, I flew by Concorde to London to work with Paul McCartney at Abbey Road, Badalamenti told the outlet. "He said, 'Let me tell you a story'. Not long before we met, he'd been asked to perform for the Queen for her birthday celebrations.
"And when he met her, he started to say, 'I'm honoured to be here tonight, your Majesty, and I'm going to play some music for you'. And the Queen says, 'I'm sorry, I can't stay, it's five to eight, and I have to go and watch Twin Peaks!'"
Watch Badalamenti recall the same story in an interview, which features on the Twin Peaks boxset below:
The Queen of England Loves Twin Peaks
READ MORE: The Queen chose to watch Twin Peaks over an intimate Paul McCartney performance