The Queen chose to watch Twin Peaks over an intimate Paul McCartney performance
12 September 2022, 14:08 | Updated: 15 September 2022, 11:05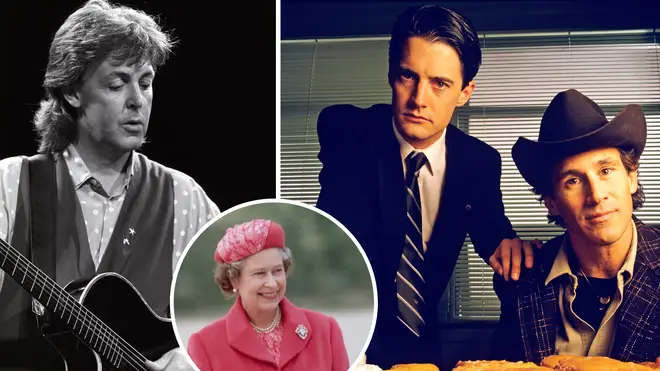 A throwback interview has been unearthed, which revealed Queen Elizabeth II once chose the David Lynch show over an intimate performance from Paul McCartney.
The Queen once reportedly opted to watch Twin Peaks over a live performance from Paul McCartney.
In a story, which The Beatles legend told composer Angelo Badalamenti during an Abbey Road session, the monarch was primed to watch Macca perform an intimate gig at Buckingham Palace for her birthday, but opted to watch some telly instead.
In a throwback interview with NME, Twin Peaks composer Badalamenti revealed the story, which was recalled to him by Macca and revealed Queen Elizabeth II to be a fan of David Lynch's cult classic.
"Back when Twin Peaks was kicking off around the world, I flew by Concorde to London to work with Paul McCartney at Abbey Road, Badalamenti told the outlet. "He said, 'Let me tell you a story'. Not long before we met, he'd been asked to perform for the Queen for her birthday celebrations.
"And when he met her, he started to say, 'I'm honoured to be here tonight, your Majesty, and I'm going to play some music for you'. And the Queen says, 'I'm sorry, I can't stay, it's five to eight, and I have to go and watch Twin Peaks!'"
Watch Badalamenti recall the same story in an interview, which features on the Twin Peaks boxset below:
The Queen of England Loves Twin Peaks
READ MORE - National Anthem lyrics, currency & beyond: What will change following Queen Elizabeth II's death?
In his retelling of the incident in the video above, Badalamenti even revealed that McCartney used "choice English words" and punched him on the shoulder.
He recalled: "Paul turned around and I was standing on the conductor's stand and he punched me with his right arm [...] and he used a few choice English words.
"He said, 'Because of your blah, blah, blah, blah show I could not perform for the Queen."
READ MORE - Stars pay tribute to Her Majesty Queen Elizabeth II following her passing at age 96
Paul McCartney was among the first legendary British artist to pay tribute to the Queen after the news of her passing.
Taking to Instagram shortly after the news, he shared a classic image of the Queen in black and white, with the caption: "God bless Queen Elizabeth II
May she rest in peace
Long live The King"
He later took to the platform to share his memories of meeting the Queen "eight or nine" times and of watching her Coronation back in 1953.
He wrote: "On the sad occasion of Her Majesty Queen Elizabeth II's passing, my memories came flooding back and I would like to share these with you.

"I feel privileged to have been alive during the whole of Queen Elizabeth II's reign. When I was 10 years old I entered an essay competition in Liverpool and won my division for my essay about the British Monarchy so I have been a fan for a long time. In 1953 when the Queen was crowned everyone on our street in Speke, Liverpool finally got a television set and we settled down to watch the Coronation in glorious black and white.

"Looking back I am honoured and amazed to see that I met Her Majesty eight or nine times and each time she impressed me with her great sense of humour combined with great dignity.

"God bless you. You will be missed."
READ MORE - Two million expected to gather to see Queen Elizabeth II at Westminster Hall in London