Guns N' Roses Arrive Early For Cover-Laden Download Set
11 June 2018, 11:22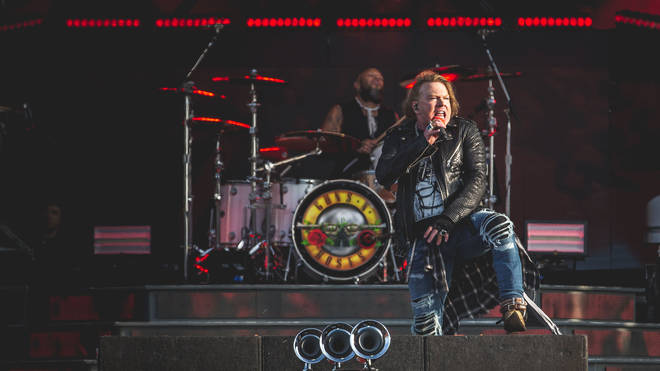 See clips of the Welcome To The Jungle rocker's headline set at the Donington Park festival this weekend.
Axl Rose surprised rock fans when he turned up a minute early to their Download Festival 2018 set.
The Guns N' Roses frontman is renowned for some of the latest appearances in rock stage, but he proved the festival crowds wrong when he reportedly turned up one minute ahead of their scheduled headline slot on Saturday (9 June).
The veteran rockers delivered hit after hit and an abundance of covers at the festival, which takes place at the spiritual home of rock, Donington Park.
After a head-banging opening of It's So Easy, Mr. Brownstone and Chinese Democracy, Axl introduced guitarist Slash - who was born in Hampstead, London - as "your fellow Englishman", before screaming, "Do you know where the f**k you are? You're in Donington, baby!", before launching into a stellar performance of their Welcome to the Jungle classic.
Watch it below:
Guitar hero Slash had his time to shine too, with blinding guitar solos and soaring riff-offs.
The band paid homage to their heroes with covers including The Who (The Seeker) Soundgarden (Black Hole Sun) - in tribute to late frontman Chris Cornell - Bob Dylan (Knockin' on Heaven's Door), Derek And The Dominoes (Layla), Pink Floyd (Wish You Were Here) and The Misfits (Attitude).
However, the highlight was Axl's rendition of Slash's former band Velvet Revolver's hit song Slither, which he'd only performed twice before.
See them play Sweet Child O' Mine here:
Following a set of heavy rock anthems, covers and more solemn moments, in ballad November Rain and an acoustic version of Patience, Guns N' Roses reached a climax with a finale of Paradise City accompanied with an impressive fireworks display.
In true rock 'n' roll style, Axl and co reportedly left the site swiftly via a helicopter.
See Guns N' Roses' Download setlist below:
1. It's So Easy
2. Mr. Brownstone
3. Chinese Democracy
4. Welcome to the Jungle
5. Double Talkin' Jive
6. Better
7. Estranged
8. Live and Let Die (Wings cover)
9. Slither (Velvet Revolver track)
10. Rocket Queen
11. You Could Be Mine
12. Attitude (The Misfits cover)
13. This I Love
14. Shadow of Your Love
15. Civil War
16. Slash Guitar Solo (incl Johnny B. Goode)
17. Speak Softly Love (Love Theme From The Godfather)
18. Sweet Child O' Mine
19. Coma
20. Wichita Lineman
21. Wish You Were Here
22. November Rain
23. Black Hole Sun
24. Knockin' on Heaven's Door
25. Nightrain
Encore:
26. Patience
27. The Seeker
28. Paradise City