VIDEO: Watch Dave Grohl And Daughter Violet perform Adele cover
14 May 2018, 17:10 | Updated: 20 May 2019, 16:00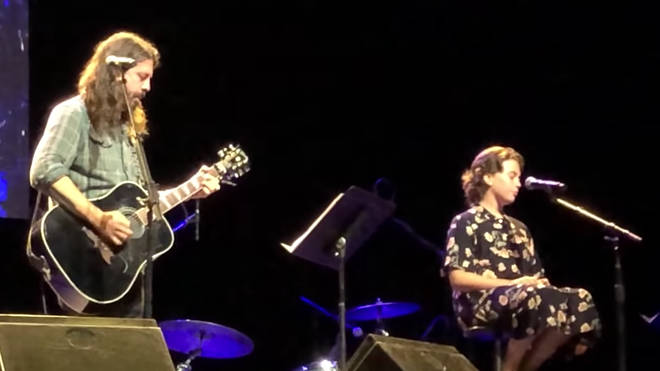 See the moving performance of When We Were Young and see Harper join them for The Sky Is A Neighborhood.
Dave Grohl accompanied his 12-year-old daughter Violet on her emotional Adele cover last year.
The Foo Fighters frontman appeared at the Notes & Words: Benefit For UCSF Benioff Children's Hospital Oakland on Saturday (12 May), where he invited his eldest daughter up on stage.
Watch the amazing moment above, which was shared on YouTube by dave pell.
The rocker didn't stop there either, also bringing his youngest daughter Harper onto the stage to sing The Sky Is A Neighborhood, which comes from Foo Fighters' Concrete and Gold album.
Watch it here:
It's not the first time Dave's shown off his daughters' talents before, with Harper playing drums with the band on stage last year.
The touching acoustic performances were a far cry from some of the antics we're used to seeing from the Foos on stage, especially with Dave inviting enthusiastic fans to participate.
Watch a fan drum along to their Big Me anthem:
Watch the moment Dave became a fan's adoptive dad live on stage:
Dave Grohl had a stumble at a gig last during the same time last year, and by his own admission "almost just broke (his) fucking leg" again.
The Foo Fighters were halfway through their set at Florida's Welcome To Rockville on Tuesday 29 April, when the frontman tripped speakers and nearly fell on his face.
Watch the moment in a video shared on Instagram by discogrohl via Joseph Delsignore:
Watch Dave Grohl explain why the Foo Fighters' worst gig was their best gig:
READ MORE: Which Foo Fighters song was about Kurt Cobain?