WATCH: Dave Grohl Almost Broke His Leg Again...
9 May 2018, 11:15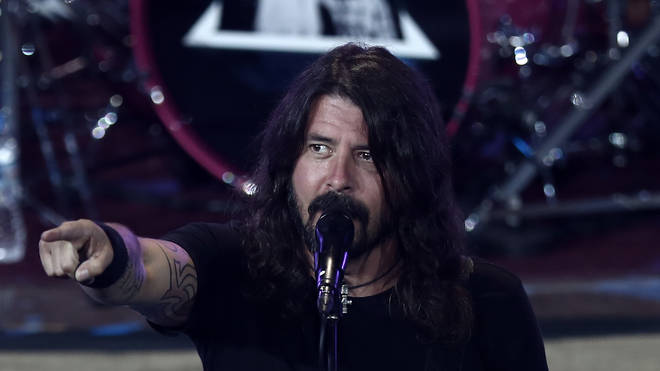 See the Foo Fighters frontman trip over a speaker at the band's recent Florida gig.
Dave Grohl had a stumble at a gig last week, and by his own admission "almost just broke (his) fucking leg" again.
The Foo Fighters were halfway through their set at Florida's Welcome To Rockville on Tuesday 29 April, when the frontman tripped speakers and nearly fell on his face.
Watch the moment in a video shared on Instagram by discogrohl via Joseph Delsignore:
Speaking to the crowd after his slip, the Everlong rocker said: "I almost just broke my fucking leg!"
He added: "Here's the way I look at it: When you get that close to breaking your fucking leg, that means it's a good show...
"And say I did break my leg, you think I'd fucking home? You think this shit would be over? That's right motherfuckers. You're stuck with me now motherfuckers".
Grohl did break his leg for real in 2015 during a gig in Gothenburg, Sweden, with the incident occurring just two songs into the gig.
Watch footage of the moment here:
Amazingly, Grohl returned to the stage to fulfil his duty, despite being put in a cast with a paramedic holding on to his leg.
See it here:
Recalling the moment to Radio X's Gordon Smart, the Learn To Fly rocker said: "At first I thought I'd be able to do it. 
"When I broke my leg I jumped back up on stage, within 10 minutes and I finished that show and then came down to London and had surgery in London and thought: 'Well, maybe if I just sit down I'll be able to do the show', and after the surgery there was just no way man."
He added: "It was the most pain I've ever felt in my entire life and I was in a wheelchair for a couple weeks. you know."
Grohl's injury eventually led to the band having to forgo their 2015 headline Glastonbury appearance, with Florence + The Machine taking their place on the Pyramid Stage.
At the time Florence Welch paid tribute to Grohl and the band by performing their Times Like These single, and in 2017 Grohl repaid the favour by playing the song back to her.