Dave Grohl's Failed David Bowie Collab To Be Released
31 May 2018, 11:13 | Updated: 31 May 2018, 11:27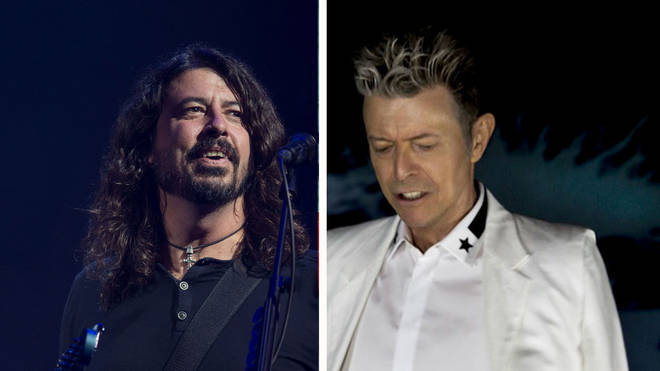 The Foo Fighters frontman has revealed the track he wanted to record with the late icon was given to another band.
Dave Grohl has revealed the track he wanted to collaborate on with David Bowie will be released.
The Foo Fighters frontman previously explained how he asked the late icon to work on music with him, but the Ziggy Stardust icon politely declined.
Now, the Learn To Fly singer has confirmed he's given the song to a mystery band.
Speaking to GQ, Grohl said: "I actually gave it to someone recently. I tried for years, I thought it was the coolest thing ever. We tried it, kind of worked on it, then I actually contacted Bowie about doing it together for this movie soundtrack, that didn't work out. He didn't like the movie, it wasn't me, it was the movie (laughs).
"Then I started working on it again, and I then gave it to another band, who hasn't used it yet."
Asked which band he'd gifted the song to, the Everlong singer said he didn't want to "spoil the surprise."
Watch his GQ interview here:
Meanwhile, Dave Grohl has revealed the first thing that happened to him when he signed with Nirvana.
The rocker told GQ: "The very first time I stepped properly into the music industry and handed over my trust to someone else, outside of my punk-rock friends and family in DC? I got sued.
"Some piece of paper I signed in a van outside a Denny's diner when I was in a band called Scream, starving, nothing to lose, not thinking any of this would go anywhere.
"Then I signed with Nirvana and I got sued for $40,000 straight out of the gate because some guy said I was still under contract with him. And that sucked."
Dave Grohl explains why he doesn't have a Twitter handle: