Dave Grohl Is Tripped Out Over Bowie's Email: "No More Birthdays, I've Run Out Of Them"
19 February 2016, 14:34 | Updated: 19 February 2016, 17:46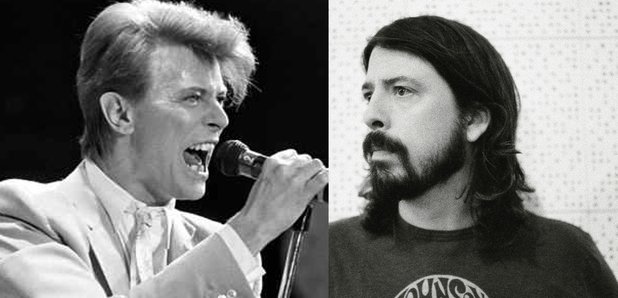 The Foo Fighters frontman recalls the time Bowie turned him down for a project.
Dave Grohl has revealed the haunting email exchange he had with David Bowie, in which he said he had "no more birthdays" left.
The Foo Fighters frontman and guitarist Pat Smear went on a ride around Bowie's favourite haunts for in a video for Playboy.
In the clip below, Grohl recalls an email he had with the late rock star in 2013, where he jokingly told him to "fuck off," after turning down an offer to work together.
Explaining their exchange, Grohl recalled: "So I emailed back and said: 'Well, I guess I'll see you in another 16 years' and he immediately sends one back and says 'don't hold your breath'.
"So I send one back that says: 'What, no more birthday parties at Madison Square Garden?' (referring to the Foo Fighters playing at his 50th Birthday party in 1997) and he writes back 'No more birthdays, I've run out of them.'"
Grohl added: "It trips me out now".
Watch the full video and his Bowie story from 08:00 below:
The Foos paid tribute to Bowie after his passing with a throwback picture of himself with the late star on Twitter.
Posting the picture on their official account, they wrote: "Rest In Peace David".
Rest in peace, David. pic.twitter.com/9Kv9yM9igh

— Foo Fighters (@foofighters) January 11, 2016
Meanwhile, Emily Eavis has officially ruled out Foo Fighters from Glastonbury 2016.
She also teased that the second headliner would be announced in March and that both headliners are British.
Festival founder Michael Eavis confirmed to Radio X that David Bowie will be honoured at Glastonbury by a screening of his entire 2000 headline set.
Speaking on the red carpet at the NME Awards, he said: "Yes, we're doing a film of his set from the year 2000.
He added: "It's going to be shown on one of the screens when the stages are shut down. We'll show the entire set."
Get the latest Glastonbury news here.