Facts about David Bowie's Blackstar album to remind you what a masterpiece it was
8 January 2021, 14:18 | Updated: 8 January 2021, 17:58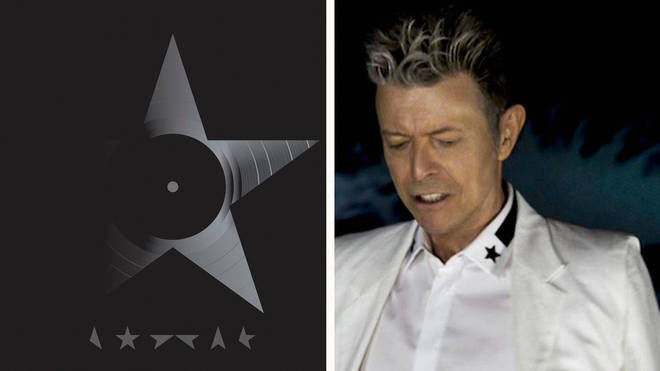 The icon's final album was released five years ago on 8 January 2016, which was Bowie's 69th birthday. Sadly it was to be his last. Read our facts about his swansong here.
8 January marks what would have been David Bowie's 74th birthday and five years since the release of his Blackstar album.
Two days after the album was released on 10 January 2016, the legend tragically lost his private battle to cancer, shocking fans and artists from across the world and turning the album into his poignant swan song.
Much like Bowie's career, Blackstar was shrouded in secret and mystery and because of this, the album still manages to surprise fans today.
Remind yourself of the greatness of Bowie's final album with our facts about the record here.
READ MORE: The best David Bowie lyrics
Blackstar was released on David Bowie's 69th birthday

One of the most obvious and well-known facts about the album is that it was released to coincide with David Bowie's birthday.

The artwork was designed by Jonathan Barnbrook

David Bowie's Blackstar album design by Jonathan Barnbrook.

Picture: Press/Artwork/Jonathan Barnbrook

Barnbrook also worked on the artwork for Bowie's Heathen, Reality and The Next Day albums.

He said of this particular record: "Blackstar is a dark album about dark times. I hope in what I've done there's something that resonated with the darkness of the music in some way."

Blackstar was recorded in secret

via GIPHY

Just like with bowie's The Next Day album, Blackstar was recorded secretly in New York studios the Magic Shop with all artists and producers asked to sign NDAs.

Many will not have known of Bowie's illness, although some may have witnessed his poor health.

There were some theories that the album's title was code for Bowie's cancer diagnosis. Though he died of liver cancer, a 'black star' is often used to describe a proliferative breast lesion which gives the appearance of a black star.

Tony Visconti produced the album

Tony Visconti .

Picture: Cindy Ord/WireImage for The Recording Academy

Bowie's longtime friend and collaborator returned to take on producing duties on Blackstar and was also sworn to secrecy about Bowie's illness.

Speaking a month after his passing, Visconti described the album as a "parting gift to his fans".

The first cut to taken from the album was the title track Blackstar

Released in November 2015, the official 10-minute video was filled with shivering dancers, bejewelled space skeletons and a button-eyed, scarecrow-like Bowie.

His Blackstar single was supposed to be EVEN longer than 9:47

The single was originally over 11 minutes in length, but it was shortened to 9:57 after Bowie and Visconti learned that iTunes wouldn't post digital singles that exceeded 10 minutes in length.

Visconti wanted the track to stay at its original length on the album version, but Bowie decided it would be be confusing.

There are many clues of Bowie's illness in his Lazarus single

Lazarus was officially released on 17 December 2015, but its accompanying video wasn't unveiled until 7 January 2016 - three days before Bowie's death.

If the title and lyrics weren't enough to get fans talking, its video - which sees the icon in bed - seemed to have been made with Bowie's illness very much at the forefront of his mind.

Another clue to Bowie's condition and his thoughts on mortality can be gleaned from the song's title. In The Bible, Lazarus is brought back to life by Jesus after being dead for four days.

Bowie's acclaimed musical, which was written by Edna Walsh, was given the same name. The production is being live streamed for the first time ever this year to mark what would have been Bowie's 74th birthday and five years since his passing.

The Blackstar vinyl had hidden secrets

Shortly after David Bowie's death, fans began noticing things about the inner sleeve for the vinyl edition of the album.

Some claimed that the album shined luminous blue when hidden under a blacklight., while others found that when placed in direct sunlight, the gatefold produced a cluster of yellow stars.

READ MORE: See the secrets and alleged discoveries of the Blackstar album

READ MORE: Revealed! Secret hidden messages on famous album covers

The incomplete stars on the bottom of the artwork spell Bowie's name

David Bowie's Blackstar album design by Jonathan Barnbrook.

Picture: Press/Artwork/Jonathan Barnbrook

Yes, there was a whole font created for Bowie's Blackstar album and the stars at the very bottom are supposed to read BOWIE.

Seems obvious once you know, right?

Even Bowie didn't know about all the secrets on Blackstar

David Bowie.

Picture: Press/Jimmy King

In 2017, designer Jonathan Barnbrook revealed the album had secrets even Bowie didn't know about.

"From the beginning, we discussed not revealing everything. There are certain things about the cover which haven't been discovered, he said at a talk at the V&A to celebrate Bowie's Birthday.

When asked if Bowie asked him to fill the artwork with secrets and messages, the designer replied: "No, he didn't – he didn't know about some of them."
Listen to Blackstar in full here:
READ MORE: What did David Bowie play at his last gig?