John Cooper Clarke joins Arctic Monkeys for I Wanna Be Yours
11 September 2023, 11:27 | Updated: 11 September 2023, 11:30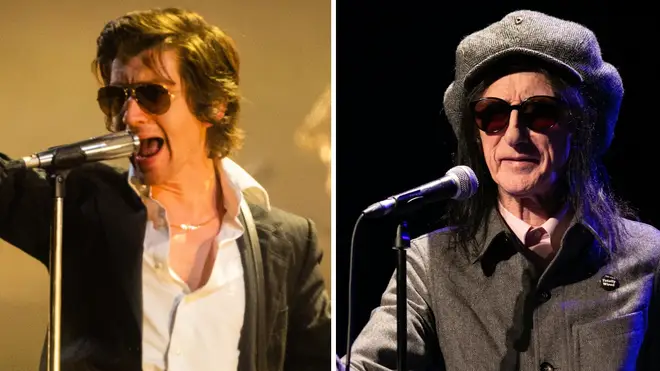 The punk poet appeared with the band in New York on the tenth anniversary of AM's release.
"Punk poet" John Cooper Clarke introduced Arctic Monkeys onstage this weekend to mark the 10th anniversary of their landmark album AM.
The Salford legend opened the band's second night at the Forest Hills Stadium in New York on Saturday (9th September) with a solo rendition of his poem I Wanna Be Yours - which the Monkeys covered on AM.
The 74-year-old performance artist took to the stage with the words: "As fans of Arctic Monkeys, you will be familiar with the song I Wanna Be Yours. Well, my name's Dr John Cooper Clarke and I'm responsible for most of the lyrics in that song. So my version goes like this..."
The band also played the track in full as the first song in their encore and dedicated it to the British poet, who first recorded the piece on his 1982 album Zip Style Method.
I Wanna Be Yours is the second most-streamed Arctic Monkeys track on Spotify, with a staggering 1.4 billion Spotify streams (the first is Do I Wanna Know - see Radio X's Top 10 Biggest Arctic Monkeys songs for full details).
When told by The Guardian earlier this year that the song had amassed a billion streams, Clarke said: "Is that a lot? An American billion is different to a British billion – and I don't know what either of them is. But it's a f**k of a lot of listens."
Clarke described I Wanna Be Yours as a "deeply felt romantic Valentine poem".
Arctic Monkeys' US tour continues this week with shows in Georgia, Tennessee and Texas.
Arctic Monkeys - Forest Hills Stadium, Queens, NY setlist 9th September 2023
Do I Wanna Know?
Brianstorm
Snap Out Of It
Teddy Picker
Crying Lightning
Four Out Of Five
Fireside
Arabella
Sculptures Of Anything Goes
Why'd You Only Call Me When You're High?
The View From The Afternoon
Pretty Visitors
Fluorescent Adolescent
There'd Better Be A Mirrorball
505
Knee Socks
Do Me A Favour
Body Paint
Encore:
I Wanna Be Yours
I Bet You Look Good on the Dancefloor
R U Mine?