What are the kids from School Of Rock are up to now?
3 October 2020, 20:00 | Updated: 8 July 2021, 11:48
The stars of the hit music comedy film, starring Jack Black, had a mini reunion in 2019. Find out what they look like now and what some of them are up to.
School of Rock celebrates its 17th anniversary this week.
The 2003 film, which was released the UK the following year, saw Jack Black take on the guise of a substitute teacher in a posh elementary school, while recruiting its talented kids to win a battle of the bands competition.
The musical comedy, which captured audiences young and old and spawned the musical of the same name, still remains fresh in our memories, but the kids who starred in it look very different a decade and a half on.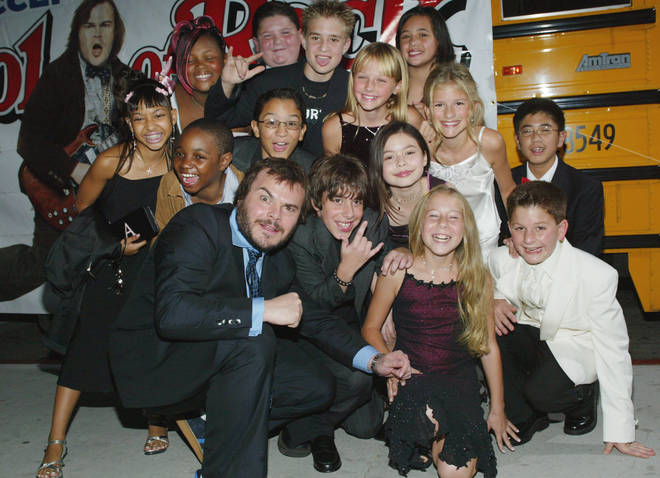 Photos shared on Instagram in 2019 saw some of the cast reunite in a New York bar... because of course they are now of legal drinking age.!
One shared by Caitlin Hale, who played backing singer Marta in the film, was captioned: "Seven School of Rockstars walk into a bar..."
So we know what some of them look like now, but what are they up to now? Find out what some of them are doing here...
It seems child star Hale has gone on in a completely different direction, earning two degrees and becoming an Ultrasound Technologist:
Aleisha LaNae' Allen - who played Alicia in the film - went on to star in 2005's Are We There Yet? its 2007 sequel Are We Done Yet and in 2011's Young Adult, 2012's You're Nobody 'til Sombody Kills You and is set to appear in 2021 The Funny Cartoons Show.
She also managed to go to Pace and Columbia University and seems to also work in the healthcare profession.
Rikvah Reyes - who played Katie in the film and is formerly known as Rebecca Brown - still acts and performs and featured in the 2014 short Cool Nerds, the TV series Easy, Action Nat and the Cat tv series in 2020 and has two films in post production Monuments and Alex/October.
She also is also said to have worked on American Idiot the musical in Chicago in 2015:
Zachary Infante is still an actor and now a producer. He's known for playing Jake in the TV series Gotham (2015) and has featured in the likes of The Black Experience short film (2017), and Carrie Pilby( 2016) and in The College Tapes podcast (2020),
He also ran for the Board of Education and got sweet endorsement from Jack Black himself.
Miranda Cosgrove, who played Summer Hathaway isn't in the photo, but maybe it's because she's busy being a Hollywood star.
The actor seems to have appeared on our screens ever since, with acting credits in everything from iCarly to Despicable Me, Meet The Goldbergs and more.
It does look like she's kept up with the music, however.
Kevin Clark - who played drummer Freddie in the film - tragically passed away from a bike accident at just 32 years old.
Jack Black took to Instagram to pay tribute to the star amid the devastating news:.
Watch Jack Black review his own IMDB profile:
READ MORE: What foes the D in Tenacious D stand for?