VIDEO: Jeff Goldblum met the giant head from his statue
18 November 2018, 13:00 | Updated: 18 November 2018, 13:01
The Jurassic Park icon came face to face with the giant 25ft statue, which was revealed earlier this year.
Jeff Goldblum was introduced to a statue of his head this week.
Back in July this year, a 25-foot-long likeness of the Jurassic Park actor was erected in London to mark 25 years of the original Dinosaur film hitting our screens.
Now the actor and musician has been united with the head of the statue on The Graham Norton Show.
Watch a clip of the moment above, courtesy of BBC One.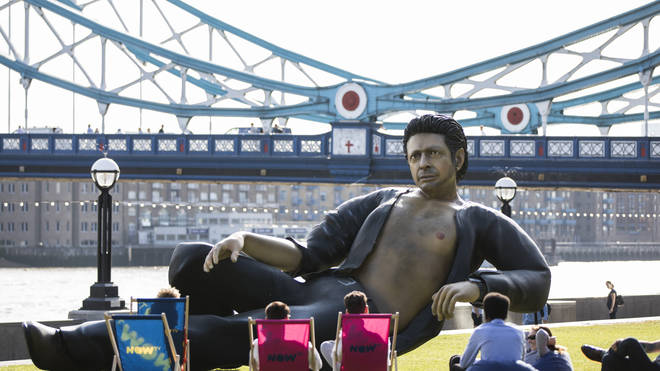 The statue featured Goldblum as Dr Ian Malcolm, the man who criticised the whole idea of reviving dinosaurs from prehistoric DNA in the classic 1993 Steven Spielberg movie.
The figure shows an injured Dr Malcolm reclining with his jacket and shirt open, following a tussle with a Tyrannosaurus Rex.
After admitting he never got to see the artwork in the flesh, Graham Norton gave Goldblum the chance to hold a part of it himself.
After being met with his visage, Jamie Lee Curtis - who was also a guest on the chat show - joked: "You can post it on Facebook".
Watch Jeff Goldblum play the reverse game on the Chris Moyles show: