The worst decisions and predictions in the history of rock
28 April 2023, 20:00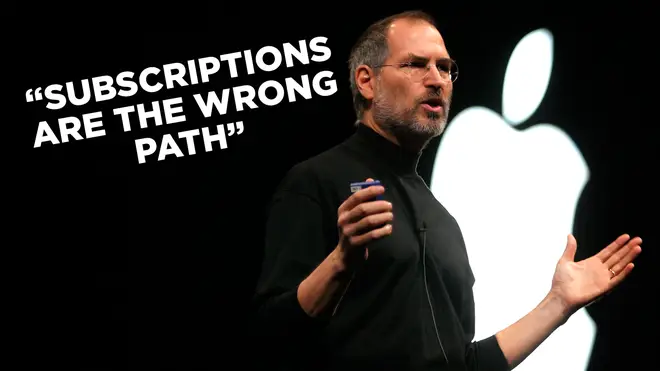 Sometimes the music gurus don't get it right. Other times, audiences don't recognise talent when they see it. Let's recall the instances when hindsight is a wonderful thing.
Thinking subscription music services are a foolish idea

In April 2003, Apple head honcho Steve Jobs gave one of his keynote speeches to launch the iTunes Music Store, which allowed people to buy tracks and albums to keep and download onto their iPods. In fact, he scoffed at the idea that anyone would pay a certain amount of money a month just to listen to music: "These services treat you like a criminal. And they are subscription based and we think subscriptions are the wrong path."

He went further when talking to Rolling Stone magazine, adding: "The subscription model of buying music is bankrupt. I think you could make available the Second Coming in a subscription model, and it might not be successful."

Spotify, the Swedish streaming platform, launched in 2008 and by March 2023 had 210 million paying users and a revenue of over €11 billion... by which time Apple's own music subscription service was well underway.

The Smiths: not signed!

In 1982, Steven Morrissey invited Factory Records label boss Tony Wilson round to his house to announce that he'd formed a band and was all set to become a pop star. Wilson later commented: "I thought, there is much chance of that as a squadron of pigs flying over the Pennines. I thought Steven was going to be our novelist or playwright." Wilson politely declined the opportunity to sign The Smiths, as Factory was in something of a rut between the end of Joy Division and the release of New Order's Blue Monday: "I didn't want to lumber him and The Smiths with our crappy record label," he explained. The band signed to Rough Trade instead and Johnny Marr now says that the band would have gone with Factory "over his dead body".

The Smiths - This Charming Man (Official Music Video)

The Rolling Stones: not representing at a generation-defining event!

As hundreds of thousands of young people gathered in New York state in August 1969 to celebrate the Woodstock festival, one of the key bands of the era was conspicuous by their absence. The Stones were not present as Mick Jagger was shooting a film in Australia - the life story of the Aussie outlaw Ned Kelly, which received awful reviews. Instead, they set up their own free festival at the Altamont racetrack near San Francisco that December, and we all know how THAT ended up...

Ned Kelly (1/12) Movie CLIP - Die Like a Kelly (1970) HD

David Bowie: his music not good enough for the movies!

Enlisted by director Nicholas Roeg to play the alien title character in the 1975 film The Man Who Fell To Earth, Bowie was under the impression that he was to provide the soundtrack to the movie and recorded a number of tracks for that purpose. However, contractual disputes, plus a feeling from Roeg that it wasn't what he was looking for meant that the tracks weren't included in the film. Bowie later sent Roeg a copy of his 1977 album Low, saying "This is what I wanted to do for the film." Low is widely acknowledged to be one of the most influential albums of all time.

THE MAN WHO FELL TO EARTH - Trailer

Thinking Bono wasn't worth investing in

In 1979, RSO was one of the biggest record labels on the planet, having released the huge-selling soundtrack album to the movie Saturday Night Fever and turning the Bee Gees into disco mega-stars. The Robert Stigwood Organisation, therefore, held no truck with one Paul Hewson and his group of spotty oiks from Dublin, who went by the name of U2. In a letter dates 10 May 1979, A&R man Alexander Sinclair wrote to the Man Who Would Be Bono with the note that "We feel it is not suitable for us at present. We wish you luck with your future career."

U2 signed to Island Records in 1980 and have since sold 170 million records. RSO was absorbed into its parent label Polydor in 1983, just as U2 enjoyed their first No 1 album, War.

The Beatles: rejected by some old bloke

"Guitar groups are on the way out," said Dick Rowe, A&R man with the Decca label, after listening to the Fab Four's demo tape in 1962. A year later, they were the biggest group in Britain, a year after that and they were the biggest group in the WORLD. The Beatles ushered in a golden age of guitar music, prompting millions to take up the instrument and form groups of their own.

MONEY (1962) by the Beatles with Pete Best

"Even people in prison wouldn't like these songs"

In the heady year of 1977, a young band called Easy Cure spotted an ad in the music paper Melody Maker looking for fresh new artists to take place in a talent competition. The appeal came from West German label Hansa, who were ruling the airwaves with disco stars Boney M and Donna Summer and thought a young new wave act might give them some credibility in the UK charts. However, when the group - singer and guitarist Robert Smith, drummer Lol Tolhurst, bassist Michael Dempsey and guitarist Porl Thompson - began to record demos for the label, the bosses were not pleased.

EASY CURE - I JUST NEED.wmv

Tolhurst recalled in his book Cured that the word came back from Germany that songs like 10.15 Saturday Night and I Just Need Myself were not what they wanted. In fact, their words were "Even people in prison wouldn't like these songs." Easy Cure were let go from their contract, dropped the "Easy" from their name and have since gone on to sell over 30 million albums in a 40 year career.

Jimi Hendrix: unappealing to the kids!

One of the strangest pairings of support act and headliner occurred in July 1967 when a young Jimi Hendrix and his Experience were invited to open for the new boy band on the block, The Monkees, on a tour of the US. Manufactured for a TV show, the Monkees' audience consisted mainly of young girls not ready for Hendrix's revolutionary concoction of blues, psychedelia and sexual swagger, even though the boys themselves loved Hendrix and personally invited him on the tour. The JHE lasted a mere six shows before Jimi wangled his way out of the contract.

Jimi Hendrix performing live in 1967: "We want The Monkees!". Picture: Chris Morphet/Redferns/Getty

Pixies: too weird for Disney!

When the Pixies reunited in 2004 after a decade apart, they were approached to write a song for the title sequence of the fairy tale comedy film Shrek 2, which was due for release later that year. The resulting track, Bam Thwok was written by bassist Kim Deal and was the band's first new material since 1991's Trompe Le Monde album. However, DreamWorks, who produced Shrek 2, rejected the song and it was released as a stand-alone track via iTunes instead.

Kaiser Chiefs: not appreciated in their former incarnation!

Before they struck gold with the album Employment and the hits Oh My God and I Predict A Riot, the Chiefs were known as Parva and released an LP in 2003 called 22. However, their label, Mantra, was closed not long after its release, leaving the band without a deal. Ricky Wilson has now become a primetime Saturday night TV star and Employment has gone six times platinum in the UK.