10 of the biggest gigs in history
6 May 2023, 14:00 | Updated: 23 August 2023, 10:42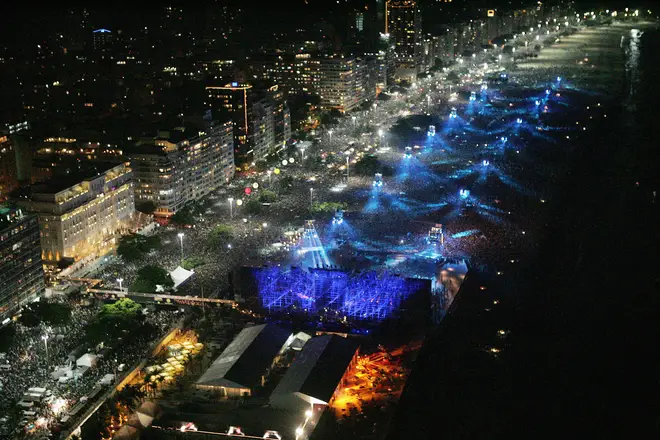 Let's look at some of the most enormous shows in musical history. See you down the front!
When bands get bigger, so do their audiences. Sometimes the results are record-breaking.
Oasis at Knebworth, 1996: 500,000

Oasis at Knebworth: the story behind their biggest ever gigs

The defining moment of Britpop, Oasis at Knebworth was a truly magnificent musical spectacle. With 250,000 fans attending over two nights, Oasis were assured their place in musical history. Legend has it that the gigs had the biggest guest list of all time.

Paul McCartney - Maracanã Stadium, 1990: 184,000

Paul McCartney Hey Jude Live in Brazil 1990 (Rare)

Macca made something of a splash as the 80s turned to the 90s by releasing the critically-loved album Flowers In The Dirt, then taking it on the road with a setlist peppered (pun intended) with Beatles hits. On 21 April 1990, McCartney stopped off at the Maracanã Stadium in Rio de Janeiro, breaking a world attendance record in the process.

Queen in Hyde Park, 1976: 200,000

Queen - Hyde Park '76 (All Best Available Takes/Sources)

On 18 September 1976, Queen capped off an incredible twelve months which had seen the success of Bohemian Rhapsody and the album A Night At The Opera with this huge, free concert in the centre of London. An estimated 200,000 people rocked up to watch Freddie Mercury, Brian May, Roger Taylor and John Deacon do their thing.

Woodstock festival 1969: 400,000

The huge crowd at Woodstock Festival in August 1969. Picture: Getty© Bettmann/CORBIS/Bettmann Archive

The most famous festival of all time, Woodstock was attended by some 400,000 people. Some of history's greatest artists were present (Jimi Hendrix, Janis Joplin, The Band, The Who, Crosby Stills Nash and Young and many more). There have been several reincarnations of the festival over the years, but none captured the same magic.

The Rolling Stones in Hyde Park, 1969: 500,000

The Rolling Stones on stage at their free concert in London's Hyde Park on 5 July 1969. Picture: Sunday Mirror/Mirrorpix/Mirrorpix via Getty Images

No one really knows how many people were present at The Stones In The Park on 5 July 1969 (it being a free gig and all), but it's estimated that somewhere between 250,000 and 500,000 fans turned up to pay tribute to the band's fallen comrade Brian Jones, who had died two days earlier. The Rolling Stones would play the field again 44 years later.

Isle Of Wight Festival, 1970: 700,000

A view of the Isle of Wight Festival in August 1970. Picture: Henri Bureau/Sygma/Corbis/VCG via Getty Images

1970's Isle Of Wight Festival was, can you believe it, bigger than Woodstock. Along with Jimi Hendrix and The Who, the likes of The Doors, Joni Mitchell, Free, Miles Davis and a shed load more all performed over the weekend. Attracting somewhere between 600,000 and 700,000 people to an island with a population of 100,000 to see some of the world's biggest bands proved to be a logistical nightmare and the festival was the last of its kind for over 30 years.

Live 8 - Philadelphia, 2005: 1 million

The 1985 Live Aid shows were historical events and made a lot of money for famine relief in Africa. In 2005, they did it all again to raise money for the poorer nations, with an estimated 200,000 turning up at London's Hyde Park. This was topped by the free show in the US - over 1 million people turned up in front of the Philadelphia Museum Of Art to watch Bon Jovi, Linkin Park, Kayne West and - unexpectedly - Kaiser Chiefs.

Linkin Park - In The End (Live 8 2005)

The Rolling Stones, Copacabana Beach, 2006 - 1.5 million

The Rolling Stones' stage at Copacabana beach in Rio, 18 February 2006. It's not even a quarter full yet! Picture: VANDERLEI ALMEIDA/AFP via Getty Images

The famed beach in Rio De Janeiro was the scene of one of the biggest rock shows EVER, when the legendary band performed to 1.5 million fans on 18 February 2006. It was carnival week, too - so the city was already bursting at the seams with people ready to party.

The Rolling Stones - Brown Sugar (A Bigger Bang Live On Copacabana Beach)

Rod Stewart played the same location on New Year's Eve 1994, reportedly to 4.2 million people, but a proportion of those only turned up for the fireworks at midnight.

Monsters Of Rock, Moscow, 1991: 1.6 million

Metallica - Monsters Of Rock, Moscow 1991

Monsters Of Rock was originally a festival held between 1980 and 1996 at Castle Donington. It later morphed into gargantuan metal tour that travelled all over the world. In 1991 they hit Russia and an incredible 1.6 million rock fans are reported to have turned up. Mötley Crüe and AC/DC were on the bill, but it was Metallica that stole the show.

Jean Michel Jarre, Moscow, 1997: 3.5 million

Oxygene Part 4 - Oxygen in Moscow (TVC Broadcast) - Jean Michel Jarre

The French master of ethereal synth pop has been producing enormous events since 1979, when over a million Parisians got to see the musician play his hits Oxygene and Equinoxe on the Champs Élysées as a Bastille Day treat. He topped that nearly two decades later, when he marked the 850th anniversary of the city of Moscow by performing to over 3.5 million people.