Radio X's Best Songs Of 2018
16 December 2018, 19:00 | Updated: 18 December 2018, 14:30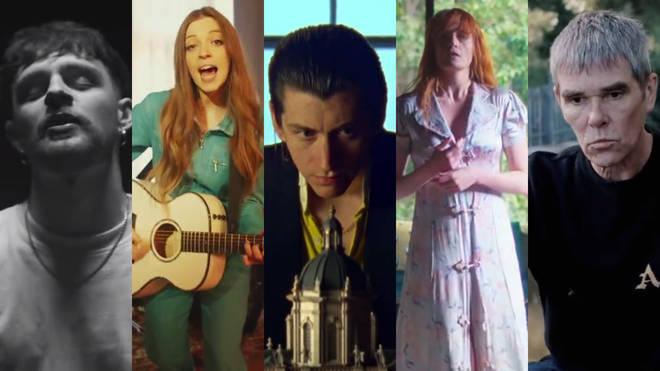 From Arctic Monkeys to The Vaccines and Gerry Cinnamon to Florence + The Machine, here is Radio X's choice of the best songs to be released in 2018.
2018's best tunes saw the return of Ian Brown, Richard Ashcroft and Florence + The Machine, while box fresh music came from some fantastic new artists, including Jade Bird, Sam Fender, Gang Of Youths, Gerry Cinnamon and more. Radio X takes a trip back over 2018 for the best songs of the year.
AJR feat Rivers Cuomo - Sober Up

The Weezer frontman teams up with this American trio of brothers with memorable results.

Arctic Monkeys - Four Out Of Five

One of the highlights of the Tranquility Base album: Alex Turner mixes glamour, space travel and online reviews.

Richard Ashcroft - Surprised By The Joy

The former Verve frontman released his fifth solo album and proved he's as essential as ever.

James Bay - Pink Lemonade

After the huge success of Chaos And The Calm, Bay's second album Electric Light proved that he's got a long and successful career ahead of him.

Jade Bird - Love Has All Been Done Before

Thrilling new British singer-songwriter - 2019 will be her year.

Blossoms - How Long Will This Last?

Stockport's finest build on their excellent debut with their second outing… and add another chapter to their "Back To The Future" series of videos…

Ian Brown - First World Problems

He's back! Seems like the Stone Roses reunion is done and dusted, so King Monkey is back with some zeitgeist loving solo material.

CHVRCHES - Graffiti

Glittering electro-pop from the Glaswegian trio.

Gerry Cinnamon - Sometimes

Straight out of Glasgow without following the traditional media route, Gerry is an honest, straightforward and hugely popular new artist.

Circa Waves - Movies

The Liverpool band ready their third album for 2019 and this teaser is perfect indie pop.

The Coral - Reaching Out For A Friend

James Skelly's Scouse folk rock is as addictive as ever.

Courteeners - Not Nineteen Forever (Re: Wired)

How do you make a classic even better? Strip it back to the essentials, that's how.

Editors - Cold

Anthemic dark rock from Tom Smith and co, from their sixth album, Violence.

Sam Fender - That Sound

North Shields has given us a brilliant new singer-songwriter - the BRITs Critics Choice Award is already his.

Florence And The Machine – Hunger

Rousing, emotional and inspirational: one of Florence Welch's most powerful songs.

Gang Of Youths - Let Me Down Easy

Australia's best kept secret is no secret any more.

Tom Grennan - Found What I've Been Looking For

The most distinctive voice of 2018 - Grennan's rough and bluesy sound has made him one of the finest discoveries of the year.

Isaac Gracie - Show Me Love

Delicate, moving, passionate - and what a voice.

Hozier - Nina Cried Power

Remarkable song about the legacy of protest - featuring the powerful vocals of soul legend and activist Mavis Staples.

Miles Kane - Cry On My Guitar

Another unforgettable tune from the singer - and check out the video where he gets beaten up by wrestler Finn Balor. Don't worry fans, they're terrific friends in real life.

Elle King - Shame

Instant bluesy classic from the Californian singer.

The Kooks - Four Leaf Clover

Another big return for 2018 was Brighton's Kooks, who delivered an impeccable hit in Four Leaf Clover.

lovelytheband - Broken

Superb American indie pop - one of the earworms of the year.

Manic Street Preachers – International Blue

The Welsh trio prove their mettle 30 years into their career with this anthemic track.

Johnny Marr - Hi, Hello

The former Smiths man has a way with a winning melody - as this wistful track proves.

Alice Merton - No Roots

Big, big tune from this singer-songwriter who was born in Germany and raised in Canada.

Mumford And Sons - Guiding Light

Three years on from Wilder Mind, Marcus Mumford and his band of merrie men are back to doing what they do best.

Muse - Pressure

Matt Bellamy and the lads have gone all 80s in the video, but don't worry - the music is as epic as ever.

Pale Waves - One More Time

Infectious indie pop at its finest.

Snow Patrol - Empress

Gary Lightbody proves he can still tug at our heartstrings.

Sundara Karma - One Last Night On This Earth

Epic art rock from this Reading quartet.

Superorganism - Something For Your M.I.N.D.

Experimental collective who are bringing back cut-and-paste hits.

Ten Tonnes - Better Than Me

Young Ethan Barnett brings a BIG sound to 2018.

The Vaccines - All My Friends Are Falling In Love

Absolute indie banger from the always reliable Justin Young and comrades.

Weezer - Africa

US geek rock legends take on a classic piece of 80s balladry.

The Wombats - Turn

Taken from their LP Beautiful People Will Ruin Your Life, Wombats have returned bolder than ever.

Yonaka – Creature

Head-rattling rock 'n' roll from this powerful Brighton band.