The 25 best albums of 1989
27 August 2023, 16:00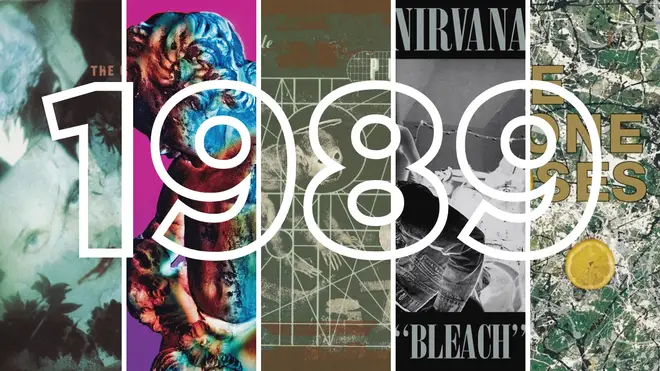 Let's cast our minds back to the year of Disintegration, Technique, Doolittle, Bleach and the debut by The Stone Roses.
As the decade drew to a close, the seeds of the next ten years of music were being sown.
While seasoned campaigners were still continuing to find new themes in their work - Madonna, Paul McCartney, Kate Bush and The Rolling Stones all had acclaimed albums out this year - a fresh wave of superstars were waiting in the wings.
Nirvana issued their first, faltering album, while the Pixies showed them the way; Red Hot Chili Peppers hooked up with John Frusciante and Chad Smith and set a course for stadium domination; De La Soul and Soul II Soul reinvented what rap and R&B could be in the next decade; and The Stone Roses plotted to make Manchester the coolest city of the 90s.
Fine Young Cannibals - The Raw And The Cooked: release date 13th January 1989

The British trio issued their second and final album, which included the hits She Drives Me Crazy, Good Thing, I'm Not The Man I Used To Be and a cover of Buzzcocks' Ever Fallen In Love (With Someone You Shouldn't Have?).

Fine Young Cannibals - The Raw And The Cooked cover art.

Picture: Press

New Order - Technique: release date 30th January 1989

New Order release their fifth album (and their last one to be released on Factory Records), which included Fine Time, Round And Round and Run 2.

New Order - Technique cover art.

Picture: Press

De La Soul - 3 Feet High And Rising: release date 3rd March 1989

The rap collective release their debut album, which included the hits The Magic Number, Eye Know and Me Myself And I.

De La Soul - 3 Feet High And Rising cover art.

Picture: Press

Madonna - Like A Prayer: release date 21st March 1989

Madge's fourth studio album included the controversial title track, Express Yourself, Cherish, Dear Jessie, Oh Father and Keep It Together.

Madonna - Like A Prayer cover art.

Picture: Press

Soul II Soul - Club Classics Vol. One: release date 10th April 1989

A landmark album from Jazzie B's collective, which gave the world the hit singles Keep On Movin' and Back To Life.

Soul II Soul - Club Classics Vol. One cover art.

Picture: Press

The Cult - Sonic Temple: release date 10th April 1989

The fourth album from the British rockers included the singles Fire Woman, Sweet Soul Sister and Edie (Ciao Baby).

The Cult - Sonic Temple cover art.

Picture: Press

Pixies - Doolittle: release date 17th April 1989

Pixies release their second full length album. Tracks include Monkey Gone To Heaven, Debaser and Here Comes Your Man.

Pixies - Doolittle cover art.

Picture: Press

Tom Petty - Full Moon Fever: release 24th April 1989

Petty's first album without the Heartbreakers included the hits Free Fallin', Runnin' Down A Dream and I Won't Back Down.

Tom Petty - Full Moon Fever cover art.

Picture: Press

The Stone Roses - The Stone Roses: release date 2nd May 1989

The Stone Roses release their self-titled debut album. Tracks include I Wanna Be Adored, She Bangs The Drums and Made Of Stone.

The Stone Roses - The Stone Roses cover art.

Picture: Press

The Cure - Disintegration: release date 2nd May 1989

The Cure release their eighth album, which includes Lullaby. Love Song and Pictures Of You.

The Cure - Disintegration cover art.

Picture: Press

Queen - The Miracle: release date 22nd May 1989

Something of a comeback album for the British rock band, this was the first album to be recorded by Queen since singer Freddie Mercury was diagnosed with HIV, which adds an extra layer of poignancy in retrospect. Singles included I Want It All, Breakthru, The Invisible Man and Scandal.

Queen - The Miracle cover art.

Picture: Press

Paul McCartney - Flowers In The Dirt: release 5th June 1989

Macca's eighth solo album saw the ex-Beatle collaborate with songwriter Elvis Costello for a critically-acclaimed collection of songs, which included My Brave Face, This One and Figure Of Eight.

Paul McCartney - Flowers In The Dirt cover art.

Picture: Press

Neneh Cherry - Raw Like Sushi: release date 5th June 1989

A huge debut album from the singer-songwriter which included the singles Manchild and Buffalo Stance.

Neneh Cherry - Raw Like Sush cover art.

Picture: Press

Nirvana - Bleach: release date 15th June 1989

The iconic grunge band's first album featured drummer Chad Channing alongside Kurt Cobain and Krist Novoselic, and included the songs About A Girl, Love Buzz and Negative Creep.

Nirvana - Bleach cover art.

Picture: Press

Faith No More - The Real Thing: release date 20th June 1989

One of the great rock-metal bands of the era, The Real Thing saw the introduction of vocalist Mike Patton, formerly of Mr Bungle. Tracks included From Out Of Nowhere and Epic.

Faith No More - The Real Thing cover art.

Picture: Press

The B52's - Cosmic Thing: release date 27th June 1989

A commercial hit from the quirky US alternative rock band, which included the hist Love Shack and Roam.

The B52's - Cosmic Thing cover art.

Picture: Press

Beastie Boys - Paul's Boutique: release date 25th July 1989

Beastie Boys release their second album, Paul's Boutique. While it didn't sell well, the LP received much critical acclaim. Tracks include Shake Your Rump, Hey Ladies and Shadrach.

Beastie Boys - Paul's Boutique cover art.

Picture: Press

Red Hot Chili Peppers - Mother's Milk: release date 16th August 1989

Following the departure of drummer Jack Irons and the death of guitarist Hillel Slovak, Anthony Kiedis and Flea regrouped with John Frusciante and Chad Smith to conjure up one of the Chilis' biggest albums to date. Tracks included Taste The Pain, Knock Me Down and a cover of Stevie Wonder's Higher Ground.

Red Hot Chili Peppers - Mother's Milk cover art.

Picture: Press

The Rolling Stones - Steel Wheels: release date 25th August 1989

The album that repaired much of the animosity between Mick Jagger and Keith Richards that had grown in the 1980s, Steel Wheels was a critical and commercial success. Singles included Mixed Emotions, Rock And A Hard Place and Almost Hear You Sigh.

The Rolling Stones - Steel Wheels cover art.

Picture: Press

Tears For Fears - The Seeds Of Love: release date 25th September 1989

The third album from Curt Smith and Roland Orzabal saw the band collaborate with the single Oleta Adams. Singles included Woman In Chains, Advice For The Young At Heart and Sowing The Seeds Of Love.

Tears For Fears - The Seeds Of Love cover art.

Picture: Press

The Wonder Stuff - Hup: release date 2nd October 1989

The Wonder Stuff release their second album, Hup, which includes the single Don't Let Me Down Gently.

The Wonder Stuff - Hup cover art.

Picture: Press

Kate Bush - The Sensual World: release date 16th October 1989

The sixth studio album from the British singer-songwriter included the singles This Woman's Work, Love And Anger and the title track.

Kate Bush - The Sensual World cover art.

Picture: Press

Nine Inch Nails - Pretty Hate Machine: release date 20th October 1989

The debut album from Trent Reznor's industrial rock project included the hits Head Like A Hole, Sin and Down In It.

Nine Inch Nails - Pretty Hate Machine cover art.

Picture: Press

The Beautiful South - Welcome To The Beautiful South: release date 23rd October 1989

Paul Heaton and Dave Hemingway formed The Beautiful South after their previous band The Housemartins split; singles included Song For Whoever, You Keep It All In and I'll Sail This Ship Alone.

The Beautiful South - Welcome To The Beautiful South cover art.

Picture: Press

808 State - Ninety: release date 4th December 1989

808 State released their second album, which included the classic single Pacific.

808 State - Ninety cover art.

Picture: Press