The 25 best albums of 1985
27 August 2023, 18:00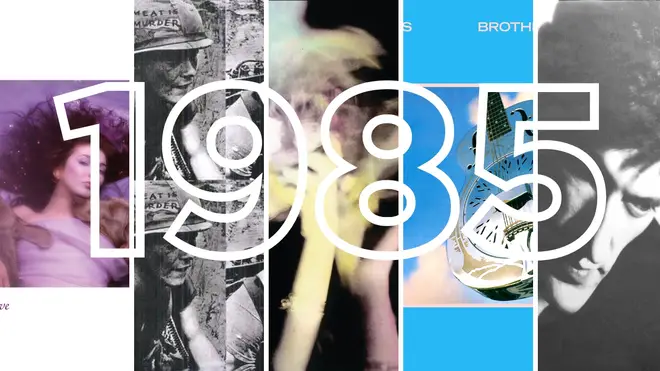 Turn back the clock to the year of Hounds Of Love, Meat Is Murder, The Head On The Door, Brothers In Arms, Low-Life and more...
Midway through the decade and the sound of the 80s was as eclectic as ever. On the one hand, the rock aristocracy were creating some of their slickest work yet, from Kate Bush and her ambitious Hound Of Love album to Prince's journey into new styles and sounds on Around The World In A Day.
Plus, the indie and alternative section saw a new-found maturity, with The Smiths improving on their disappointing debut via the socially-conscious lyrics of Meat Is Murder and The Cure's Head On The Door seeing the British band reach pop nirvana at last.
Meanwhile, advances in technology meant that people were investigating the clear, digital world of the Compact Disc: millions of copies of Brothers In Arms were bought to put millions of CD players through their places...
The Smiths - Meat Is Murder: release date 11th February 1985

The second album from Morrissey, Marr, Rourke and Joyce featured the provocative title track, Barbarism Begins At Home and That Joke Isn't Funny Anymore. In the US, Meat Is Murder came with an additional track: How Soon Is Now?

The Smiths - Meat Is Murder cover art.

Picture: Press

Phil Collins - No Jacket Required: release date 18th February 1985

The third solo album from the Genesis man included the big hits Sussudio and One More Night.

Phil Collins - No Jacket Required cover art.

Picture: Press

Tears For Fears - Songs From The Big Chair: release date 25th February 1985

The second album from the British pop duo was a huge commercial success and spawned the hits Shout, Head Over Heels and Everybody Wants To Rule The World.

Tears For Fears - Songs From The Big Chair cover art.

Picture: Press

Prince - Around The World In A Day: release date 22nd April 1985

Prince followed up the mammoth hit Purple Rain with this album of psychedelic pop whimsy, which included the singles Paisley Park and Raspberry Beret.

Prince - Around The World In A Day cover art.

Picture: Press

Eurythmics - Be Yourself Tonight: release date 29th April 1985

The fourth album from Annie Lennox and Dave Stewart included the hits Would I Lie To You, Sisters Are Doin' It For Themselves and There Must Be An Angel (Playing With My Heart).

Eurythmics - Be Yourself Tonight cover art.

Picture: Press

Suzanne Vega - Suzanne Vega: release date 1st May 1985

The Californian singer-songwriter issued her debut album, which included the singles Marlene On The Wall and Small Blue Thing.

Suzanne Vega - Suzanne Vega cover art.

Picture: Press

Dire Straits - Brothers In Arms: release date 13th May 1985

The fifth album from the British band was the first album to be certified ten times Platinum in UK history, plus the first album to ever sell a million copies on the new format of Compact Disc. Singles included Walk Of Life, So Far Away and the classic Money For Nothing.

Dire Straits - Brothers In Arms cover art.

Picture: Press

New Order - Low-Life: release date 13th May 1985

The Manchester band's third album included the singles Sub-culture and The Perfect Kiss and came housed in a very nice tracing paper-covered sleeve.

New Order - Low-Life cover art.

Picture: Press

R.E.M. - Fables Of The Reconstruction: release date 10th June 1985

The US alternative band's third album was made in the London with folk producer Joe Boyd and included the singles Can't Get There From Here, Driver 9 and Wendell Gee.

R.E.M. - Fables Of The Reconstruction cover art.

Picture: Press

The Style Council - Our Favourite Shop: release date 8th June 1985

The second album from Paul Weller's post-Jam band included the singles Boy Who Cried Wolf and Walls Come Tumbling Down.

The Style Council - Our Favourite Shop cover art.

Picture: Press

Talking Heads - Little Creatures: release date 10th June 1985

The sixth album from David Byrne's art rockers included tAnd She Was and the classic Road To Nowhere.

Talking Heads - Little Creatures cover art.

Picture: Press

Prefab Sprout - Steve McQueen: release date 10th June 1985

The second studio album from Paddy McAloon and co included their hit When Love Breaks Down, plus Faron Young and Johnny Johnny.

Prefab Sprout - Steve McQueen cover art.

Picture: Press

Scritti Politti - Cupid & Psyche '85: release date 10th June 1985

The second album from the British band saw frontman Green Gartside pursue a more commercial sound, which spawned the hist Wood Beez (Pray Like Aretha Franklin) and The Word Girl.

Scritti Politti - Cupid & Psyche '85 cover art.

Picture: Press

Marillion - Misplaced Childhood: release date 17th June 1985

The third album from the Brit prog rock act included the singles Heart And Lothian, Lavender and the big hit Kayleigh.

Marillion - Misplaced Childhood cover art.

Picture: Press

The Pogues - Rum, Sodomy & The Lash: release date 5th August 1985

Shane MacGowan's band issued their second studio album which included the standard Dirty Old Town, A Pair Of Brown Eyes and Sally MacLennane.

The Pogues - Rum, Sodomy & The Lash cover art.

Picture: Press

The Cure - The Head On The Door: release date 30th August 1985

The sixth album from Robert Smith's alternative rock legends was one of their commercial high spots: singles included In Between Days and Close To Me.

The Cure - The Head On The Door cover art.

Picture: Press

Kate Bush - Hounds Of Love: release date 16th September 1985

The fifth album from the genius English musician included the epic title track, Cloudbusting and the evergreen Running Up That Hill (The Big Sky).

Kate Bush - Hounds Of Love cover art.

Picture: Press

The Waterboys - This Is The Sea: release date 16th September 1985

The third album from Mike Scott included the singles Don't Bang The Drum and The Whole Of The Moon.

The Waterboys - This Is The Sea cover art.

Picture: Press

INXS - Listen Like Thieves: release date 14th October 1985

The fifth studio album from the Aussie rockers included the singles What You Need, This Time and Kiss The Dirt (Falling Down The Mountain).

INXS - Listen Like Thieves cover art.

Picture: Press

The Cult - Love: release date 18th October 1985

The second album from the British band saw them embrace gothic rock, with singles like Rain, Revolution and the classic She Sells Sanctuary.

The Cult - Love cover art.

Picture: Press

Simple Minds - Once Upon A Time: release date 21st October 1985

The seventh album from the Scottish rockers included the singles Alive & Kicking, Sanctify Yourself and All The Things She Said.

Simple Minds - Once Upon A Time cover art.

Picture: Press

Big Audio Dynamite – This Is Big Audio Dynamite: release date 1st November 1985

The first album from Mick Jones' post-Clash band included the hits Medicine Show and E=MC².

Big Audio Dynamite – This Is Big Audio Dynamite cover art.

Picture: Press

The Jesus & Mary Chain - Psychocandy: release date 18th November 1985

The ground-breaking debut album from the Scottish band included Never Understand, You Trip Me Up and Just Like Honey.

The Jesus & Mary Chain - Psychocandy cover art.

Picture: Press

Sade - Promise: release date 4th November 1985

The follow-up to Sade Adu's huge hit Diamond Life included the singles Sweetest Taboo and Never As Good As The First Time.

Sade - Promise cover art.

Picture: Press

Fine Young Cannibals - FYC: release date 10th December 1985

The debut album from ex-Beat members Andy Cox, David Steele and singer Roland Gift included the single Johnny Come Home and their cover of Suspicious Minds.

Fine Young Cannibals - FYC cover art.

Picture: Press