The John Lewis Christmas TV ads… which ones were the best?
3 November 2021, 18:18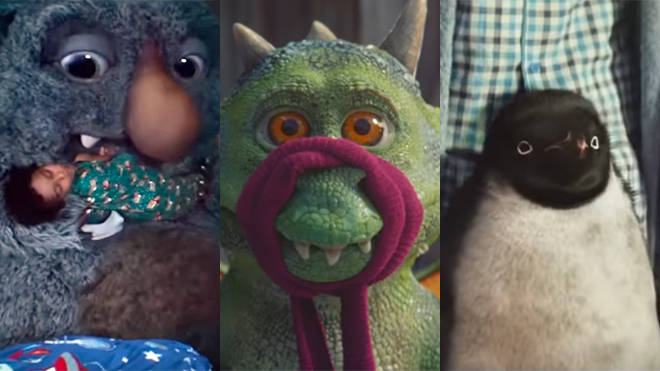 As the nation awaits the annual dose of festive cheer from the department store, let's look back at the big tunes that have featured in previous years…
After the damp squib that was Christmas 2020, this year's celebrations will hopefully be a chance for families around the country to make up for it. And the official start of the festive season is usually the arrival of the traditional John Lewis Christmas TV ad.
Since 2007, the department store has issued an annual message of festive cheer and sentimentality that has the whole nation talking. But which ads got the mix of tune and visuals right? And which ones are we struggling to remember? Were you a fan of Excitable Edgar, Moz The Monster or Monty The Penguin?
Here is the whole series of ads, starting with the latest....
2020: Celeste - Give A Little Love

Christmas 2020 was always going to be unusual, thanks to the COVID-19 pandemic, so John Lewis have enlised BRIT Awards Rising Star winner Celeste to perform an original song to a visual that uses different forms of moving art - from animation and claymation to CGI and cinematography.

2019: Dan Smith - Can't Fight This Feeling

The 2019 entry featured the voice of the Bastille frontman, who sung a modern cover of REO Speedwagon's Can't Fight This Feeling to a visual of Excitable Edgar, the dragon who loves Christmas.

2018: Elton John - Your Song

The 2018 ad featured Elton John as seen through the ages, thanks to the magical gift of a piano. The clip coincided with a resurgence of interest in the veteran singer-songwriter, thanks to the biopic Rocketman.

2017: Elbow - Golden Slumbers

Hey, even monsters like Christmas, too. Guy Garvey and co take on an emotional Beatles track and the overall effect is quite sweet.

2016: Vaults - One Day I'll Fly Away

Did you buy one of the soft toys? This cover of Randy Crawford's 1980 mega-ballad about escaping a terrible relationship seems like an odd Christmas message.

2015: Aurora - Half The World Away

The Oasis b-side immortalised as the theme to TV's The Royle Family gets a makeover. The advert looks like a lost scene from The Mighty Boosh, featuring an old man on the moon who doesn't look like he's getting any pressies this year.

2014: Tom Odell - Real Love

Penguin and boy get together as the floppy-haired piano player covers a pretty obscure John Lennon demo that was later tinkered with by the surviving Beatles.

2013: Lily Allen - Somewhere Only We Know

The singer covers the Keane favourite with surprisingly effective results. The visuals left people bemused, though. Animals don't have Christmas! Do they?

2012: Gabrielle Alpin - The Power Of Love

This snowman-based travelogue is backed by a nice cover of the Frankie Goes To Hollywood Christmas classic. Nice sentiment, lovely song.

2011: Slow Moving Millie - Please Please Please Let Me Get What I Want

Little boy can't wait for Christmas, soundtracked by a piano cover of Morrissey's plea for self-gratification. Hard to mess up a Johnny Marr tune and we've all been excited for Chrimbo haven't we? Lovely stuff.

2010: Ellie Goulding - Your Song

A solo piano cover of a song that was already a solo piano performance. What would Sir Elton say?

2009: Taken By Trees - Sweet Child O' Mine

An OK cover of the Guns N'Roses classic by Concretes singer Victoria Bergsman. The idea behind the ad was pretty funny too.

2008: Anon - From Me To You

A low-fi version of a sprightly Beatles tune, but a bit too cute for our taste. Recorded by John Lewis employees, apparently, and the first appearance of the now-familiar cover version.

2007: Prokofiev - Morning Serenade from Romeo and Juliet

Before the John Lewis ads really hit their stride, the original commercial used this classical piece as a backdrop for some shadow-based fun. A nice tune, but we want breathy acoustic covers of classic bangers, come on.

But are any of them as good as Chris Moyles' prank John Lewis ad...?

In 2018, the Radio X DJ set tongues wagging when a cryptic clip was 'leaked' which featured a spaceman-themed Christmas bauble and a costumed piano player.

News outlets from all over the UK speculated that Elton John's Rocket Man could be set for that year's John Lewis advert. They were wrong.