Are these the best live acts of the 2000s?
1 February 2020, 18:02 | Updated: 13 October 2020, 15:16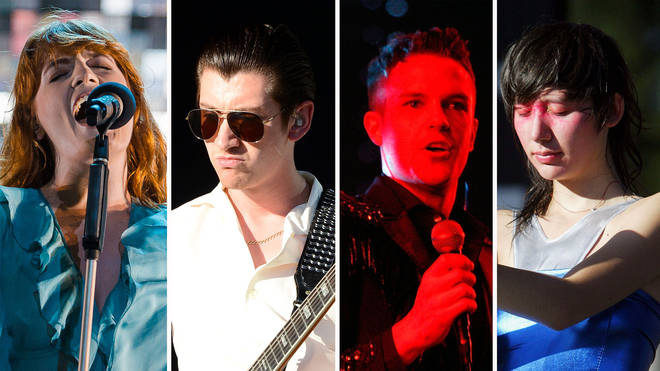 Let's look back at some of the best live acts who were formed or found fame in the same decade - the 2000s!
Are these the best live acts of the noughties or do you reckon we've left anyone out?
Bloc Party

Kele Okereke and co's debut album Silent Alarm provided larger than life bangers in the likes of Helicopter and Banquet, which the shy indie outfit had no trouble bringing to the stage.

Watch the crowds go crazy to Helicopter at Reading 2007:

Razorlight

Love him or loathe him, Johnny Borrell's energy and electricity shone through whenever Razorlight were on stage.

And if you missed them the first time around, the noughties indie rockers have returned with a new album, Olympus Sleeping,

Watch Razorlight play Golden Touch live in the Radio X session studio.

Arctic Monkeys

After forming in 2002, Alex Turner and co. developed a loyal following through playing live gigs in their native Sheffield and handing out CDs.

17 years later and they're still entertaining audiences across the globe.

Watch them play I Bet You Look Good on the Dancefloor at the Royal Albert Hall:

Florence + The Machine

Since forming in 2007, Florence Welch has been building on her craft and delighting audiences whether she's playing intimate secret gigs or huge festivals around the world.

Watch her sing Wild Horses with The Rolling Stones at London Stadium:

Amy Winehouse

The late Amy Winehouse's heart-breaking struggle with addiction is well documented, but her talent as a singer and her ability to interpret music shone through.

Watch her perform Tears Dry On Their Own on Live on Other Voices in 2006:

The Killers

Though Brandon Flowers admits he nearly threw up at The Killers first ever gig, his artistry and charisma as a frontman went from strength to strength.

Watch them perform When You Were Young at British Summer Time 2017:

Arcade Fire

There's nothing quite as impressive as seeing a huge band playing a myriad of images on stage. As well as producing an amazing debut album in 2004 with funeral, Arcade Fire managed to succeed in bringing it to the stage... and they still are over a decade later.

Watch them play Wake Up to crowds live at Manchester's Castlefield Bowl last year:

The Hives

Anyone who's seen The Hives live will attest to the high octane antics of their frontman Pelle Almqvist on stage.... And all while wearing a shirt and tie. Legend.

Watch them on Letterman pefrorming Walk Idiot Walk:

Kaiser Chiefs

Kaiser Chiefs debut album Employment told tales of messy nights out in Leeds and they brought that same chaos and excitement to the stage.

I Predict A Riot never failed to prompt epic scenes both on stage and the crowd.

Yeah Yeah Yeahs

Karen O is undoubtedly one of the most dynamic frontwomen of the noughties. Her dramatic look and style twinned with her larger-than-life moves captivated fans on stage.

The White Stripes

Jack and Meg White provided fans with some epic performances over the years, and despite the duo releasing their final album in 2007, the tunes still stand the test of time when being brought to a live audience.

Watch Jack White perform Fell In Love With A Girl in London in 2018:

Adele

Adele is considered one of the most talented singers of our time, with plenty of GRAMMYs and BRIT Awards to show it.

The Tottenham-born artist - whose real name is Adele Laurie Blue Adkins - has provided fans with an number of epic performances throughout the years, but none are more memorable than that eye-watering BRIT Awards performance of Someone Like You.

Queens Of The Stone Age

So many bangers, so much energy and so much unbridled rock 'n' roll.

Is there anything better than hearing No One Knows - which is taken from their 2002 Songs for the Deaf album - at a festival?

The Subways

If you went to a lot of gigs in the mid noughties, there's a chance you would have seen The Subways at some point.

Billy Lunn and co brought a youthful energy to stage with bangers in the likes of Rock & Roll Queen and Oh Yeah.

Watch them play their memorable hit at Rock am Ring 2009:

Interpol

When Interpol burst onto the scene, there were plenty of comparisons drawn between Joy Divsion.

Paul Banks and co offered up huge live favourites in the likes of Evil and Slow Hands, which they're still delivering to audiences today.

Watch them play Slow Hands at British Summer Time 2008:

Editors

You cant mention Interpol without giving Editors a cheeky namecheck.

Formed in 2002 and going on to release their debut album The Back Room in 2005, Editors continually bash out crowd-pleasing performances with their eyes closed.

Highlights include Blood, Papillon, Munich and All Sparks.

Watch them play Pinkpop Festival here:

Jamie T

Jamie T never fails to get audiences going, whether playing new material or performing crowd favourite Sheila.

London!

Franz Ferdinand

Franz Ferdinand were an undeniable tour-de-force when they first burst onto the scene.

When it comes to their live shows, the Scottish rockers have a bevvy of bangers to choose from including their 2004 Take Me Out hit.