The 10 Best Beatles Productions By Sir George Martin
3 January 2017, 12:31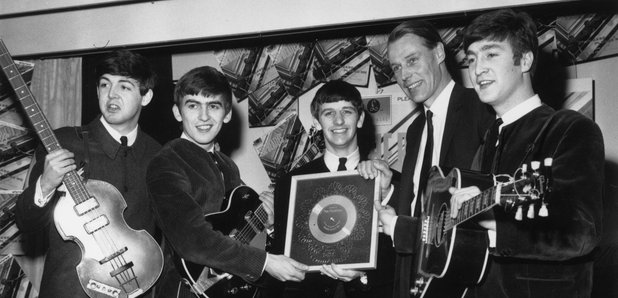 "Good George Martin is our friend / Buddy, Pal and Mate / Buy this record and he'll send / A dog for your front gate."
That's how John Lennon paid tribute to the Beatles producer in the sleeve notes to Big George's orchestral album of Fab Four choons, Off The Beatle Track, back in the halcyon days of 1964. Here at Radio X, we'd like to pay tribute to the late musician, arranger and producer, who died aged 90 in March 2016, by picking a handful of tracks that demonstrate his knob-twiddling genius. Thanks George - it wouldn't have been the same without you.
1. TWIST AND SHOUT (1963)
As label boss, A&R man and producer for the Parlophone label, George Martin took a chance on The Beatles after finding the four Liverpudlians quirky and unusual. After the huge success of their single, Please Please Me, Martin rushed the quartet into the studio in February 1963 to record their debut album. His initial thought was to record them at one of their Liverpool gigs, but he made do with the group performing their set "live" at Abbey Road studios. For the finale, they picked their show-stopping cover of The Isley Brothers' Twist And Shout. Lennon had a cold, so his voice was shot after the one and only take - Martin perfectly captures the excitement and electricity of The Beatles as a live outfit.
2. YESTERDAY (1965)
On the Help! soundtrack, the Fabs had already experimented with dropping the electric guitars and going acoustic on You've Got To Hide Your Love Away, but this song went further. Yesterday came to Paul McCartney in a dream and it was clear to George Martin that this song wouldn't need the other three Beatles on backing. Initially recording Macca and his acoustic guitar, Martin scored a simple but beautiful string quartet that took The Beatles to the next level. This was ART, man.
3. TOMORROW NEVER KNOWS (1966)
1966's Revolver album saw the band make a quantum leap in production techniques. Incredibly, the most experimental track was the first to be recorded. Inspired by taking the drug LSD and The Tibetan Book Of The Dead, John Lennon wanted to recreate his expanded mind on vinyl and asked his producer to create the sound of "thousands of monks chanting", while his vocal should sound as if it were being sung from the top of a mountain. By using tape loops, backwards guitars and piping Lennon's voice through the speaker of an electric organ, Martin created something that sounded like nothing else on Earth.
4. ELEANOR RIGBY (1966)
While John Lennon was digging deeper into his imagination, Paul McCartney was absorbing influences from all around. This was a surprisingly bleak song for our Fabs-Macca-Thumbs-Aloft, and like Yesterday before it, George Martin thought that a full band arrangement would be a bit much. His arrangement for a string octet was inspired by the film composer Bernard Hermann (best known for the shrieking violins of Hitchcock's Psycho) and the finished score is suitably icy and downbeat.
5. RAIN (1966)
Another track from the ground-breaking Revolver sessions, this Lennon song wound up on the B-side to the Paperback Writer single, but featured some of the most innovative production the band achieved. George Martin reversed John's vocal at the end, which prompted the group to try and record everything that way; meanwhile the backing track was performed fast and then played back at a slower tape speed, making the instruments sound odd and heavy, somehow. One of the most underrated songs in their catalogue.
6. STRAWBERRY FIELDS FOREVER (1967)
Lennon's companion piece to McCartney's Penny Lane was the dark and psychedelic Strawberry Fields Forever, a song about a children's home in Liverpool. The group recorded it once in a slow, dreamy version that was led by the weird flute sounds of the early "sampler", the Mellotron. Lennon decided he was unhappy with that version, so it was re-recorded with strings and brass in a more bombastic style. Lennon still wasn't sure - he liked some bits from the first version and some bits from the second version. Despite the two tracks being in different keys, George Martin employed some tape speed trickery and spliced the two together. It's probably the greatest edit in recording history - see if you can spot it.
7. WITHIN YOU WITHOUT YOU (1967)
When George Harrison began his love affair with Indian music, only one producer would have remained unflappable when members of London's Asian Music Circle started turning up at Abbey Road. George Martin had seen it all before - on Peter Sellers' 1959 album Songs For Swingin' Sellers, he'd produced the comedian's "comedy Indian" character singing Wouldn't It Be Loverly from the musical My Fair Lady, but rendered in sitars. The genius of Within You Without You comes with the duet between the Eastern instruments - still alien-sounding to most British people in 1967 - and the Western strings, which mirror the Indian musicians' moves exactly, like a couple of ballroom dancers performing a waltz.
8. A DAY IN THE LIFE (1967)
A mash up of Lennon's world-weary verses based on mundane newspaper reports, coupled with McCartney's upbeat middle section, the two separate parts were linked by a "musical orgasm", supervised by George Martin. He employed a 40-piece orchestra and told each member to work their way from the lowest note to the highest over the course of 24 bars. It should have been chaos, but under Martin's watchful eye, the sound was immense and capped by three pianos all hitting the heavenly E major chord simultaneously. The Beatles' masterpiece.
9. I AM THE WALRUS (1967)
Another John Lennon song that tested George Martin's mettle, the producer took the funky backing track - given a searing Lennon vocal chanting surrealistic lyrics - and added the colour. That included a queasy string section that gave Jeff Lynne of ELO a few ideas, a choir chanting "Oompah oompah, stick it up your jumper" and a BBC radio broadcast of Shakespeare's King Lear. The result is a brilliant, distinctly English version of psychedelia.
10. HERE COMES THE SUN (1969)
After the creative peak of Sgt Pepper, The Beatles were confident enough to effectively produce themselves and 1968's "White Album" and the "Get Back" sessions of early 1969 saw George Martin take a back seat. That summer the Fabs wanted to record again in the old fashioned way again and enlisted Martin's services for one last time. It's an excellent swan-song: crisply recorded and slickly produced, it includes some beautiful arrangements (Something, the "long medley" on side two) and some exotic colour in the shape of George Harrison's brand new Moog synthesiser. This track sets the new tech alongside some bright acoustic guitar; a fine way to bow out one of the best creative collaborations in pop music.